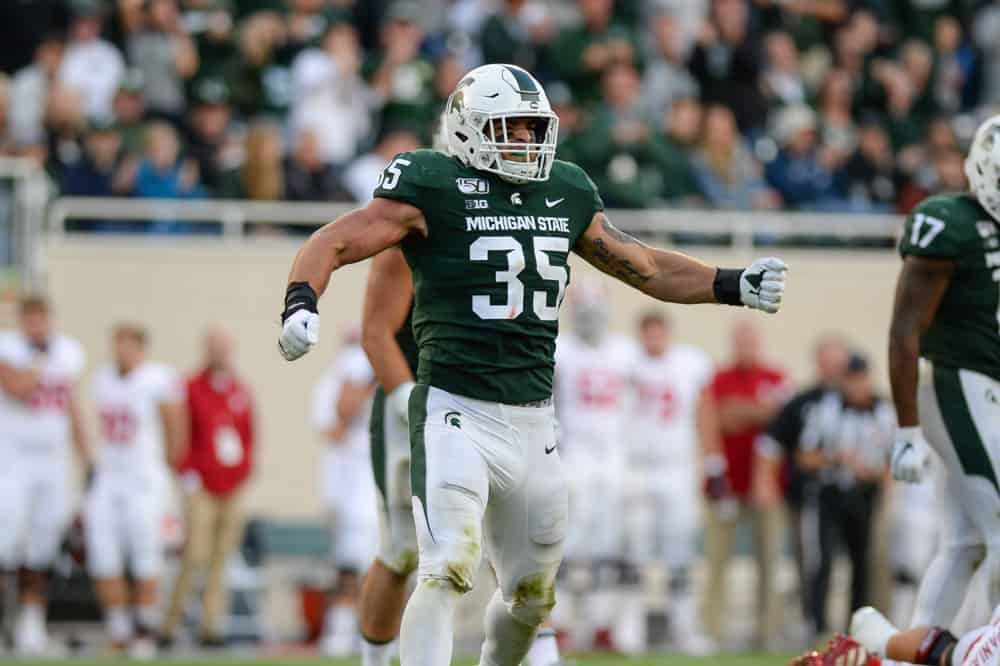 With linebacker Joe Schobert heading to the Jacksonville Jaguars, the Cleveland Browns will have to replace their Pro Bowl linebacker.
With the 2020 NFL Draft from Thursday to Saturday, the Browns will have several chances to fill the hole at the linebacker position.
Michigan State linebacker Joe Bachie could be an impressive value pick in the sixth round because of his play on the field and his leadership on and off it:
Junior LB Joe Bachie is one of three MSU captains. He's had all the leadership qualities since he first came to campus… 👀a feature on Bachie and his natural born leader and captain roll for Michigan State on Spartans All-Access by @Spartan_Vision. #GoGreen #HEAVE pic.twitter.com/LNhehFe1Gd

— Michigan State Football (@MSU_Football) October 25, 2018

He showed leadership capabilities in his sophomore year, and he became one of the team's three captains the following season.
He then was a captain again in 2019, and he graduated from Michigan State University in December 2019.
Unfortunately for Bachie, his senior season was cut short:
Star Michigan State LB Joe Bachie tested positive for a banned substance and is now ruled ineligible

Bachie Stats:
72 Tackles, 9.5 TFL, 4 PBUs, 3.5 Sacks and 1 INT in 8 games pic.twitter.com/5OAxFPJBMT

— Elite College Football (@EliteCollege_FB) October 31, 2019
Bachie said that it was a one-time misstep because of an over-the-counter supplement.
What Makes Bachie a Great Linebacker?
The 231-lb, 6'2″ linebacker from Ohio was on pace for a career year when he was ruled ineligible.
Although he did not force a fumble or have a fumble recovery in 2019, Bachie had already set two new career highs in his senior year.
His 9.5 tackles for loss and 3.5 sacks were both the best of his college career.
Bachie was also well on his way to set new career highs in tackles and passes defended.
He was a top-10 tackler in both 2017 and 2018, but he could not reach the leaderboard in his shortened 2019.
According to the Michigan State football website, he finished sixth all-time in school history with five forced fumbles.
Joe Bachie makes a helluva play here to halt Jordan Love and Utah State's comeback at midfield. Bachie breaks through the line on a blitz, realizes he's not going to make it and he jumps up while engaged with the running back. He tips the pass and catches his own tip. Game over. pic.twitter.com/HVKjBxgOgS

— JAKE OLIVER ELLENBOGEN (@JKBogenDTR) April 4, 2020

Bachie was 20th all-time at Michigan State with 27.5 tackles for loss.
He received All-Big Ten honors each of his final three years as a Spartan, and he was All-Big Ten first team in 2018.
Also, Bachie was a four-time Big Ten Defensive Player of the Week.
What Makes Bachie a Great Pick?
Not only would Bachie be a great value pick for the Browns, but he would also be a hard worker.
Players and coaches sang his praises while he was in college, and he dropped weight, which showed he was committed to being a versatile and athletic presence.
He wore No. 35 throughout his college career, as he went from 232 lbs as a freshman to 238 lbs in 2018 and 231 lbs in 2019.
Bachie has a will to win and he showed it while at Michigan State, as he led the team to multiple winning seasons.
He also played well under pressure, as the Spartans were a ranked team in each of the four years he was with the team.
He had a combined 14 tackles in his two bowl games.
Although Michigan State fell to Oregon in the 2018 Redbox Bowl, the Spartan defense allowed just seven points to the Ducks.
The Michigan State offense could muster just two field goals in the 7-6 loss.
Meanwhile, the lone bowl victory was an impressive 42-17 win over No. 21 Washington State in the 2017 Holiday Bowl.
Bachie's will to win is an important part of why he would be a valuable asset to the Browns.
With Cleveland having a selection in both the sixth and seventh rounds, the Browns should be able to draft Bachie and give him a chance at making an impact at a shallow linebacker position.