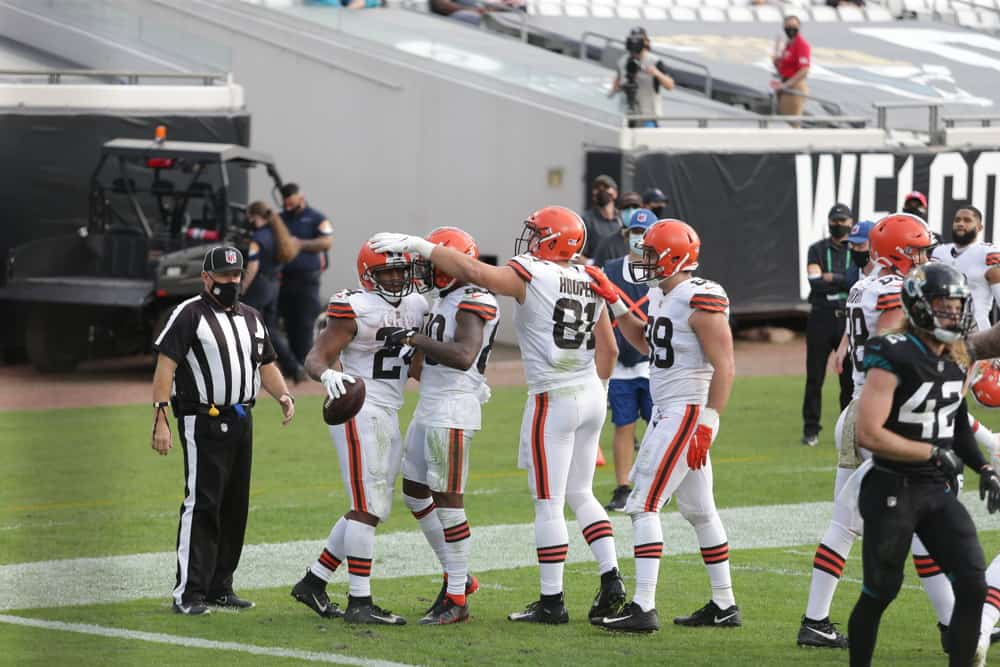 The Cleveland Browns certainly accomplished quite a lot during the 2020 season.
First-year head coach Kevin Stefanski had high expectations and exceeded them.
The Browns went 11-5 and clinched a playoff berth for the first time since 2002.
Then they went on to upset the Pittsburgh Steelers in the first round.
Sadly, the Browns weren't able to beat the Kansas City Chiefs in the Divisional Round.
Despite that, the Browns wouldn't have been able to get this far if it wasn't for the outstanding performances by a few star players.
Here are the 3 most valuable Browns players from the 2020 season.
3. Nick Chubb
Best of luck to any defensive unit attempting to slow down running back Nick Chubb.
The 25-year-old workhorse back continues to get better each of every season.
NBA center Dwight Howard might have to give up his title of 'Superman' after what Chubb has done for the Browns organization.
Dwight Howard had the All-Star crowd going crazy for his Superman Dunk😳pic.twitter.com/n7uiwY0kxw

— Ballislife.com (@Ballislife) April 6, 2020
The third-year back has already been selected to the Pro Bowl twice and is seemingly only getting better.
Through 12 games, Chubb rushed for 1,067 yards on 190 attempts with a career-high 12 touchdowns in 2020.
Chubb did miss some time mid-season due to injury and his absence was devastating to the offensive unit.
He returned in Week 10 and posted three straight games with 100 rushing yards or more.
It's tough to imagine the Browns making the playoffs without the performance by Chubb this season.
2. Myles Garrett
There was some speculation that possibly the Browns overpaid for defensive end Myles Garrett last offseason.
Well, he certainly silenced all the critics with his performance in 2020.
The 25-year-old superstar pass rusher started out the season red-hot with nine sacks through his first seven games.
At one point, Garrett had recorded at least one sack in six straight games which was the longest active streak in the NFL.
Myles Garrett has recorded a sack in 6 straight games 😳 @brgridiron

That's the longest active streak in the NFL. pic.twitter.com/lesZvE975m

— Bleacher Report (@BleacherReport) October 25, 2020
His numbers did slow down a bit in the second half, but Garrett still put together a monster season for Cleveland.
Through 14 games, Garrett recorded 48 tackles, 12 sacks, and a career-high four fumbles forced with the Browns this season.
Both Garrett and defensive back Denzel Ward were significant contributors on the defensive side of the ball in 2020.
The Browns defensive line would not have been able to have the same effect without the performance by Garrett.
Cleveland gave him a massive contract extension and Garrett is proving to be worth every penny.
1. Baker Mayfield
What an epic bounce back season from Baker Mayfield in 2020.
The third-year quarterback has proven to be more than capable of leading this team.
In fact, Mayfield is the Browns best quarterback in franchise history through his first three seasons.
Baker Mayfield is the best Browns QB in franchise history through 3 seasons.

Browns rank 1st 3 seasons*
75 pass TD 1st
11,115 pass yds 1st
89.1 pass rating 2nd
61.9 comp% 2nd
23 wins 2nd

*Min. 300 pass att pic.twitter.com/ISY7bQiBpB

— CBS Sports HQ (@CBSSportsHQ) January 29, 2021
Honestly, Mayfield started the season a little shaky, but was outstanding in the second half.
At one point, Mayfield had an eight game stretch where he threw for nearly 2,000 yards with 15 touchdowns and two interceptions.
The glory of Mayfield doesn't stop there as he was a significant factor in the playoff victory over the Steelers.
Mayfield threw for 263 yards with three touchdowns and zero interceptions in Cleveland's first playoff win in what feels like a century.
The Browns would've not been in the same position if it weren't for the fantastic performances by these three players in 2020.