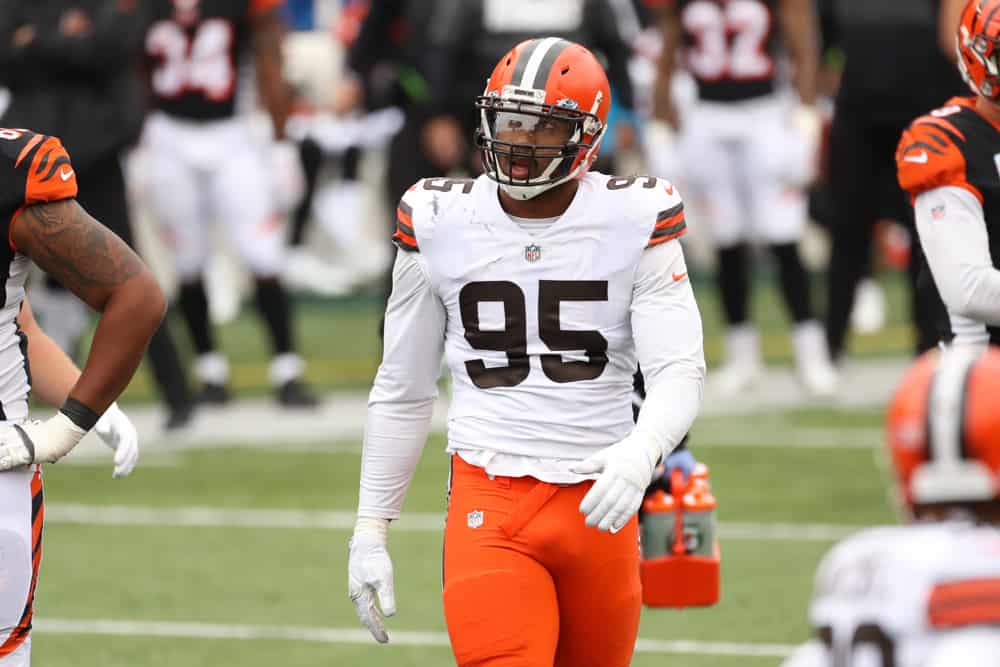 Myles Garrett played most of the year banged up after an early-season car accident.
And the postseason isn't starting off much better for the Cleveland Browns star.
Despite efforts to make the NFL's Pro Bowl festivities as safe as possible, Garrett came up limping.
Probably not what Cleveland wants to see. Myles Garrett limping off. pic.twitter.com/3lprj1kOpw

— Darren Carr (@DCarr75) February 5, 2023
He reportedly suffered a dislocated toe while running the Gridiron Gauntlet, an obstacle course.
X-rays were negative for fractures, but Garrett was in obvious distress.
He'll need to be re-evaluated later to determine any further damage.
Garrett Comes Off Another Big Season
With 16 sacks and a top-10 pass rush win rate, Garrett earned another Pro Bowl appearance.
And according to the Browns' new defensive coordinator, Jim Schwartz, fans should expect even more next season.
Schwartz told the media it is his job to help Garrett escape double and triple teams he routinely faces.
Browns' Myles Garrett, Nick Chubb and Joel Bitonio named to 2021 Pro Bowl teamhttps://t.co/4MOOLTFDqy pic.twitter.com/AIxWu3HQiH

— Ben Axelrod (@BenAxelrod) December 22, 2020
This is something Joe Woods never figured out, instead trying to let other players take advantage of Garrett's extra attention.
Unfortunately, the rest of the defensive line failed to do so, helping to cost Woods his job.
Changing the strategy to free up Garrett should be a noticeable change for Browns fans next season.
And more team sack records shouldn't surprise anyone.
No Impact on 2023 Expected 
Fortunately, Garrett has the entire offseason to recover from his toe injury.
And given his history, even an incomplete recovery is unlikely to keep him off the field.
Garrett injured his shoulder and biceps in a rollover accident at the end of September.
#Browns Myles Garrett is the only player in the NFL to record at least 16 sacks in each of the past two seasons.

— Browns News (@TheBrownsNews) January 8, 2023
He missed one game before returning, although he was still uncomfortable.
That discomfort didn't stop him from tying his personal best and Browns-record 16 sacks.
His toe might keep Garrett off the basketball courts for a while.
But barring a surprise, he should be well before any off-season team activities start.