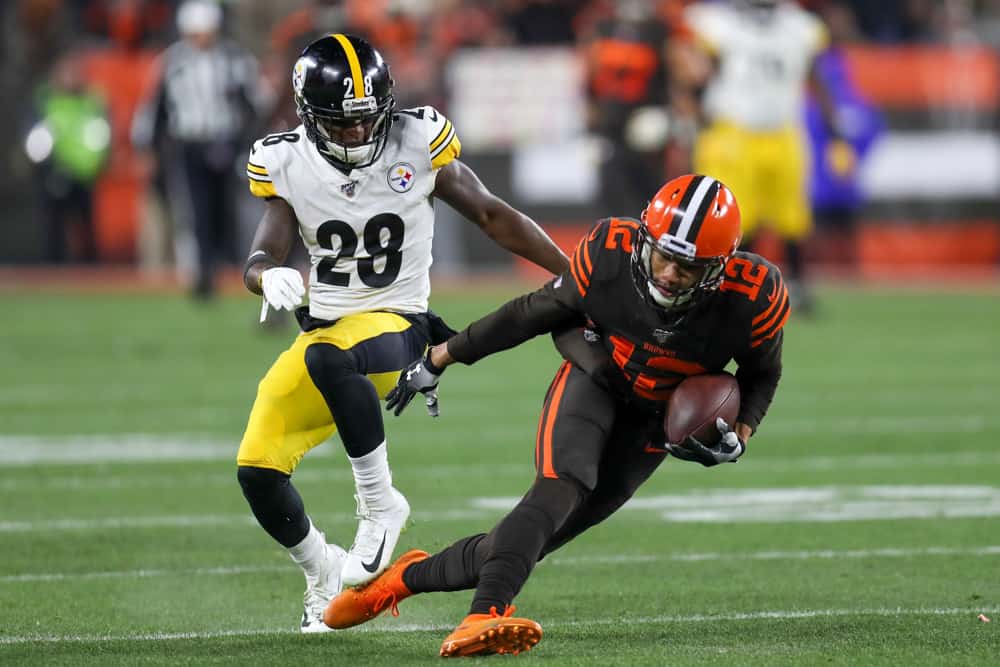 Last week, Khadarel Hodge caught a deep pass from Baker Mayfield, weaving his way through a couple of defenders to complete a 41-yard reception. His only other target that game resulted in a pass interference in the Pittsburgh Steelers' end zone.
Pump fake ✅
Dime dropped ✅@Bakermayfield finds @KhaDarel_4 for the BIG gain!

📺: #PITvsCLE on @NFLNetwork | @NFLonFOX | @PrimeVideo
How to watch: https://t.co/ybieohu092 pic.twitter.com/cf0sF7j54U

— NFL Network (@nflnetwork) November 15, 2019
Prior to this important play on Thursday Night football, most die-hard Cleveland fans would be hard-pressed to provide background on Hodge.
Growing up in D'Lo, Mississippi, Hodge attended Mendenhall High School. He started his sophomore season at quarterback, proving himself as a viable threat in the passing and rushing game. He scored slightly less than 70 touchdowns in his junior and senior seasons, receiving All-State recognition in 2013.
After high school, Hodge had a brief stint with Alcorn State, but after one season, he left. During that season, he was redshirted. After another brief, one-year stint at Hinds Community College, he moved onto Prairie View A&M. At Hinds Community College, he transitioned to wide receiver, remaining at his new position in Texas.
During his first season with Prairie View A&M, he caught 28 passes for slightly under 500 receiving yards and 3 touchdowns. His receiving yards fell in his second season, but he caught 3 more touchdowns than he did in 2015. His receptions stagnated. Finally, in his senior season, he caught 48 passes for 844 receiving yards and 12 touchdowns, earning him All-SWAC honors.
KhaDarel Hodge oh my pic.twitter.com/yZxtQOt8jL

— QB List (@TheQBlist) August 18, 2018
In 2018, he went undrafted, but signed with the Los Angeles Rams. Prior to the start of the season, the Rams waived Hodge, immediately signing him to their practice squad. He was quickly promoted to their active roster, but in August of 2019, the Rams waived him again.
This time, the Cleveland Browns pounced on the opportunity to add another talented wide receiver to their roster, claiming Hodge on September 1, 2019. Buried beneath Odell Beckham Jr., Jarvis Landry, Rashard Higgins, Antonio Callaway, and Damion Ratley, Hodge's chances of seeing the field were low.
However, after a few drama-filled situations with Rashard Higgins and Antonio Callaway receiving a 10-game suspension that led to his release, opportunity opened up.
In Week 9, Hodge ran 5 routes, earning 1 target, which resulted in a 10-yard reception. He saw the field on 9.9% of the Browns' total offensive snaps.
After a Browns' bye in Week 10, Hodge earned a 16.4% snap share against the Pittsburgh Steelers in Week 11. He ran 7 routes, saw 2 targets, and caught 1 pass for 41 receiving yards.
Hodge's large frame makes him a credible red zone threat, and while his speed isn't anything special (4.63 40-yard dash time, 87.4 speed score), his quickness is a legitimate (126.6 burst score). It took him a couple of years to breakout in college, and he will develop slowly in the NFL as well.
The Browns are not desperate at the wide receiver position, so don't expect Hodge to impress on a weekly basis, but he is a player to keep an eye on. He works hard, and he knows how to make himself valuable.
As an added bonus, he can be utilized in trick plays with his passing ability, opening up the Browns' offensive playbook.
Oh, and he hates opossums. Seriously.
KhaDarel Hodge: "I still hate possums. They just ugly" 😂 pic.twitter.com/EEYJsfSt4m

— Sports Illustrated (@SInow) February 2, 2019