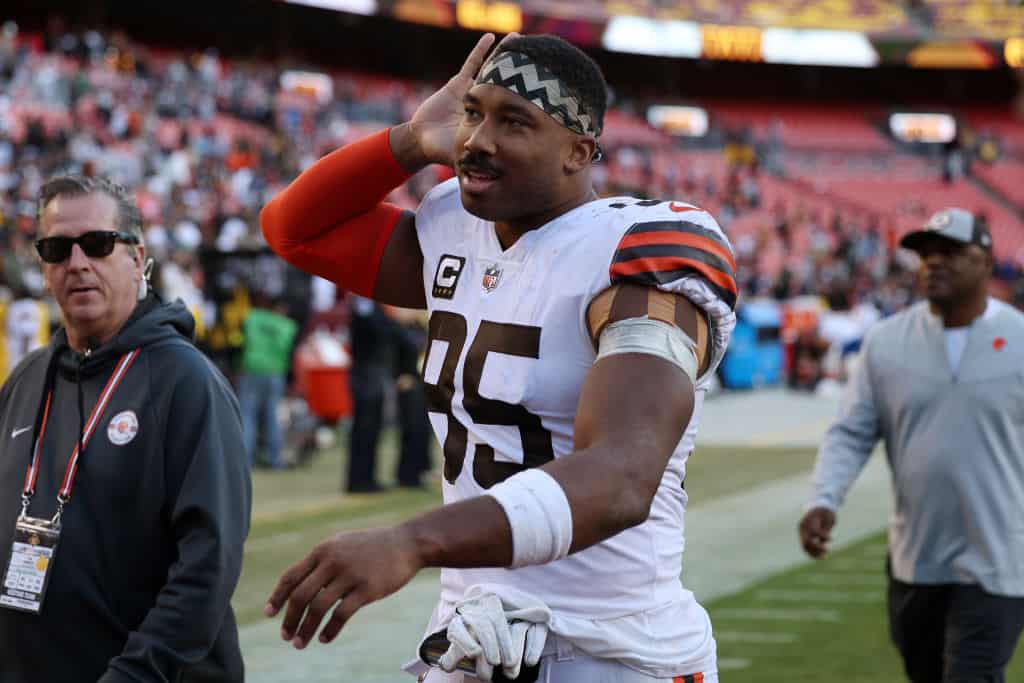 Cleveland Browns star Myles Garrett claims he's retired from playing in the Pro Bowl, regardless of the format.
The superstar DE suffered a toe injury in February's festivities after bumping his foot into a wall.
Garrett claims he's still dealing with that injury, and while it might not limit him in any capacity throughout the season, it was a bit of a wake-up call for him.
So, the superstar pass-rusher has an idea that could finally make the Pro Bowl appealing and interesting to watch again.
He believes the players could actually go against some fans, with lucky fans playing as skill players while O-line and D-line players play as quarterbacks and running backs, and then the fans switch places with them:
"Say, you got the D-line and the O-line to be quarterbacks and we play with fans and they would be the skill positions," Garrett said. "And then you'd have fans being quarterback and running backs and then you have the skill guys playing their natural positions, but you have fans playing those two [other positions] — quarterback and running back — throwing to them and just playing out of the backfield."
Myles Garrett's proposal for new Pro Bowl activities: get the fans involved. #Browns pic.twitter.com/8x96Cid2Ml

— Hayden Grove (@H_Grove) April 18, 2023
This would be one of the most innovative and wild formats one could ever dream of, and there's little-to-no chance that the NFL actually approves or even consider this.
But there's no denying that it would be quite an interesting tweak, and it would most definitely drive ratings back up for this game.
The league changed the format of the Pro Bowl this season in an attempt to make it relevant again after years of all-time low ratings.
But at the end of the day, it seems like there's not much the NFL can actually do to make this event more appealing for the players, as risking a major or even minor injury for a meaningless game is just not worth it when you're making that much money.