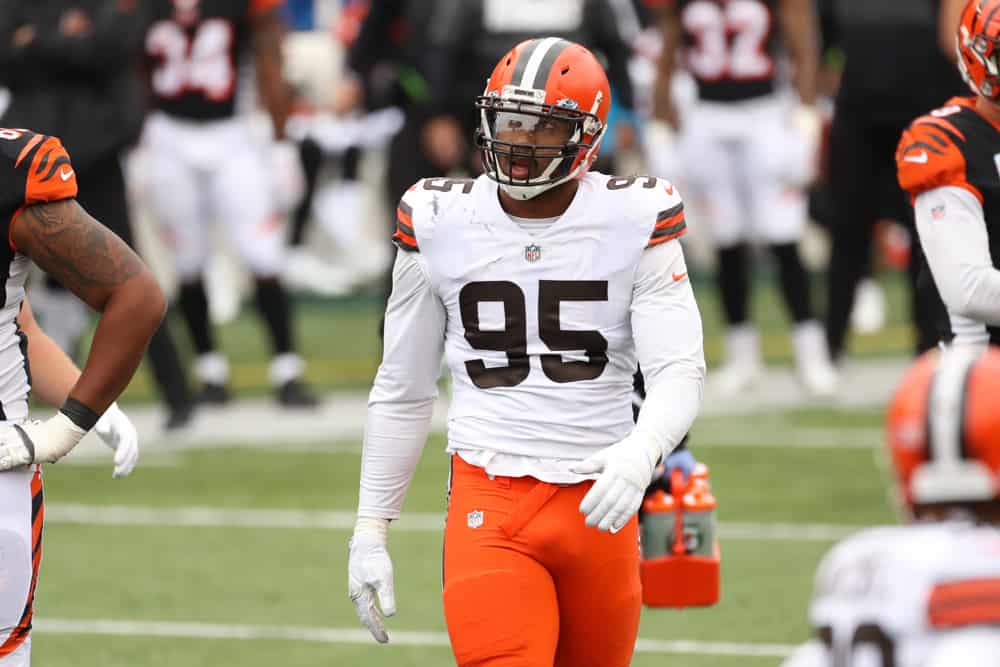 Andrew Berry and the Cleveland Browns took a torch to last year's defense.
Cleveland is expected to start 7 or 8 players who did not play in 2020.
One of the survivors of the Browns defensive purge is Myles Garrett.
Garrett was a 2020 All-Pro despite being slowed by the lingering effects of Covid over the final 5 games.
He was averaging just over a sack per game when the virus knocked him out of Weeks 11-12.
But his 12 total sacks over the 14 remaining games still puts him in some pretty impressive company.
Myles Garrett currently averages 0.83 sacks per game over his first 4 NFL seasons.
Reminder: Myles Garrett is really, really good…

(h/t @CBSSports on IG) pic.twitter.com/laD5pehSBE

— CBS Sports HQ (@CBSSportsHQ) May 15, 2021
That matches former Jet Mark Gastineau for the second-highest rate in history.
Just ahead of that pair is the immortal Reggie White, who finished with a sack rate of 0.85 per game.
That's pretty elite company for a young star just entering his prime.
What It Takes To Be The All-Time Sack Master 
Mark Gastineau played 3 full seasons before the NFL made quarterback sacks an official statistic in 1982.
And it didn't take him long to set the bar for NFL pass rushers.
After taking down the passer 19 times in 1983, Gastineau posted the longtime record of 22 sacks in 1984.
His record stood until Brett Favre fell to the ground in front of Michael Strahan in the final game of 2001.
That officially gave the former Giants player 22.5 sacks, although many folks believe Favre's flop shouldn't count.
Myles Garrett: NFL sack leader 💪
pic.twitter.com/n1Mk738ycr

— PFF (@PFF) November 15, 2020
Two more players, Jared Allen (2011) and Justin Houston (2014) matched Gastineau's mark of 22.
In the final season of his long career, Bruce Smith posted his 200th career sack, the current career record.
He edged out Reggie White's 198 lifetime total in his 19th season at the age of 40.
Myles Garrett is listed in good company with White and Gastineau in the sacks-per-game category.
But can he play long enough to be called the NFL Sack Master someday?
Covid Stole Garrett's Sackmaster Title 
Players who occupy the all-time leaders' categories tend to own two characteristics.
They play a lot of seasons and they remain healthy for most of those seasons.
Anyone who has seen Myles Garrett's social media posts this offseason knows he is healthy.
And we believe him when he says he won't do anything that gets himself suspended again.
Assuming he stays on the field, Garrett seems primed to set a lot of sack records.
MYLES GARRETT IS UNSTOPPABLE 😤

A sack in six straight games 🔥

(via @thecheckdown)pic.twitter.com/6YTy3mFM1m

— SportsCenter (@SportsCenter) October 25, 2020
Most fans know Garrett had 9.5 sacks in his first 9 games last year before Covid.
But it seems like some folks forget he landed 10 sacks in 10 games in 2019, too.
If you eliminate the post-Covid games, Garrett's sacks-per-game average improved last season.
And that is a trend, starting with his .777 pace as a rookie, followed by .844 and 1.00 in 2018-19.
Garrett had 40 sacks in 46 games before the virus, which was a record pace of .869 sacks per game.
#Browns Myles Garrett was the 4th highest @pff graded EDGE defender in 2020. pic.twitter.com/Lyy3y5zAbM

— Browns Dispatch (@brownsdispatch) January 5, 2021
Garrett Still Hasn't Had a Breakout Season 
Smith and White each enjoyed lengthy playing careers that helped their total numbers.
But Smith only had 1 big season (1990- 19 sacks) when he averaged more than a sack-per-game.
White's personal best was 21, set in the 1987 season when he only played 12 games!
He added 19 each in 1985 and 1987 and then amazingly didn't manage 1 per game until his final season in 1998.
Garrett has his 10 in 10 games back in 2019, but he hasn't had a true breakout season yet.
👀👀👀 can somebody do the math and tell me how many I need for that 1 spot? https://t.co/eSEXEux1GZ

— Flash Garrett ⚡️ (@MylesLGarrett) May 15, 2021
Can anyone doubt Garrett's most productive years are ahead of him?
Joe Woods is as eager as Garrett to see what his star edge rusher can do with Jadeveon Clowney on the field.
Not to mention the rest of Cleveland's newest contributors at all three levels of the defense.
Andrew Berry added speed and smarts all around his best player.
It shouldn't surprise anyone to find Myles Garrett setting new game, season, and career marks before long.