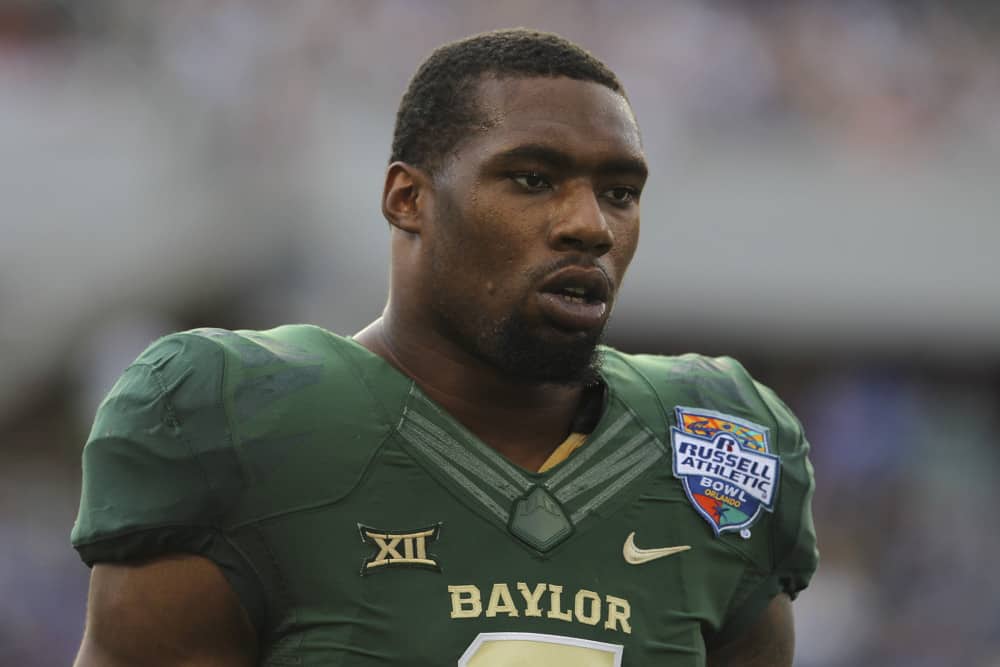 Cleveland Browns DE Myles Garrett has been spectacular on the field this season.
And it looks like he is doing off the field work to help out the Browns front office also.
Reportedly, Garrett reached out to former Baylor defensive end Shawn Oakman via Instagram DM and said:
"We could use some help over here brotha."
At which point, Oakman responded:
"I would love to play by your side."
Could you imagine @MylesLGarrett and Shawn Oakman on the same team?! GOOD GOD! PS Shawn Oakman is 6'9 😳😳😳 pic.twitter.com/oZ86PVFrIb

— Brandon Wolf (@BrandonCWolf) October 11, 2020
Who Is Shawn Oakman?
Oakman is Baylor's all time sacks leader and was considered an attractive prospect in the 2016 NFL Draft.

That changed on
April 3, 2016
.
Allegedly, Oakman was involved in an incident with a Baylor graduate student.
She accused him of sexual assault at his off-campus duplex.
After police served him with a search warrant for his DNA and cell phone, Oakman was arrested for sexual assault.
While it is clear a sexual incident occurred, whether it was consensual or not depended on who was asked.
Oakman said it was consensual; the woman did not.
After 5 delays, the case was finally tried on February 26, 2019.
On February 28, 2019, jurors deliberated for under two hours and acquitted Oakman of the charges.

If convicted, Oakman could have been sentenced to 20 years of prison.
Shawn Oakman, accompanied by his uncle, Kenneth Rogers, and other family and friends celebrate in the parking lot adjacent to the courthouse after he's found not guilty. pic.twitter.com/M7jcNBD5Lp

— Baylor Lariat (@bulariat) February 28, 2019
2016-2019
While out on bond, the 6'9″ 280 pound Oakman kept himself in football shape.
He had stints in the America Arena League with the Triangle Torch and the West Virginia Roughriders.
Oakman also played in the Champions Indoor League and The Spring League.
He last played in the XFL for the Los Angeles Wildcats prior to the league suspending operations in April 2020.
Oakman On Playing In The NFL
Shawn Oakman has said that even though 3 years of his life were taken from him with this horrible legal turmoil, he still has the dream of playing in the NFL.
Oakman's agent George Bass said said after his acquittal:
"Shawn deserves a chance. He could have pled this out and gotten probation, and possibly still been drafted. But he knew he was innocent. It's unbelievable that Shawn doesn't get an opportunity. I think there will be a team that will take a chance, and they will reap the reward, because they'll be getting a first-round draft pick."
Could Oakman Help The Browns?
Garrett and Olivier Vernon are the Browns starters.
However, Vernon has been dealing with an abdominal injury.
He did not play in Weeks 2 or 3.
Vernon is backed up by Porter Gustin and Adrian Clayborn.
Gustin has performed well, but Clayborn has been suffering from a hip injury that kept him out of last week's game against Dallas.
So the answer is yes, Oakman could come in and help the Browns immediately.
Hopefully, GM Andrew Berry is already working the phones to get a tryout scheduled.