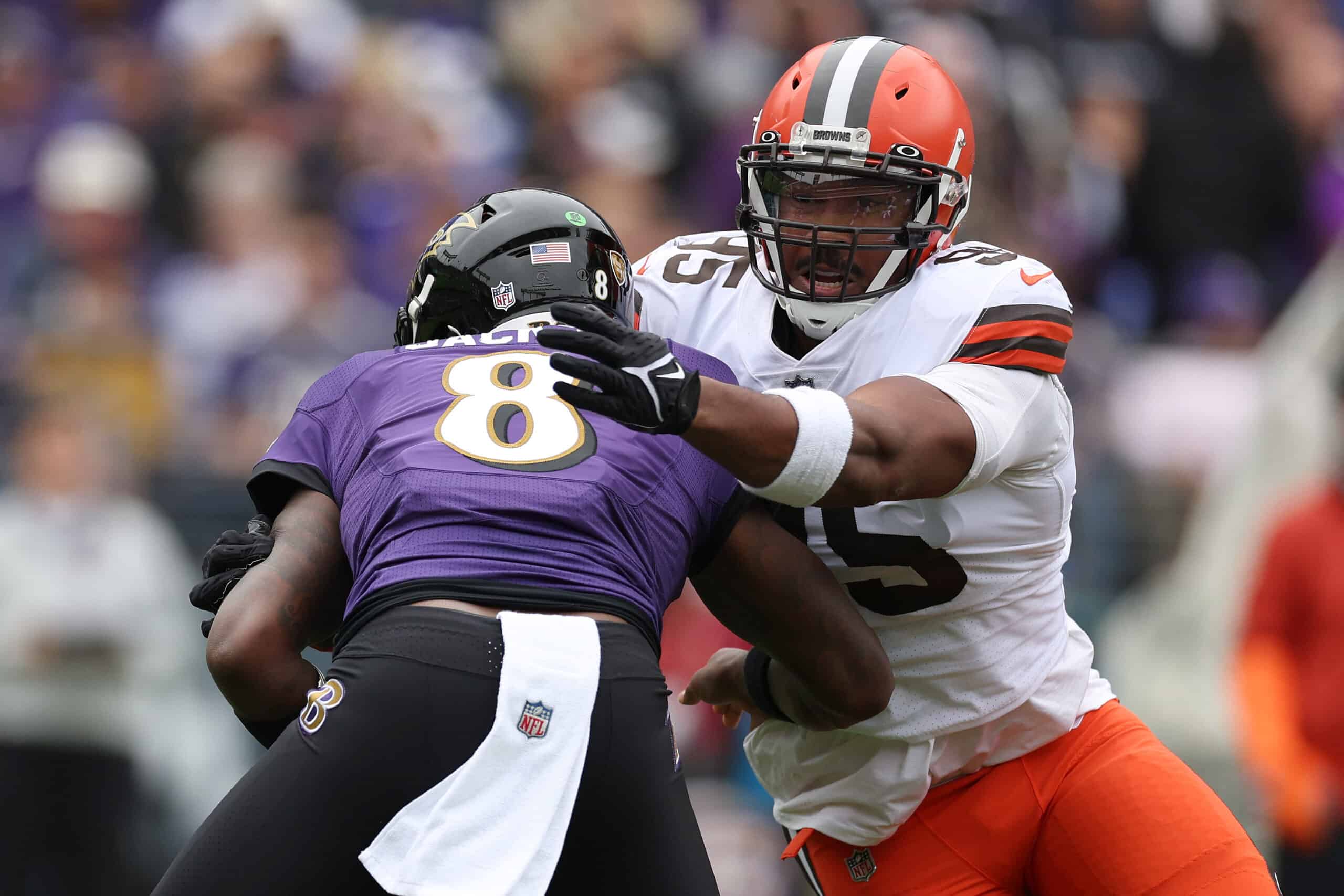 The Cleveland Browns got one of their biggest wins in recent franchise history on Sunday when they defeated the Baltimore Ravens.
Unsurprisingly, a lot of that had to do with Cleveland's defense, which is something one wouldn't think after watching the final score.
Despite allowing 31 points, the Browns' defense stepped up big time when it mattered the most, getting a crucial pick-six and a stop to help the team come back from a double-digit late in the game.
Needless to say, Myles Garrett was — once again — the best player on the defensive side of the field, adding up to his Defensive Player of the Year case and even entering the record books.
With back-to-back sacks on Ravens quarterback Lamar Jackson and after entering the game with 9.5 sacks for the season, Garrett logged his sixth consecutive season getting at least 10 sacks.
According to Browns PR director Dan Murphy, that puts him in the same category as some legends of the game, such as Reggie White, John Randle, DeMarcus Ware, Jared Allen, Bruce Smith, and the one and only Lawrence Taylor.
Myles Garrett has joined Reggie White, John Randle, DeMarcus Ware, Jared Allen, Bruce Smith and Lawrence Taylor as the only players to record six consecutive seasons with at least 10 sacks.

— Dan Murphy (@DMurph_BrownsPR) November 12, 2023
Garrett is obviously the only active player who's a part of this list.
He entered the contest with four forced fumbles, a fumble recovery, 18 QB hits, eight tackles for a loss, and two pass deflections.
Garrett now has 11.0 sacks, 28 total tackles (8 assists), and has been the best player on the best defense in the league.
This might as well be the year the league finally gives him the recognition he deserves as the best pass-rusher and one of the best defensive players on Earth.