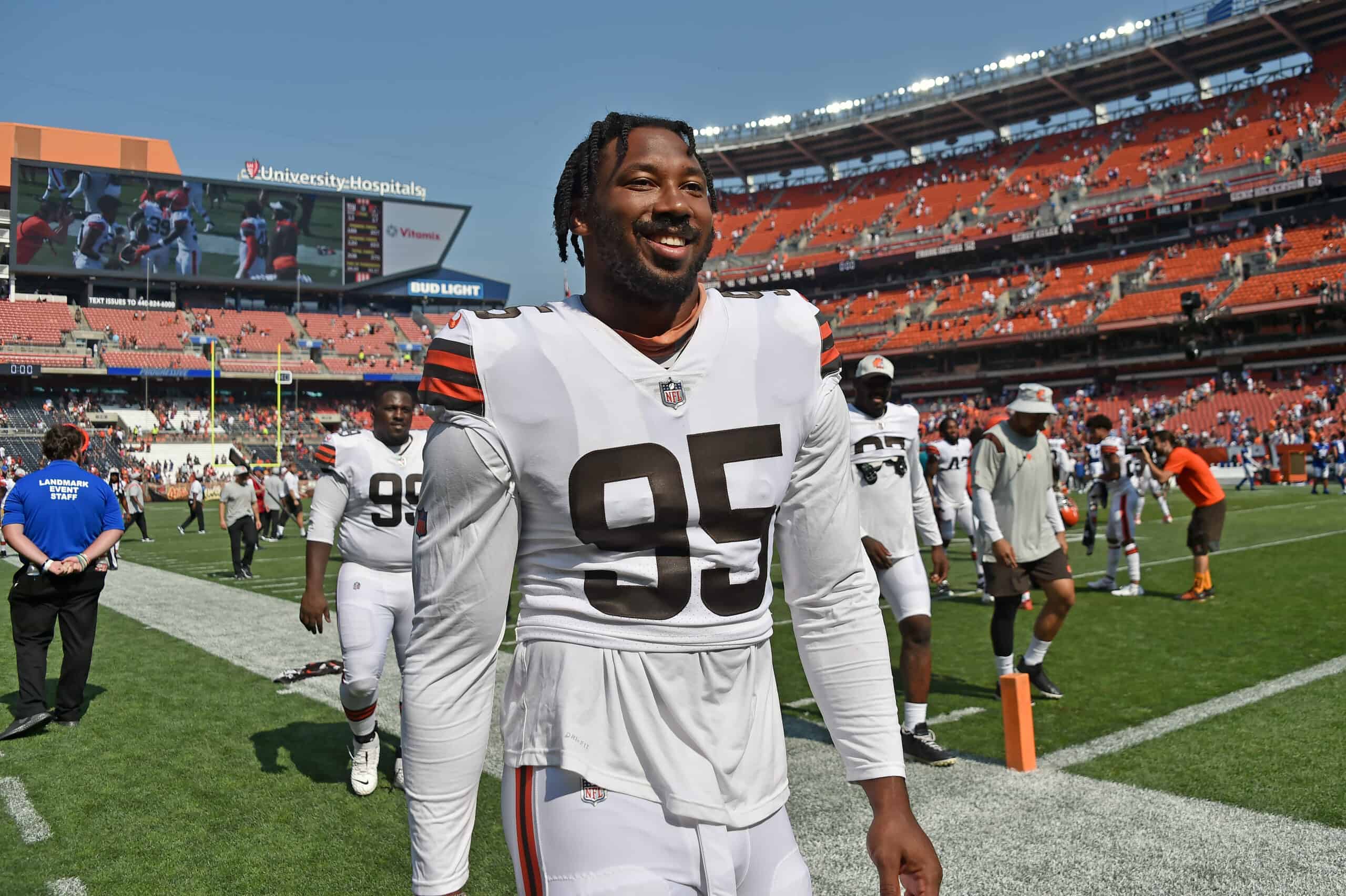 On Thursday night, the NBA provided a preview of coming attractions for the 2022 All-Star Game in Cleveland.
One of those coming attractions is Myles Garrett, who is playing in the Ruffles NBA All-Star Celebrity Game on Friday night on ESPN.
The three-time Pro Bowl defensive end joined Shaquille O'Neal, Ernie Johnson, Kenny "The Jet" Smith, and Charles Barkley on TNT on Thursday.
There were some "Here We Go Brownies" and some Super Bowl talk.
In addition, they spoke about the mural in Cleveland that celebrates Garrett's grandmother:
#Browns star Myles Garrett is honoring his late grandmother Juanita Garrett today with the unveiling of this mural in PlayHouse Square in Cleveland. Lauren Pearce is the artist. I've talked to Myles a few times about his how tremendously influential his "Gran" was in his life. pic.twitter.com/n4oAo1Slty

— Nate Ulrich (@ByNateUlrich) September 28, 2021
Also during the interview, Barkley said he would donate $1,000 to Garrett's charity Waterboys for every point scored by Garrett in the Celebrity Game.
Smith then followed it up with a donation for Garrett's rebounding: he is going to give $1,000 for every rebound by Garrett on Friday.
It was very exciting to see the Browns star featured with the NBA's most popular cast of characters.
They had a lot of fun in front of the live audience at 1100 Rock and Roll Boulevard.
It was the first of many exciting things happening in the city this weekend.
So, what will we have in store at Rocket Mortgage FieldHouse?
2022 NBA All-Star Weekend in Cleveland
At 7:00 pm eastern time on Friday, you can watch Garrett in the All-Star Celebrity Game.
NBA legend Dominique "Nique" Wilkins will be the coach for Garrett's team.
Former Cleveland Cavalier Daniel "Boobie" Gibson will also be on Team Nique:
#Browns DE Myles Garrett scheduled to play in the NBA Celebrity All-Star Game next weekend. Former #Cavs Anderson Varejao and Boobie Gibson also on the rosters.

— Tom Withers (@twithersAP) February 9, 2022
Anderson Varejao will be on the other bench, as he takes on Garrett and Gibson.
Varejao is on coach Bill Walton's squad.
The star-studded weekend in Cleveland will sure be fun for all sports fans.
Saturday night will include the skills challenge, 3-point contest, and the slam dunk contest.
Then on Sunday at 8 pm eastern, the 71st NBA All-Star Game will be played.
It will be fun to see if other Cleveland Browns get in on the fun throughout the weekend.