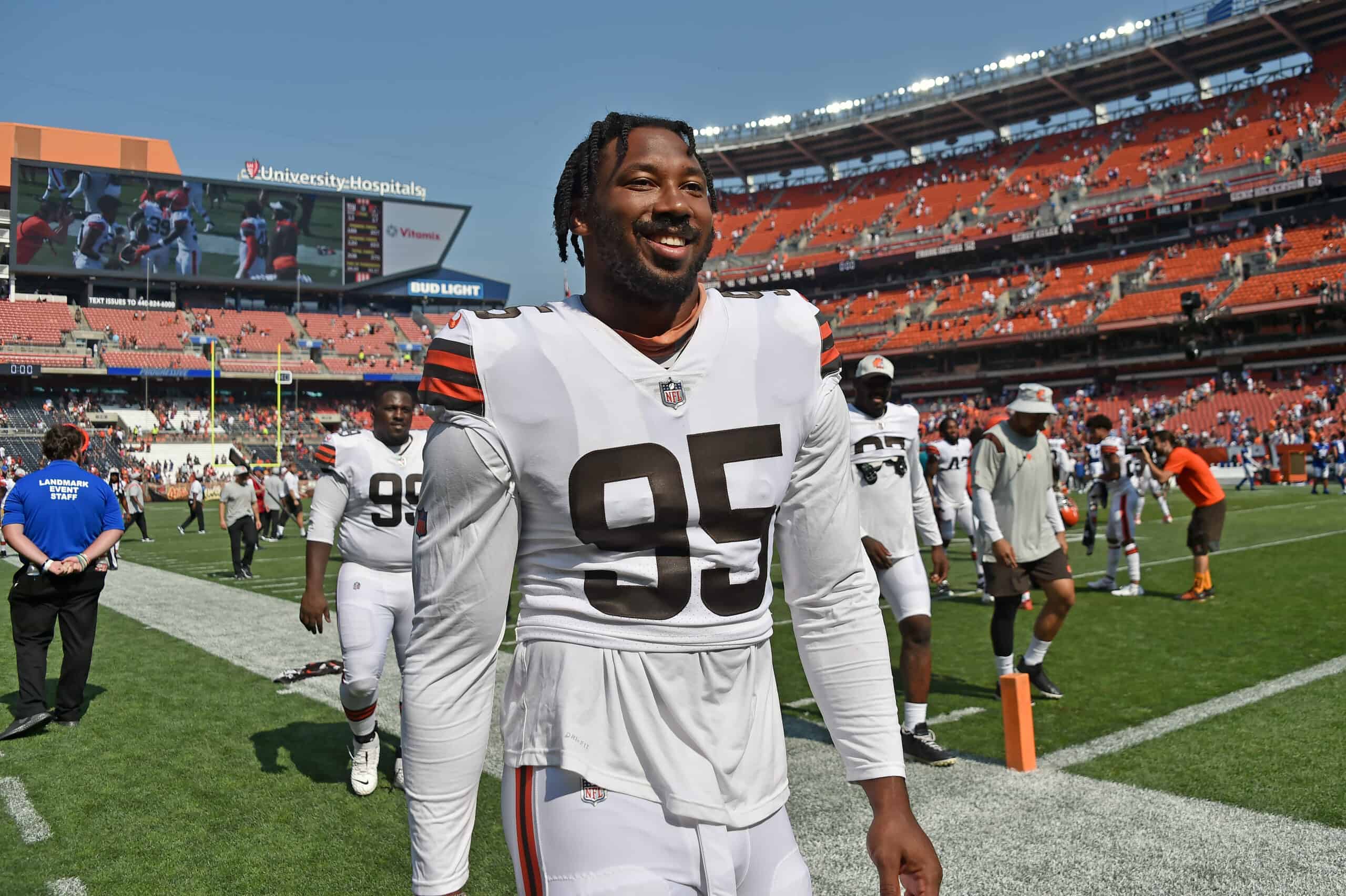 The Cleveland Browns fans' love affair with defensive end Myles Garrett was sincerely appreciated by Garrett who had a record breaking game against the Chicago Bears.
Garrett did not know he broke the franchise record for quarterback sacks in one game with his astounding 4.5 sacks of Bears' quarterback Justin Fields.
He was told about that in his postgame news conference.
Garrett openly credited his teammates for putting him in the position to play as well as he did on Sunday.
However, the competitor that he is, he lamented the ones he missed and how he could be even better in future games.
Garrett And The Fans
Garrett was visibly moved by the fans' reaction and cheers to him as he ran into the tunnel after the game.
#Browns Myles Garrett on the fans showing him love after the game: "I just want to be here forever and have that commonplace for me, them cheering my name." pic.twitter.com/HL9VEaDlK5

— Camryn Justice (@camijustice) September 26, 2021
Having 44,000 fans chant his name clearly stirred him.
Once again, he is competitive and wants to make his excellent play and fan reaction commonplace.
He does not want this to be a once and done experience.
Garrett Echoes A Recurring Theme That Fans Love To Hear
The other quote that stood out for Browns fans is that Garrett mentioned being in Cleveland forever.
To Browns fans, this is becoming a wonderful pattern.
Denzel Ward and Nick Chubb have also said it.
Coming to Cleveland and wanting to stay in Cleveland for the duration of a player's career is practically unheard of, with the exception of Browns legend Joe Thomas.
The Browns' culture has definitely shifted making Cleveland a destination for top players to seek out.
John Johnson III was a free agent this offseason who had better offers from other teams but chose Cleveland because of that new and inviting culture.
The culture is tied to GM Andrew Berry and Coach Kevin Stefanski.
It is a young front office with a young head coach; both are attracting the best players to fit what they want.
They are not necessarily seeking the best free agents on the market and wanting to pay top dollar for them.
They want the best players who fit into and advocate for the culture to attract more of the same type of players.
Myles Garrett making that statement yesterday is a wonderful reminder of what is happening in Cleveland because he was here for the losing times and rough days of this franchise.
During his rookie year in 2017, the team was winless.
The Defense Showed Us What They've Got
There was so much excitement around the defensive performance yesterday.
In addition to Garrett's performance, Jadeveon Clowney and Jeremiah Owusu-Koramoah also had big games.
Jadeveon Clowney welcomed Justin Fields to the NFL with 2 massive sacks for a loss of 12 yards each. pic.twitter.com/ycs7mjS172

— Vizor Sports (@VizorSportsSC) September 26, 2021
#Browns LB Jeremiah Owusu-Koramoah's Sunday in review:

– 4 tackles
– 1 TFL
– 0.5 sack
– 2 PD
– 1 QB Hit
– 93.9 PFF grade

Monster. pic.twitter.com/lJNfmYTbZx

— MoreForYouCleveland (@MoreForYou_CLE) September 27, 2021
For the Browns to contend in 2021, we need to see more of the same week in and week out.
This is exactly what we hoped to see from this revamped Browns defense.
The victory celebration will be short for the team.
Next up is a personal one for Coach Stefanski as the Browns travel to Minnesota to take on his former team, the Minnesota Vikings, in Week 4.