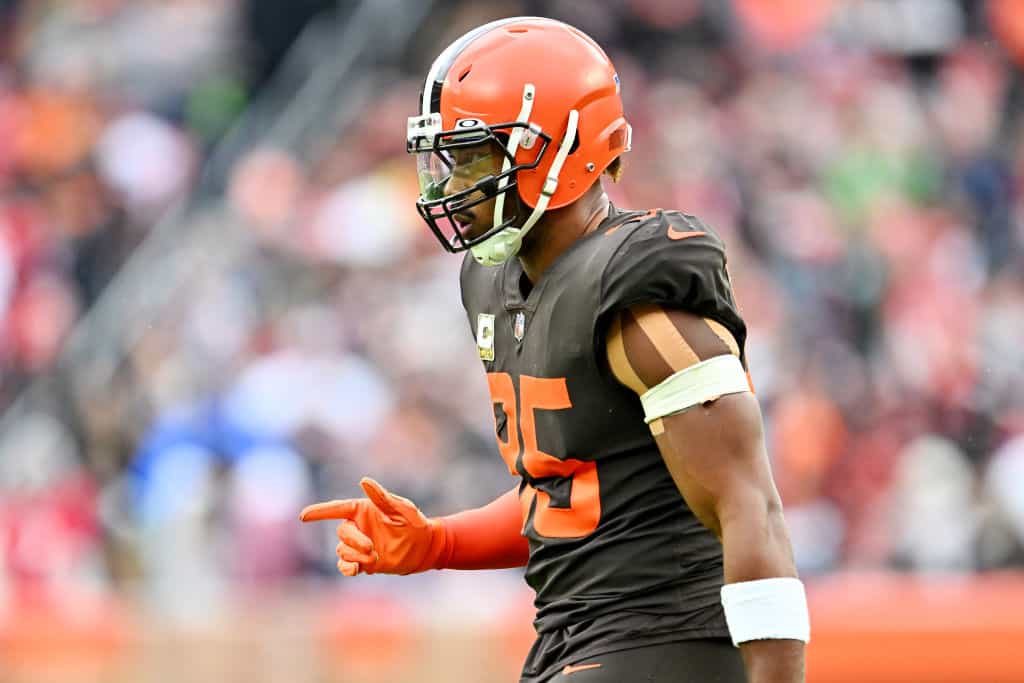 Every Cleveland Browns fan should have his favorite Myles Garrett moment.
After all, he's had double-digit sacks in the last five NFL seasons before 2023.
However, the four-time All-Pro defensive end added another moment to his ever-growing highlight reel.
The Texas A&M standout was toying with the Cincinnati Bengals offensive line during their Week 1 encounter.
He was recorded mimicking a basketball crossover dribble before rushing through the middle to catch Joe Burrow.
Football fans can't get enough of that short clip that has become so viral.
With his loose attitude getting much attention, Garrett explained that move in a video shared by The Chronicle-Telegram and Medina Gazette writer Scott Petrak.
Garrett said, "So, I like the Euro step. I have variations that I won't particularly name that, but some things that look similar. I have to start to name each one."
#Browns DE Myles Garrett on his "Euro step" pass rush move. pic.twitter.com/4B2ua1JMn7

— Scott Petrak ct (@ScottPetrak) September 16, 2023
There are three things to point out from his quote.
First, the move does have a name that Garrett likes.
Second, he has more moves that opposing offensive linemen haven't seen.
That sounds like a threat to those trying to neutralize him because he has more tools in his bag.
Third, he's having fun playing football because he's got help around him.
If he couldn't reach the quarterback, Dalvin Tomlinson, Za'Darius Smith, and Ogbo Okoronkwo are all capable of what Garrett does best.
The Browns defense looked terrific one game into the 2023 NFL season.
The question is if they can sustain that tenacity throughout the regular season and possibly the playoffs.