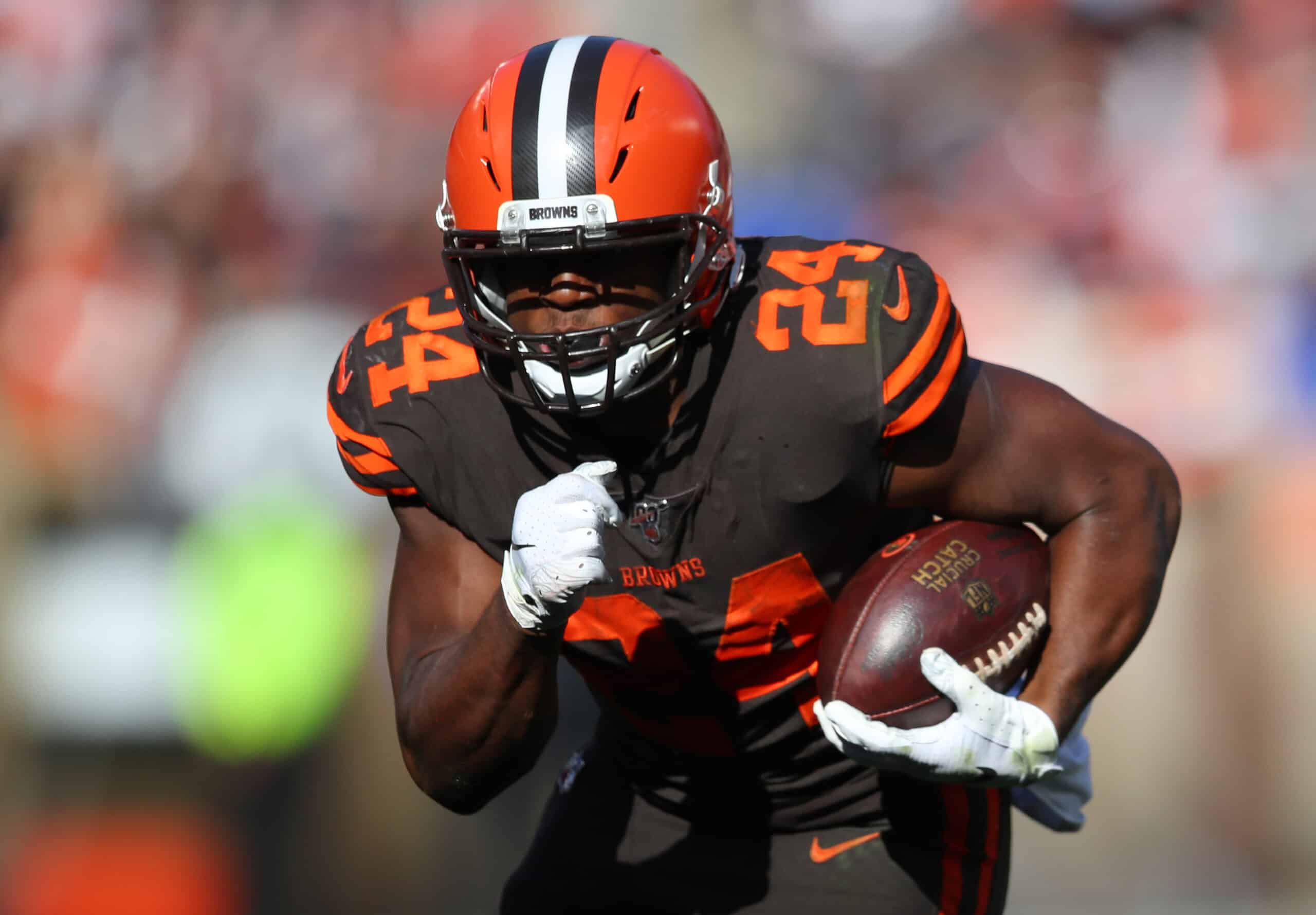 NFL players voted for Cleveland Browns running back Nick Chubb as the 26th-best player in the league heading into the 2021 season.
The players vote each year on the NFL Network's Top 100 list.
"Nick can ball, and I love watching him run," Browns defensive end Myles Garrett said of Chubb. "He can do everything."
Chubb entered the 2020 season ranked as the NFL's 36th best player.
Several other Browns players made the NFL's Top 100 list: Garrett ranked 16th, quarterback Baker Mayfield ranked 71st and wide receiver Jarvis Landry ranked 94th.
Chubb, 25, signed a three-year contract extension earlier this offseason, meaning he is under contract through the 2024 season.
Number 26 on the list, number 1 in our hearts. 🧡@NickChubb21 https://t.co/aJJ8e7kcxd

— Cleveland Browns (@Browns) August 22, 2021
"Nick Chubb, that's not somebody you really want to see (in the) open field and in the hole," Baltimore Ravens cornerback Marlon Humphrey said. "I'm hoping my (defensive) linemen (and) linebackers take care of that before he gets to me.
Humphrey said he thinks Tennessee Titans running back Derrick Henry is the hardest player to tackle in the NFL and Chubb is second.
"I would just like to see him get the amount of touches as Derrick (to) see stat for stat who comes out on top because I know he has the ability to and I know he's shown it," Garrett said.
Last season, Chubb became the first Browns runner to rush for consecutive 1,000-yard seasons since Jamal Lewis (2007-2008).
In 12 regular-season games during the 2020 season, Chubb ran for 1,067 yards on 190 carries for a career-high 12 touchdowns.
Henry had 2,027 rushing yards on 378 carries and 17 rushing touchdowns.
Browns running back Kareem Hunt helps lighten Chubb's load, whereas Henry has had different backups the past few years in Tennessee.
Chubb also received praise from another AFC North rival.
Safety Minkah Fitzpatrick recalled a 47-touchdown run Chubb had in the first quarter of the Week 17 game between the Browns and Pittsburgh Steelers.
"Nick broke out of the backfield and I was chasing him and I got my angle on him," Fitzpatrick said. "And, I got in front of him, I cut him off, and tried to just like grab him up top, and he kind of just like swiped me by.

"After the game, he walked up to me, and he was just like, 'I got you.' I was like, 'yeah man, you got me.'"
🗣 "47-YARD. TOUCHDOWN. RUN."#WeWantMore | @NickChubb21 pic.twitter.com/h71b1wHr85

— Cleveland Browns (@Browns) January 7, 2021
Philadelphia Eagles defensive end Brandon Graham also complimented Chubb.
"I definitely respect his game," Graham said of Chubb. "I didn't realize how sneaky fast he is, and man, there (were) a couple times he outran me.

"He had me hesitate for a second and boy he just burst to the side. And I was like, yeah, 'he's for real.'"
Former Browns and current Steelers linebacker Joe Schobert explained how Chubb would have had another touchdown in 2020 if not for deciding to run out of bounds to allow the Browns to run out the clock in the Week 10 win over the Texans.
"It's all about the team with Nick," Schobert said. "He got out, he could've scored a touchdown, he could've had personal stats and chose to do it better for the team and make sure the game was over."
While many gamblers, including "Inside the NBA" analyst Charles Barkley, weren't happy with Chubb's decision to run out of bounds, it helped the Browns seal a 10-7 win against the Texans.
Nick Chubb runs out of bounds, crushing the backdoor Browns cover! CLE wins 10-7.

✅CLE (-225) ✅HOU +4.5 ✅ u45.5#Browns pic.twitter.com/RC0YqLeOh2

— SportsBettingDime (@SBD) November 15, 2020