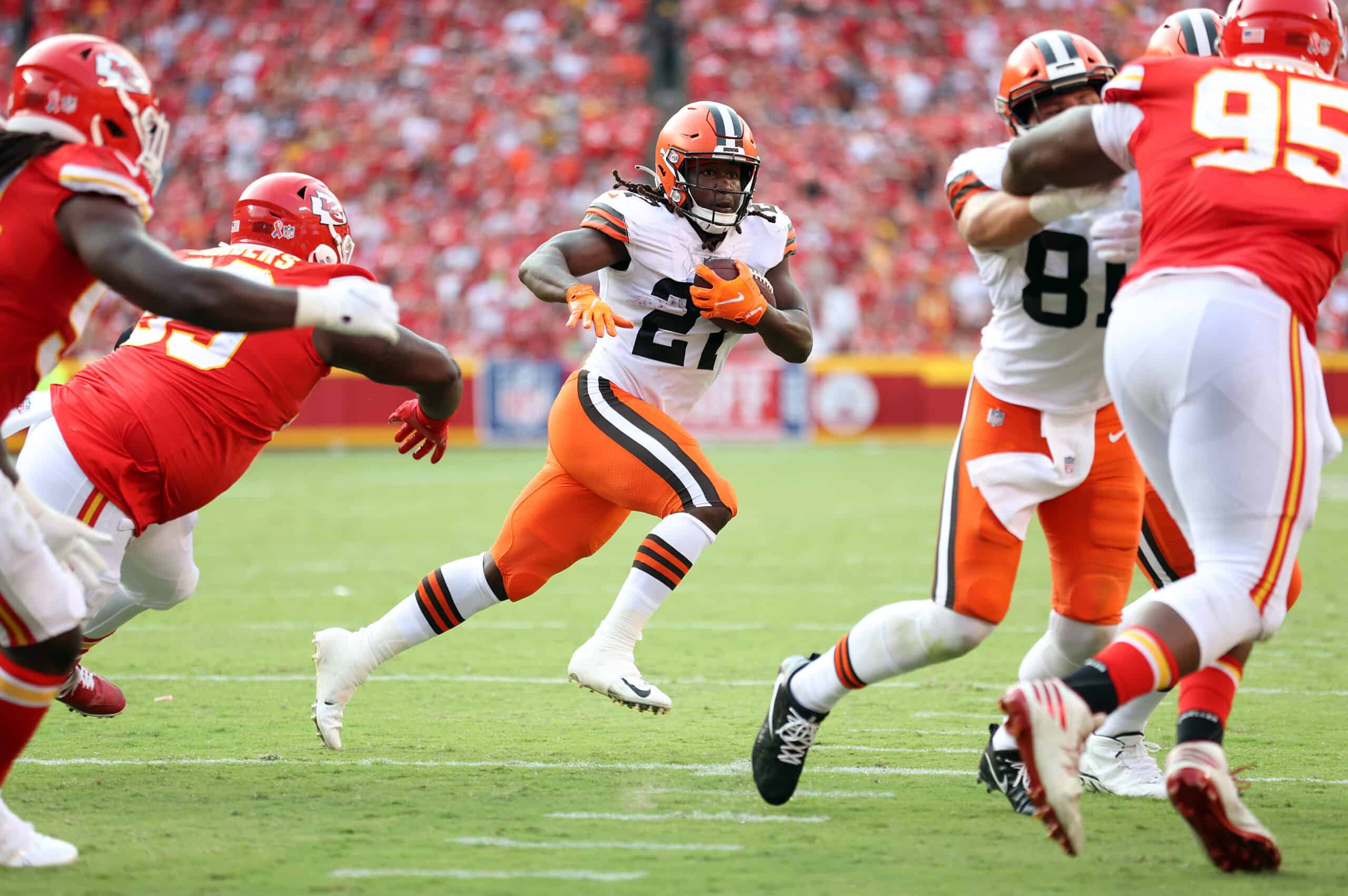 The Cleveland Browns fell to the Kansas City Chiefs in their Week 1 opener on Sunday, September 12, 2021.
The final score was 33-29.
Check out my personal video summary of the game.
Here are the news and notes from the game.
1. Jedrick Wills
Left tackle Jedrick Wills left the game with an ankle injury.
The severity is yet to be determined as further tests will be required.
#Browns coach Kevin Stefanski said we'll get tests on Jedrick Wills Jr. (ankle) before we know severity

— Nate Ulrich (@ByNateUlrich) September 12, 2021
2. Baker Mayfield
Though he will be judged by the interception at the end of the game, he played an excellent game and demonstrated postgame leadership according to Jarvis Landry.
#Browns WR Jarvis Landry said Baker Mayfield addressed team in locker room after the game, we can't think this is the end of our season, need to play full game, dust ourselves off, put this behind us

— Nate Ulrich (@ByNateUlrich) September 13, 2021
#Browns WR Jarvis Landry on Baker Mayfield: "He's the leader of our team. Spoke in the locker room after the game. He played well today. I know he's going to try to find ways to fix the things that went wrong today, as we all should. It's a team game."

— Keith Britton (@KeithBritton86) September 13, 2021
3. The Mahomes Sandwich
We need to see a lot more of this during the season to ensure the Browns are successful.
Garrett & Clowney combine on the clutch 3rd down sack. #Browns

📺: #CLEvsKC on CBS
📱: NFL app pic.twitter.com/dqnlFmd7rt

— NFL (@NFL) September 12, 2021
4. Safety Shortage
The loss of safety Ronnie Harrison with Grant Delpit inactive was significant.
Let's start with Harrison.
Neither should have his hands on the other so both should have been penalized.
Ronnie Harrison and a KC coach shove each other, and KC gets flagged for unsportsmanlike conduct…. THEN the officials reconvene and EJECT Harrison and flip the penalty. What a bizarre sequence #Browns

— Jake Trotter (@Jake_Trotter) September 12, 2021
Browns go from three safeties (John Johnson III, Grant Delpit and Ronnie Harrison) down to one after Delpit late scratch and Harrison ejected for stepping on a player and pushing a KC coach.

Unlike a Kevin Stefanski-coached team. Emotions clearly high.

— Ellis L. Williams (@BookofEllis) September 12, 2021
Cooler heads need to prevail on the Browns as the team moves forward so critical losses like this do not happen.
The temperature on the field was the opposite of cool at one point in the 90s.
JJ3 playing safety all alone paid the price as did the Browns.
#Browns John Johnson III went to the locker room for IV for cramps, per tv, but came back out

— Mary Kay Cabot (@MaryKayCabot) September 12, 2021
5. Special Teams
Big mistake by the Browns special teams! #NFl #Browns #ChiefsKingdom pic.twitter.com/RZMFtXh1Rz

— JWALSports Productions LLC (@JWALSports) September 12, 2021
Jamie Gillan's gaffe is still difficult to understand.
Chase McLaughlin struggled to make extra points.
And Donovan Peoples-Jones was frightfully close to another critical special teams error.
Thankfully he saw correctly that the punt was touched by a Chiefs player and reacted correctly.
In a game of inches and instant replay, viewers had a difficult time seeing that.
Smart play by Donovan Peoples-Jones to try to return the punt after the Chiefs touched it

— Steve Palazzolo (@PFF_Steve) September 12, 2021
I'd argue the weakest link on the #Browns is special teams. The return game is non-existent and your punter can't drop a clean snap. That just can't happen.

— Daryl Ruiter (@RuiterWrongFAN) September 12, 2021
I will say this. I am starting to ask questions of Mike Priefer. The special teams has been mediocre to below average the last 2 years.

That has to change. And change now. #Browns

— Rufus Jones IV (@RufusJonesIV) September 13, 2021
6. Nick Chubb
Chubb could not hide his disappointment with himself after coughing up the ball in a rare fumble.
Nick Chubb took complete ownership of his fumble, no excuses.

"You've got to finish. We made too many mistakes, with me making the worst one."

— Andrew Gribble (@Andrew_Gribble) September 13, 2021
It may or may not make you feel better but just know that Nick Chubb is currently probably running wind sprints, punching concrete and screaming at the moon because of that fumble and it's not likely to occur again any time soon. #Browns

— Mike Polk Jr. (@mikepolkjr) September 13, 2021
7. Opening Day Winless Streak Continues
The stakes were high, and the odds were against the Browns.
They failed to deliver the opening day win to break the 17-year opening day winless streak.
Hopefully, that changes next year before the winless streak is old enough to vote.