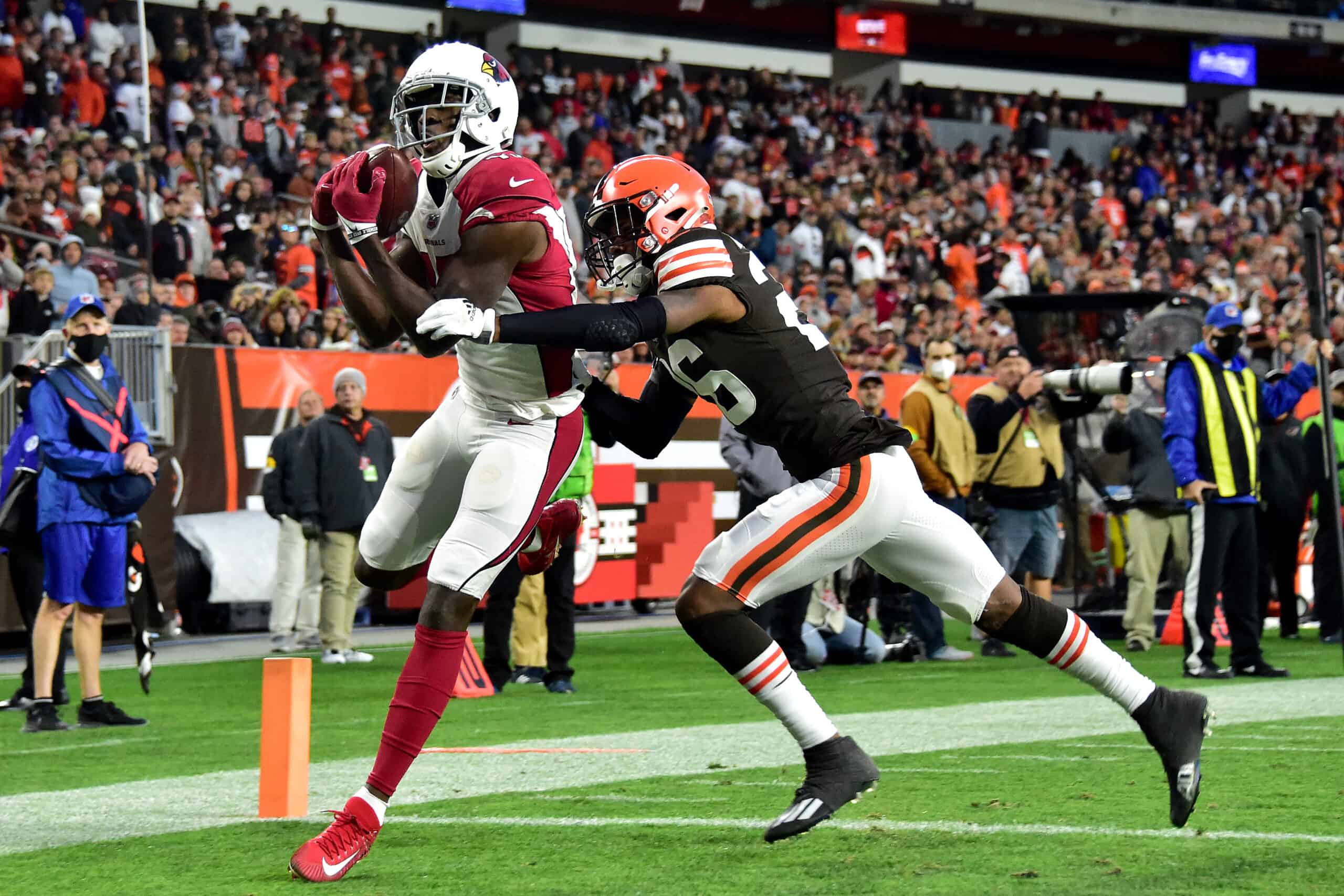 The Cleveland Browns were soundly defeated by the Arizona Cardinals in Week 6.
The Cardinals left FirstEnergy Stadium with an undefeated 6-0 record and gave the Browns a lot to think about in a short week.
Check out my TikTok recap of this debacle game.
Here are the news and notes from the Browns Week 6 loss.
DPJ Provided The Lone Spark
This team looked flat and listless.
Mayfield tried to get things going, and wide receiver Donovan Peoples-Jones was the only player on either side of the ball that seemed up to the task.
Here was his Hail Mary catch to end the first half.
HAIL MARY!

Baker Mayfield does his best Aaron Rodgers impression and hits Peoples-Jones for a touchdown to end the half.

The #Browns went from 7% win probability to over 20% on this play.#ARIvsCLE pic.twitter.com/Lco3gSy4Ej

— EdjSports (@edjsports) October 17, 2021
Officiating Continued To Be Poor
Poor officiating does not lose games per se.
However, it does create artificial momentum swings and did it in both the Chargers and Cardinals games.
It is so obvious that even a non Browns fan tweeted about it during the game.
Bro…I hate the #Browns….but NFL officials ain't even giving them a chance at this point. #ARIvsCLE

— SKURPS (@skurpsSLP) October 17, 2021
Fans watching at home also commented.
how many flags are they going to throw on this Arizona drive?? #ARIvsCLE

— poor ppl fed up (@_Area876) October 17, 2021
If the ref hadn't incorrectly called PI on Ward (the first one), that drive would have been over before it started. NFL officiating is out of hand. What? 7 penalties called on that drive? #ARIvsCLE

— Kerry Gleason writer🇺🇸☘ (@KTGWRITER) October 17, 2021
Refs getting calls/no-calls wrong pretty early against cleveland again this week. Glad to see we picked up right where we left off last week. #ARIvsCLE

— Matt Roberts (@Brownand0range) October 17, 2021
Defense Allowed Big Scores
In a recurring theme that was also evident last week against the Chargers, the Browns defense was caught flat footed more than once.
DeAndre Hopkins just embarrassed the Browns defense 🤯
pic.twitter.com/s66Pj9ubw2

— PFF (@PFF) October 17, 2021
When they were not struggling to make tackles, they were in the wrong place allowing an easy score by the Cardinals.
Easiest touchdown of DeAndre Hopkins' career 😂#AZCardinals #ARIvsCLE pic.twitter.com/58OpAzGFED

— NerdBall Fantasy Football (@nerdballff) October 17, 2021
Play Calling Continued To Be A Problem
Coach Stefanski did not do the team any favors with his play calls against the Cardinals either.
It sure seems like Stefanski tried to get too clever with his game plan today. This is the very 1st play of the game. The #Browns are down to their 4th and 5th string Offensive Tackles, yet Stefanski opens up by calling 0-0 protection with an empty backfield. Doesn't make sense. pic.twitter.com/UeFsaEMwdu

— Roberto Shenanigans (@Rob_Shenanigans) October 18, 2021
Bad play calling on #Browns first drive. No Run plays with Hunt! We know the #cardinals will be airing it out. We don't want to get stuck being one dimensional trailing. #ARIvsCLE #nfl #nflonfox

— Bryan Hannaford (@bryanhanna4rd) October 17, 2021
I love Stefanski, but I also think he needs to look at some of his decision making over the past few weeks too. Where was D'Ernest Johnson yesterday? Was the play calling the best considering the O line injuries? I'm not some X's & O's expert, just a fan who is honestly asking.

— Kauai0604 (@Kauai0604) October 18, 2021
Rework And Regroup Fast
The Browns have a lot to fix with only a few days to spare.
Hopefully, the coaching staff was up late last night starting to work on things.
They host the Denver Broncos on Thursday night and are in serious danger of falling below .500 after getting off to a 3-1 start.
There are a ton of injuries that are making things more challenging; however, the team needs to get it together, prepare the next man up, and return to their winning ways.