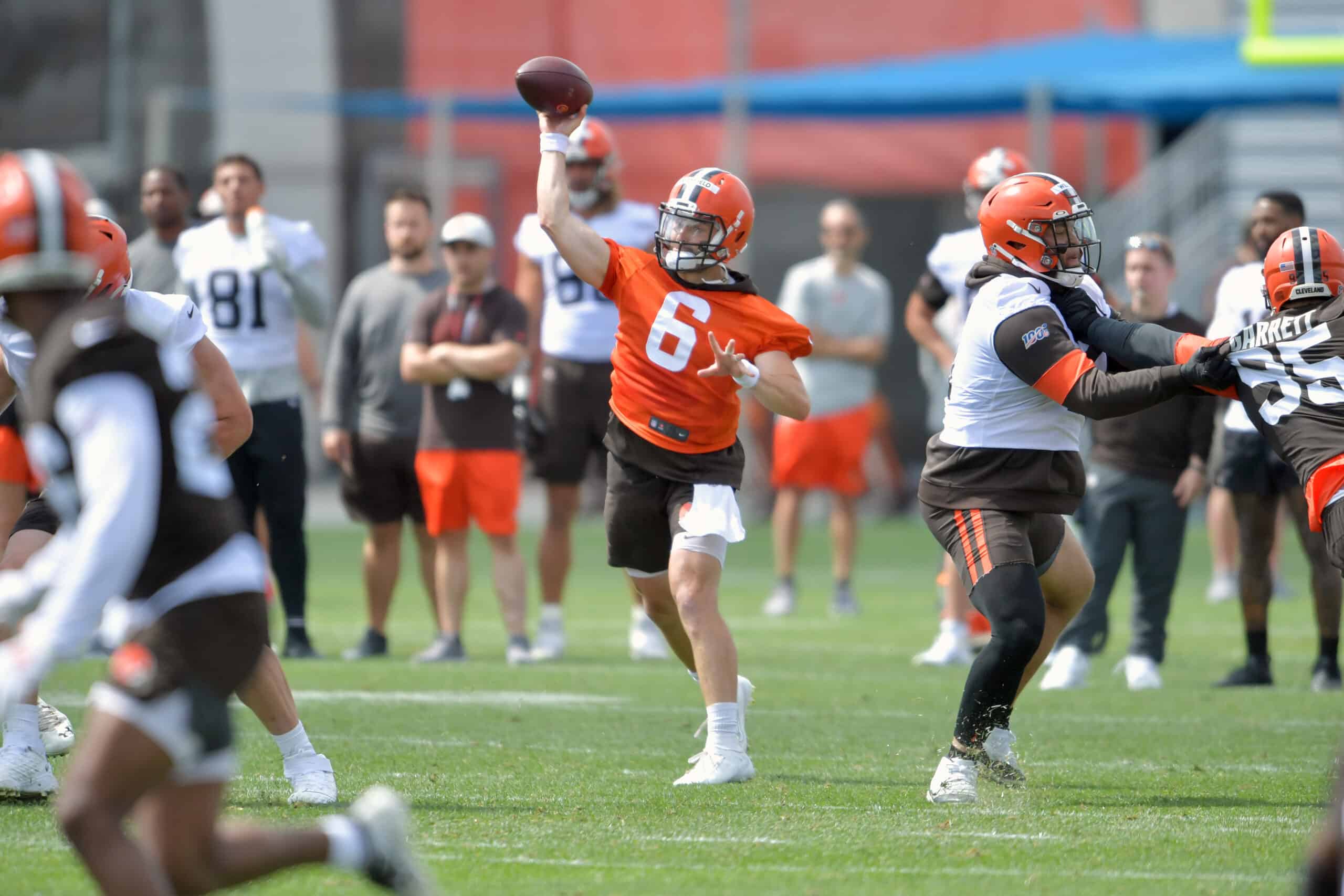 The Cleveland Browns had another open practice with fans on Wednesday, August 4, 2021.
The team was all-in as usual with some notable highlights.
1. NFL Network Spends The Day In Berea
The NFL Network led by Browns legend Joe Thomas spent the day at camp.
Among the televised interviews were GM Andrew Berry, Coach Stefanski, Jarvis Landry, and Baker Mayfield.
Joe Thomas asked both Landry and Mayfield about the team's Super Bowl aspirations.
Both echoed the sentiment that all NFL players have Super Bowl as the goal; otherwise, why compete?
Mayfield sounded like the seasoned veteran leader of this team.
He is definitely benefitting from in person training camp sessions and the second year under the Stefanski/Van Pelt offensive scheme.
Entering his second season in the same offense, @bakermayfield is ready to build off of 2020's success 🙌

The @Browns QB joined @joethomas73 and @AndrewSiciliano! pic.twitter.com/5SjX2IlYBi

— NFL Network (@nflnetwork) August 4, 2021
Coach Stefanski reminded all of us that the Browns finished third in the AFC North last season which lays the groundwork for his "work" and "team" mantras.
Kevin Stefanski is joined by Joe Thomas and Andrew Siciliano of the NFL Network for an interview after practice. #BrownsCamp pic.twitter.com/kqeqO7cCVU

— cdotcombrowns (@cdotcombrowns) August 4, 2021
GM Berry refused to break any news on the NFL Network airwaves regarding pending contract extensions.
While he was specifically asked about Baker Mayfield, Wyatt Teller and Denzel Ward are also candidates for extensions.
Berry said Mayfield's deal is not related to his 2018 peers (Allen and Jackson), each situation is unique.
2. OBJ Looks Great
Spending a couple of days at Browns camp. Here's some of what head coach Kevin Stefanski told me about Odell Beckham Jr and his recovery from his torn ACL. Sounds like Odell could ramp up practice activity next week. pic.twitter.com/3dQlnufXl6

— Dan Graziano (@DanGrazianoESPN) August 4, 2021
While the Browns are bringing him back in a methodical and careful fashion, it is easy to forget when watching OBJ that he is coming off a season-ending ACL injury.
He has been motivated in his return and wants to be a part of the Browns' 2021 success.
#Browns WR coach Chad O'Shea said Odell Beckham Jr. is driven in comeback from torn ACL to be key contributor. O'Shea said he's seen signs of chemistry between OBJ and Baker Mayfield developing not just on field but in meetings and with communication.

— Nate Ulrich (@ByNateUlrich) August 4, 2021
"I think you are about to see the best Odell you've ever seen"@89JonesNTAF sees that special spark in @obj's eyes 👀🔥 @Browns pic.twitter.com/4lfreQEUnP

— NFL Total Access (@NFLTotalAccess) August 4, 2021
Odell Beckham Jr. in pads today.#Browns pic.twitter.com/snwn1imbhk

— Tom Withers (@twithersAP) August 4, 2021
There is no knee brace or sleeve on his leg.
He is running and cutting freely and looking extremely dangerous.
3. DPJ Continues To Dazzle
Donovan Peoples-Jones is consistently making the catches in camp.
He is vying for the WR3 position on the roster and making a strong case.
DPJ has been putting on a show every day. The breakout looks to be real. 👀

— Mayfield Garrett Stefanski Era 🐶 (@MylesOffTheEdge) August 4, 2021
Baker Mayfield just connected with DPJ on a 60-yard TD pass. DPJ is having himself a camp to remember. #Browns

— clebrownsnetwork (@clebrownsntwork) August 4, 2021
The Browns have an off day on Thursday, August 6 but will be back at it again on Friday, August 7.