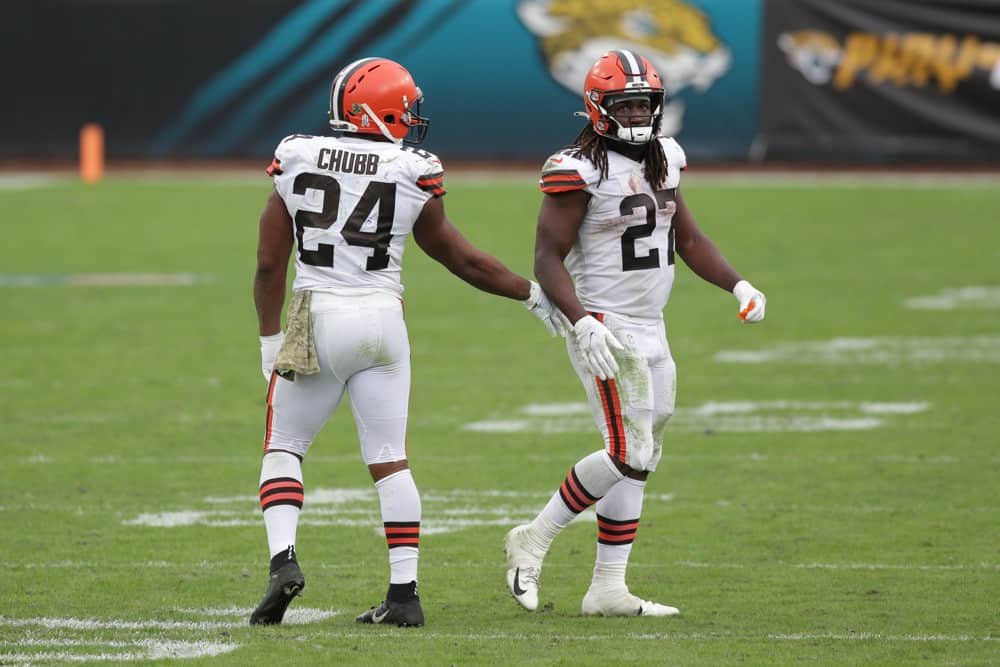 Recently, the Cleveland Browns made a big splash and extended running back Nick Chubb.
Lately, teams have been hesitant to pay big money to running backs, but the Browns went against that idea.
They gave Chubb a three-year $36.6 million extension, which is almost underpaying him for his stellar performance on the field.
However, Chubb wouldn't be nearly as successful without running back Kareem Hunt by his side.
The two of them are arguably the best one-two punch in the league right now.
Stacking The Deck
After the Chubb extension, the Browns have both their backs locked up for at least the next two seasons.
That is great news considering how well they've performed together over the last few years.
At one point in 2020, it seemed like both backs were going to surpass the 1,000 rushing yard mark.
Sadly, Hunt only hit 841 yards, but was also heavily used in the receiving game.
His biggest asset to the team is his pass-catching ability and it goes along perfectly with Chubb.
Kareem Hunt is going to absolutely rack up the all purpose yards on this offense 👀 #Browns

(Via @FredGreetham) pic.twitter.com/53e4l6ahHl

— Zach (@ZachFromCLE) July 31, 2021
Last season, Chubb and Hunt accounted for 2,362 yards from scrimmage and 23 total touchdowns.
It's difficult to find two running backs that play off each other's strengths as well as Hunt and Chubb do in Cleveland.
Hunt is a major factor why Chubb is able to average 10 yards per carry.
This is going to be a dangerous duo for years to come and the Browns are excited to have them both locked up for a few seasons.
A Winning Combo
If asked to, Chubb could be an every-down back, but he doesn't need to do that in Cleveland.
The addition of Hunt to the roster gives the Browns more flexibility with their offense.
Hunt has the ability to make plays as a pass-catcher or get those tough 3rd-and-1 downs as well.
It's obvious that these two work well together and Hunt even said it himself.
"I know if I'm not in the game or Nick's not in the game and it's third-and 3, I know Nick can get or I'll get it," Hunt said via Mary Kay Cabot of Cleveland.com. "So, we get more opportunities by having extra first downs and stuff like that. I definitely feel we can keep each other fresh."
These two backs trust each other and have each other's backs in every given situation.
Both players are excited to be in Cleveland and want to help get the Browns to a Super Bowl.
They know how important their presence is to the organization and what kind of impact they have on the field every week.
"We've still got to go out there and prove each and every week, like we will, and I know what type of players we are," Hunt said. "I really don't buy into all that running backs don't matter stuff. I know a lot of running backs who can take a game over by themselves."
It's nice to know that Cleveland doesn't need to rely on one of them to carry the load on offense.
Both of them can be starters and they share the running back role perfectly.
Another excellent season could possibly mean a deep playoff run for Cleveland, assuming Chubb and Hunt continue playing at this level.