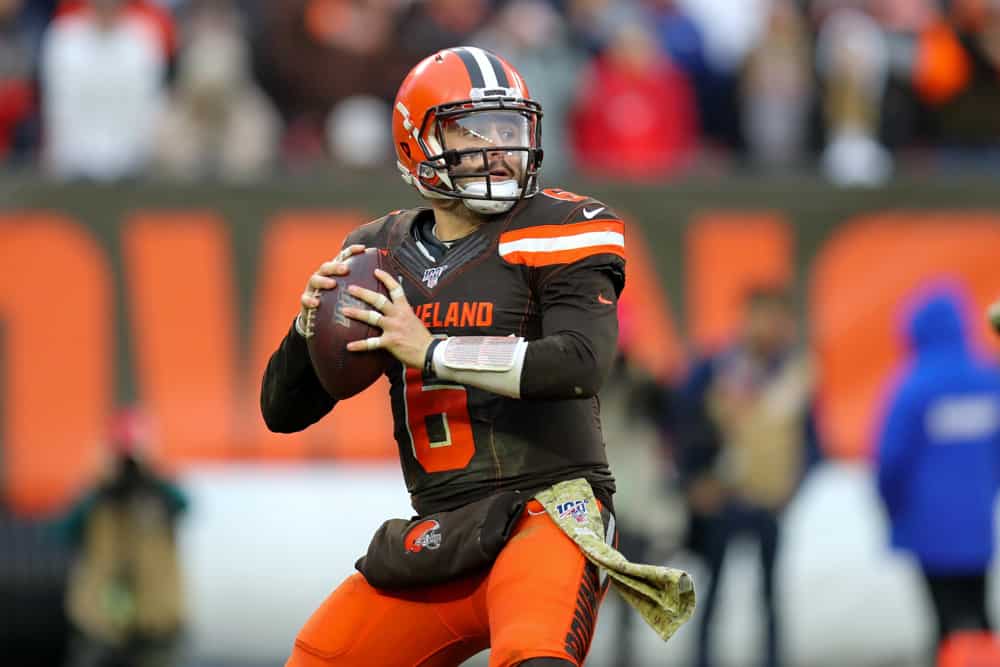 Though the dust has barely settled on the 2021 NFL Draft, NFL Network draft analyst Daniel Jeremiah is hard at work evaluating the 2022 draft class.
He compares one of the quarterback prospects to Cleveland Browns QB Baker Mayfield.
His name is Sam Howell from the University of North Carolina.
Many Similarities
Both Howell and Mayfield measure 6'1″ tall.
Mayfield weighed in at 220 pounds in college whereas Howell is 225 pounds.
Jeremiah believes the overall arm strength between the two is also similar.
Mayfield has a swagger that sometimes rubs people the wrong way, but Jeremiah terms Howell has full of energy.
Finishing up 3 game study on UNC QB Sam Howell…reminds me so much of Baker Mayfield. Same build, athleticism & arm strength. Lots of energy too!

— Daniel Jeremiah (@MoveTheSticks) June 4, 2021
Jeremiah is apparently just the latest to note the similarity.
It was pointed out when Howell committed to UNC while high school highlights of the pair were evaluated.
Here's a side-by-side comparison of Sam Howell and Baker Mayfield's high school highlights.

Mack Brown compared the #UNC commit to Mayfield yesterday during his early signing day presser. Judging by the tape, I definitely see where the Hall of Fame coach is coming from. pic.twitter.com/PDUUxlFsNt

— Jacob Turner (@JacobTurnerTHI) December 20, 2018
Stats
It is difficult to make an apples-to-apples stats comparison since Mayfield only played eight games his freshman year at Texas Tech before transferring.
However, in his first two seasons in 21 games, Mayfield threw 48 touchdowns and 16 interceptions with just over 6,000 passing yards.
Howell, in 25 games in his first two seasons, threw 68 touchdowns and 14 interceptions with over 7,200 passing yards.
Of course, Mayfield's finest season statistically was his senior season at Oklahoma which paved the way for his Heisman Trophy win.
It appears Howell will only play three seasons if he declares for the 2022 NFL Draft.
What Does This Mean?
Draft analysts always like to have a professional player comparison for the college athletes.
It provides a more vivid picture of the college player's game.
Howell being compared to Baker Mayfield is not a bad thing.
Mayfield was a college star who has translated that into modest NFL success, and he continues to mature and improve which is really the most critical factor for college athletes after they make the leap to the NFL.