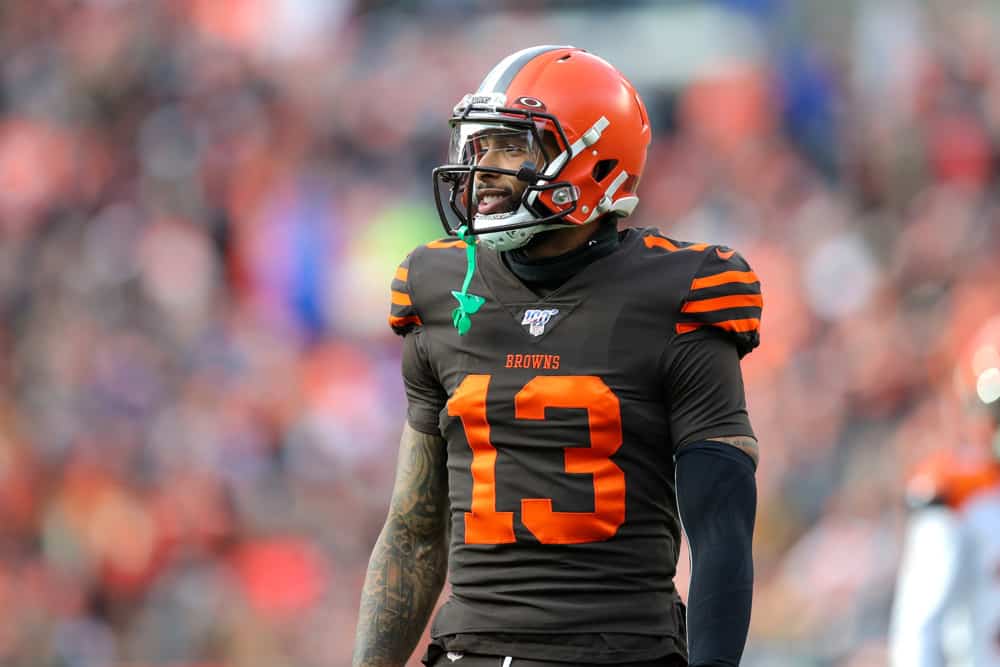 The Cleveland Browns have remained consistent in their posture and language regarding OBJ.
Ever since the team's loss to the Kansas City Chiefs, Coach Stefanski and GM Andrew Berry shared their excitement to have a healthy OBJ back with the team in 2021.
Thus far, there has been no change according to Jason La Canfora of CBS Sports.
"The Browns aren't putting out any vibes about dealing Odell Beckham Jr., but that doesn't mean someone can't make a phone call that results in a deal."
So the theme of this story could be "no news is still no news."
What Stefanski and Berry Said In January
This was Coach Stefanski's position on OBJ on January 18.
"I texted with him this morning. I know he's working really hard to get better in his rehab. I'm excited to get him back here. I know it was not easy for him being away from his teammates, especially as these games got bigger and into the playoffs. I know he definitely wanted to be a part of it."
The same day GM Andrew Berry offered his take on OBJ.
"You always want to have someone that talented on the field. He's a dynamic weapon and we like having dynamic weapons on the field…I've said it multiple times, Odell's a good football player. He acclimated nicely with our program, with Kevin, with his teammates. Quite honestly, I just want as many good football players on the roster as possible."
OBJ's Recovery
From what we have seen and heard, OBJ's recovery is going as good as can be expected, possibly better.
Mary Kay Cabot of cleveland.com recently talked about OBJ's rehab.
"He had a follow-up appointment on his torn ACL, which was repaired by the world-renowned Dr. James Andrews, and was told that he's recovering faster than anyone they've seen, or at least just as fast. I believe he'll probably be somewhat limited in training camp, but ready to go for the start of the season, or close to it.  He's working out like crazy, as evidenced by his social media posts."
We also know he is extremely motivated to get back on the field.
As quick as we alll forgot… is as quick as I'll remind ya…. GodSpeeeed pic.twitter.com/NSF5KDzbyr

— Odell Beckham Jr (@obj) February 13, 2021
What Does This Mean?
It seems extremely likely that OBJ will be with the Browns in September.
That does not mean that Berry will not answer the phone if he gets trade requests.
Though his recovery is going well, it will be months before a doctor (for any team) could clear him to play.
Teams wanting a more sure bet to be ready for Week 1 will likely look elsewhere.
Besides, the financial aspect would have to be considered also.
2021 is the third year of OBJ's five year $90 million contract.
Conclusion
With all of this being said, this year has taught us to expect the unexpected.
Very few thought that JJ Watt would sign with the Cardinals, or Matthew Stafford would swap places with Jared Goff.
This offseason is barely underway, and it has been full of surprises.