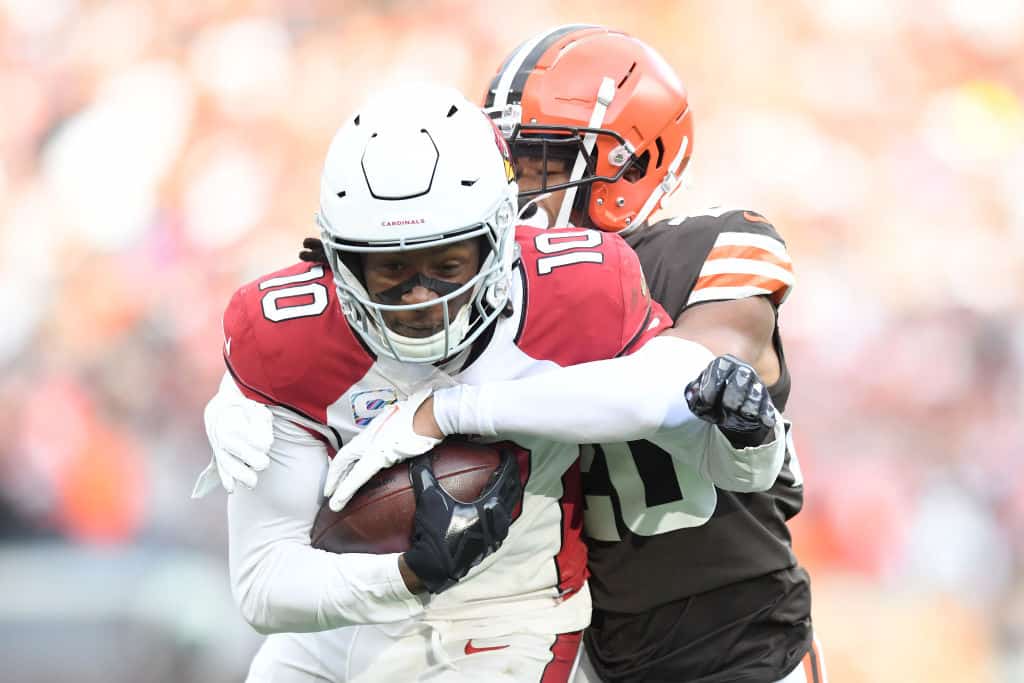 The Cleveland Browns have been tied to a move for DeAndre Hopkins ever since he was waived by the Arizona Cardinals.
The move makes sense for both parties, and it's not like there has been a lot of interest in Hopkins' services, so the fact that nothing has happened yet could raise some eyebrows or suspicion among the Browns fanbase.
That's why Tony Rizzo asked ESPN insider Jake Trotter how realistically the Browns are in the race for Hopkins and whether they are bidding against themselves or if there is any other party involved.
Are the Browns bidding against themselves in the DHop race? What's the timetable? @Jake_Trotter weighs in. pic.twitter.com/ZREGLDHBss

— ESPN Cleveland (@ESPNCleveland) June 5, 2023
Trotter explained that, from Hopkins' standpoint, there's no need to rush or make any big decision right now.
He can play the waiting game, as there could be an injury during minicamp or training camp, or maybe a team could get desperate and make him a big offer.
It's clear that Hopkins is looking to sign with the team that gives him the most money, which is normal at this point in his career.
The Browns are in the mix to get him and it shouldn't take long for him to develop some chemistry with Deshaun Watson, given the fact that they already played together for years.
The Browns cannot offer him the most money nor the best shot at winning a Super Bowl, but he'd get somewhere in-between in both of those aspects, not to mention an opportunity to prove that he's not done and could still be a consistent contributor on a contending team.