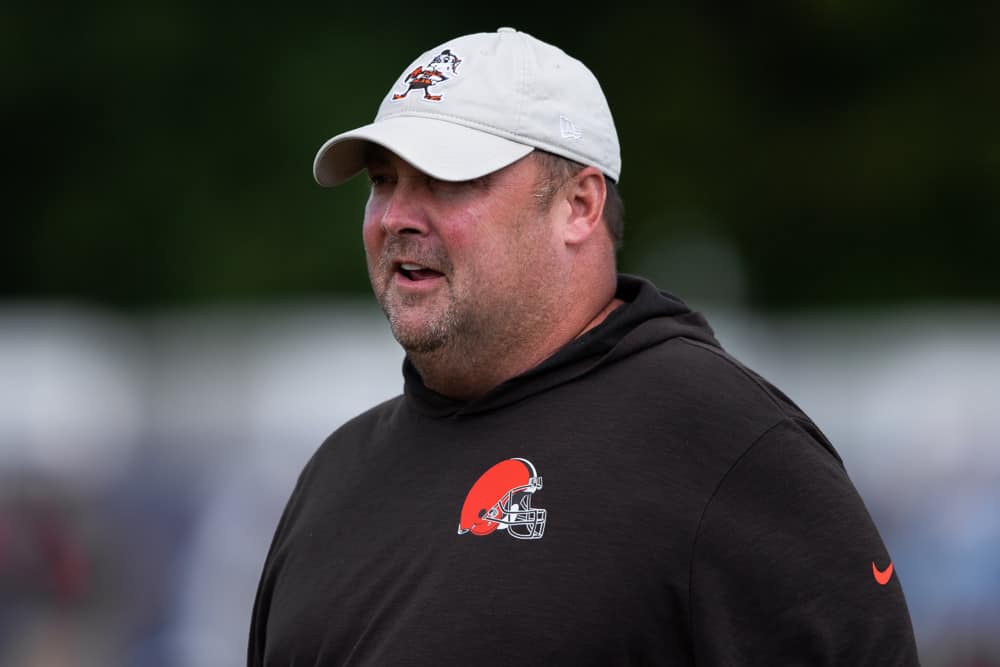 CBS Sports NFL Insider Jason La Canfora did not mince his words Tuesday when talking about the Cleveland Browns on the 92.3 The Fan.
La Canfora joined the "Baskin and Phelps" show, questioning the franchise's handling of how players and personnel conduct themselves.
"I know Freddie Kitchens talks a big game, but I don't think Freddie Kitchens is an authority figure," La Canfora said. "And, I think when you continue to add personalities and guys who have shown you they're not inclined to bite their tongue, and then you add more of them to the mix, and you go back to sort of a guy whose not the Gregg Williams' archetype at all, then I think you run into having a culture where people kind of feel like they can do what they want."
Kitchens has a 6-7 record so far as head coach this season.
Last year, Williams went 5-3 as the interim head coach after the team fired Hue Jackson midseason.
"I think like there's got to be some guardrails in that organization somewhere, right?" La Canfora said. "I mean I know that it was complete do whatever you want, show up when you want…Like, I know under Hue Jackson it was off the rails. One thing I know about Gregg Williams, he's anything…he airs decidedly in the other direction."
La Canfora also questioned how the franchise handled Baker Mayfield's criticism of the Browns' medical staff for its handling of Odell Beckham Jr.'s hernia injury.
"Unless you've seen the guy's [Beckham's] MRIs or whatever, you know what I mean? Like, unless he's told you, like…If you say it, you better stand by it is how I look at it," La Canfora said. "If truth is on your side, stick with it. If truth is not on your side, then again, I go back to what are the consequences? Where are the guardrails? Where do you know if I go this far, you know my collar, I get the shock."
La Canfora was also critical of how the franchise handled the Myles Garrett-Mason Rudolph brawl on Nov. 14.
"When Myles Garrett swings a helmet at a dude's head, and comes fractions of inches from fracturing his skull, and the owner [Dee Haslam] is sitting in the box with a Myles Garrett beanie on, maybe it matters, maybe it doesn't," La Canfora said. "And, then a week later, the coach [Freddie Kitchens] is like 'hold my beer' I'll take it to…watch me go out Friday with this ['Pittsburgh started it'] T-shirt, and then whatever a week later it's this [Mayfield's criticism of the medical staff]."
La Canfora said the Browns' ownership, "just doesn't work. I don't know what else to say."
"There has to be some sort of protocol," La Canfora said.
La Canfora said the Browns have to determine if Mayfield, Beckham and Kitchens are, "a symptom or a cause?"
"They have to change," La Canfora said. "I'm not even talking about the coach, but like I don't think you can bring this whole group back and just kind of say — you know what I mean — 'Oh, we got a lot of stuff out of our system last year.' This should have been the honeymoon phase."
Before the start of the season, oddsmakers had Browns as the favorites to win the AFC North.
Odds to win the AFC North (Bovada):@Browns +120@steelers +195@Ravens +295@Bengals +1500

— Odds Shark (@OddsShark) August 13, 2019
La Canfora also said other NFL head coaching vacancies could be more appealing than the Browns' job if the team fires Kitchens in the offseason.
The New York Times estimates the Browns have a 4-percent chance to make the playoffs this season.
The Browns play at 4:05 p.m. ET Sunday on the road against the Arizona Cardinals.