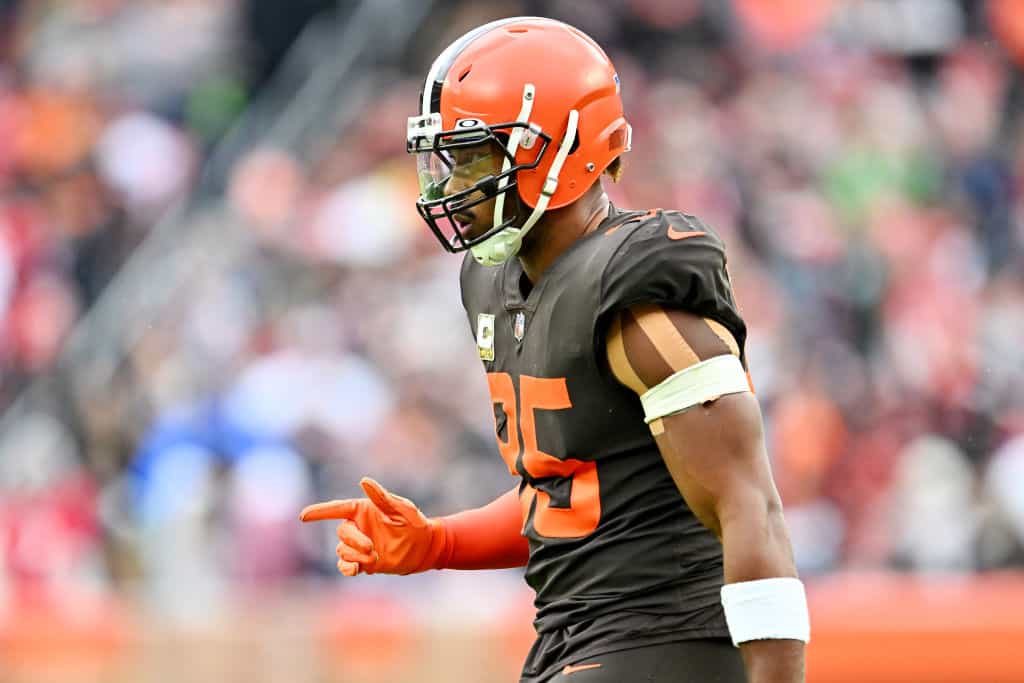 The Cleveland Browns got some unfortunate news this past weekend.
Even though they were not playing a game, one of their star players got injured during the Pro Bowl.
That player was Myles Garrett, and he suffered a dislocated toe participating in an obstacle course in Las Vegas.
The new look Pro Bowl games were created to allow the players to show off their skills in events other than football.
Also, the idea was that no players would get injured in the process.
Fortunately, the dislocated toe popped back into place and the recovery time should be short.
No surgery necessary. The dislocated toe popped right back into place. Short recovery time. https://t.co/FdiUEpiddG

— Ian Rapoport (@RapSheet) February 7, 2023
Along with Garrett, Nick Chubb, Joel Bitonio, and Wyatt Teller were also participants in the Pro Bowl games.
Despite the injury to Garrett, the new-look Pro Bowl seemed to be a player favorite.
Most of them seemed in favor of not having to take any more hits, and the flag football format was still competitive.
The NFC ended up winning the contest, 35-33.
It will be interesting to see if the NFL decides to remove the obstacle course next season after the injury to Garrett.
Even though it was a fluke injury, it still is not a good look to have anyone get injured.
For the Browns, they hope next season all of their players will be getting prepared for the Super Bowl.
After a disappointing 7-10 season, plenty of pressure will be on the team to not only make the playoffs but make a run.
With Deshaun Watson leading the offense, and a healthy Garrett leading the defense, anything is possible.