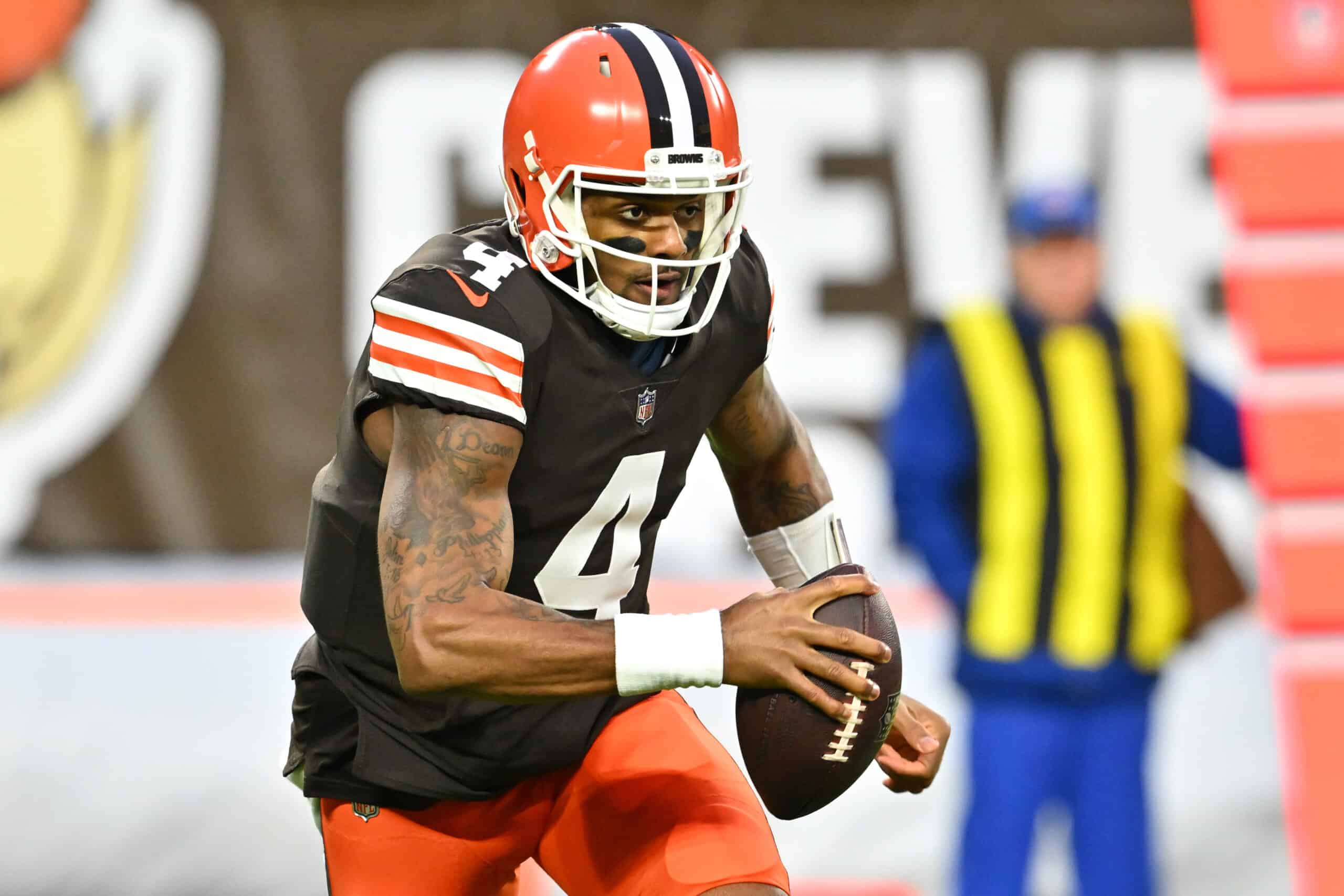 There is a lot to be said for the liberating effects of anonymity.
And when 50 NFL insiders rank players and make comments without putting their name on it, some truths come out.
That is what makes The Athletic's recent ranking of Cleveland Browns quarterback Deshaun Watson interesting.
Gathering a group that included GMs, executives, coaches, and coordinators, The Athletic ranked 30 starting QBs, as highlighted on Twitter by Dov Kleiman.
50 Total NFL insiders including 8 GMs, 10 Executives, 10 Head Coaches and 15 Coordinators ranked 30 QBs by Tiers, via the @TheAthletic

Tier 1:
1) #Chiefs Patrick Mahomes
2) #Bengals Joe Burrow
3) #Bills Josh Allen
4) #Jets Aaron Rodgers
5) #Chargers Justin Herbert

Tier… pic.twitter.com/TfvTSqvi34

— Dov Kleiman (@NFL_DovKleiman) July 31, 2023
Deshaun Watson came in at No. 11, based on distant history and expectations more than his 2022 efforts.
In fact, one defensive coach described Watson's play last year simply as "bad."
His ranking leaves Watson at the end of the second of five quarterback tiers, between Matthew Stafford and Kirk Cousins.
And at least one coordinator on the panel thinks it's more likely Watson returns to Tier 1 than to fall any further.
Difference Between Tiers Is Big 
There are no specific skill sets or stats involved in this somewhat subjective ranking exercise.
Tier 1 quarterbacks are those who can carry their team to victory any week.
Watson's Tier 2 peers can carry the team at times, but have a hole or two that needs to be covered by teammates.
Tier 3 is a solid starter, but someone who relies on other aspects (defense, running game) to win.
#Browns Deshaun Watson hits David Bell for a TD in 7 on 7 goal line pic.twitter.com/NkG30Lkxzd

— Fred Greetham (@FredGreetham9) July 25, 2023
The 50 participants were simply asked to place 30 non-rookie starters on a tier with random comments.
And their assessments are predictions of 2023, not what they did last year.
Patrick Mahomes was the only unanimous Tier 1 passer, with Joe Burrow (2) just missing that status.
Baltimore's Lamar Jackson (7) joins Watson in Tier 2, while Kenny Pickett (25) lands in the fourth (unproven) tier.
Will Watson Return To Form? 
Watson was really bad last season, maybe even worse than he looked.
Only Baker Mayfield (No. 27 in this year's ranking) and Joe Flacco posted a lower EPA/play than the Browns' QB.
But it appears most of The Athletic's panel gives Watson a mulligan on those 6 games.
"Everybody thinks, 'OK, his rust will wear off after a couple of weeks,'" a defensive coordinator said. "That guy hadn't played in what, a year and some change? That's a hard thing."
Another panel member acknowledged Watson's skill set could bring him back to where he was in 2019-2020.
.@deshaunwatson's work ethic does not go unnoticed pic.twitter.com/gbfkmEWnsk

— Cleveland Browns (@Browns) July 23, 2023
And that would be good enough to earn him a Tier 1 status again in 2024.
Watson says all the right things, so far, and has been working hard all offseason.
And he has the faith of his teammates and coaches, as well as most of The Athletic's ranking group.