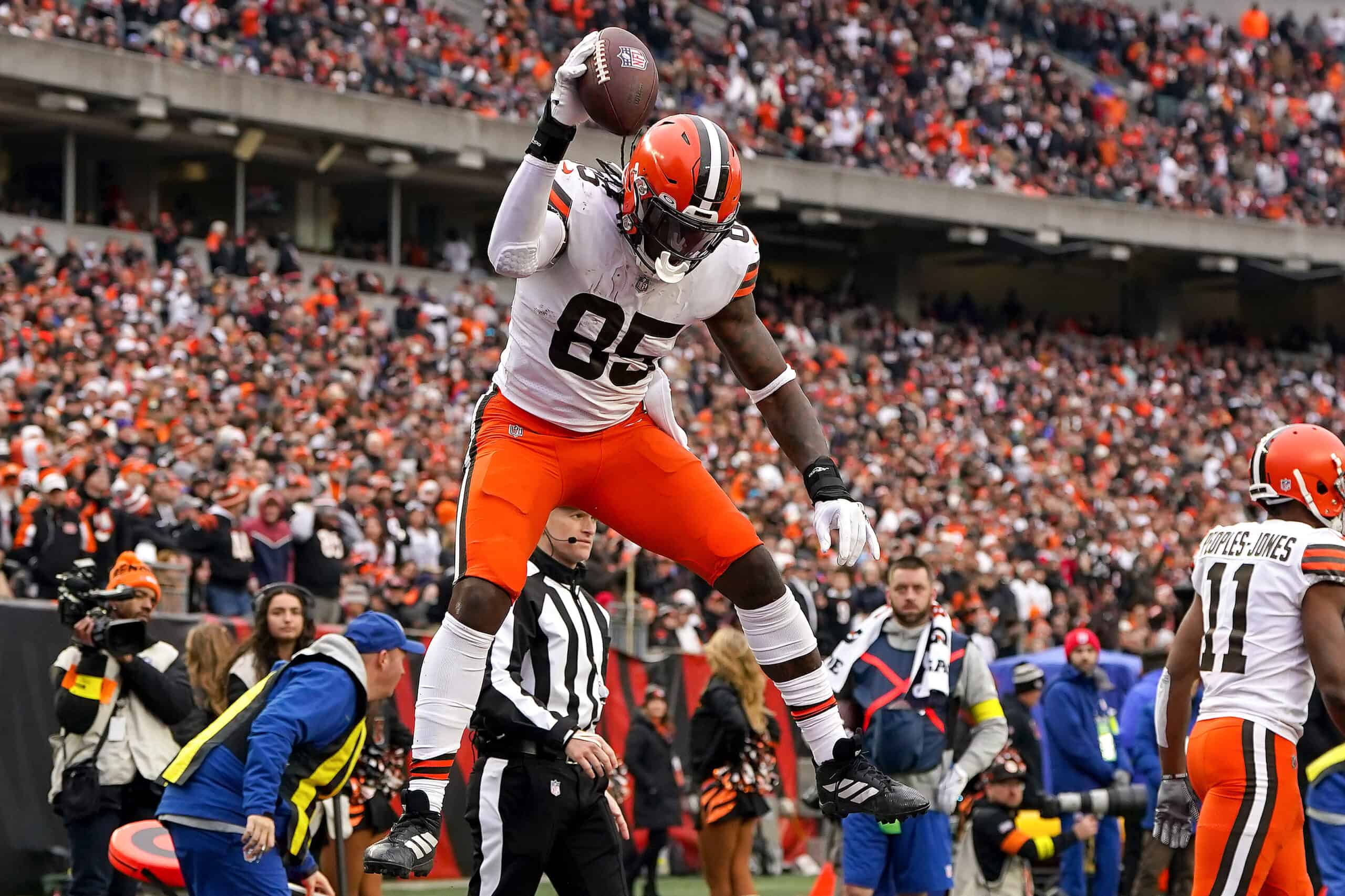 Stop us if you've heard this one before, but the Cleveland Browns had a big offseason and will be playoff contenders.
And just because "winning the offseason" resulted in two straight losing records doesn't mean they won't do better in 2023.
Count NFL Network analyst Bucky Brooks among those who are high on the Browns' chances.
On a recent "NFL Total Access" appearance, Brooks put the Browns on the same level as the Cincinnati Bengals.
"On paper, they're right there with the Cincinnati Bengals"@BuckyBrooks loves what the @Browns have done this offseason 👇 pic.twitter.com/3S24Qe5JVn

— NFL Total Access (@NFLTotalAccess) July 31, 2023
That's significant because the Bengals are the consensus favorite to win the AFC North.
And as he rattled off his reasons to believe in the Browns, Brooks went there.
"There's a part of me that believes the Cleveland Browns will win that (AFC North) division, and it's going to be very impressive," Brooks said.
Brooks added even more fire to recent Bengals-Browns social media battles with his comments about uniforms.
The former NFL player says their all-white alternates enhance the Browns' chances of success.
All About The Defense 
Brooks made note of the Browns' offense and their load of undeniable talent.
But he says the difference maker this year is Cleveland's rebuilt and re-schemed defense.
Putting Za'Darius Smith opposite Myles Garrett might give Cleveland the best 1-2 punch at edge in the NFL.
And adding a Super Bowl-winning defensive coordinator assures the Browns will take advantage of it.
these two 🥹@Flash_Garrett x @zadariussmith pic.twitter.com/4daBJ2HBBN

— Cleveland Browns (@Browns) July 27, 2023
Brooks believes in Schwartz's spread-front scheme and thinks they have the secondary to make it work.
With their man-to-man coverage expertise, the defense will be "problematic" for a lot of teams in the AFC.
Schwartz's defensive theories are relatively simple after Joe Woods' complicated processes.
And Brooks has good reason to believe the difference in defensive play will outshine their new offense.
But Can They Win The Division? 
Cincinnati is the popular preseason choice as a potential division winner.
Not only do they field one of the elite quarterbacks in the NFL, but they have the fewest questions heading into 2023.
Baltimore brought back Lamar Jackson with a new offensive coordinator and a refurbished wide receiver group.
There is some trepidation about whether he will, or even can, adapt to a new scheme for the Ravens.
AFC North division winner odds 🏈

Cincinnati Bengals +160
Baltimore Ravens +220
Cleveland Browns +400
Pittsburgh Steelers +1200

Where's the value? pic.twitter.com/xcGr2Yg0vz

— Odds Shark (@OddsShark) August 1, 2023
Kenny Pickett surprised some pundits with flashes of stardom as a rookie.
But while any team coached by Mike Tomlin is a threat, it's a stretch to pick Pittsburgh for even third place.
Kevin Stefanski needs to adapt to what he hopes is a vintage version of Deshaun Watson.
But Cleveland seems to fighting history as much as any on-field possibilities when it comes to winning the AFC North.