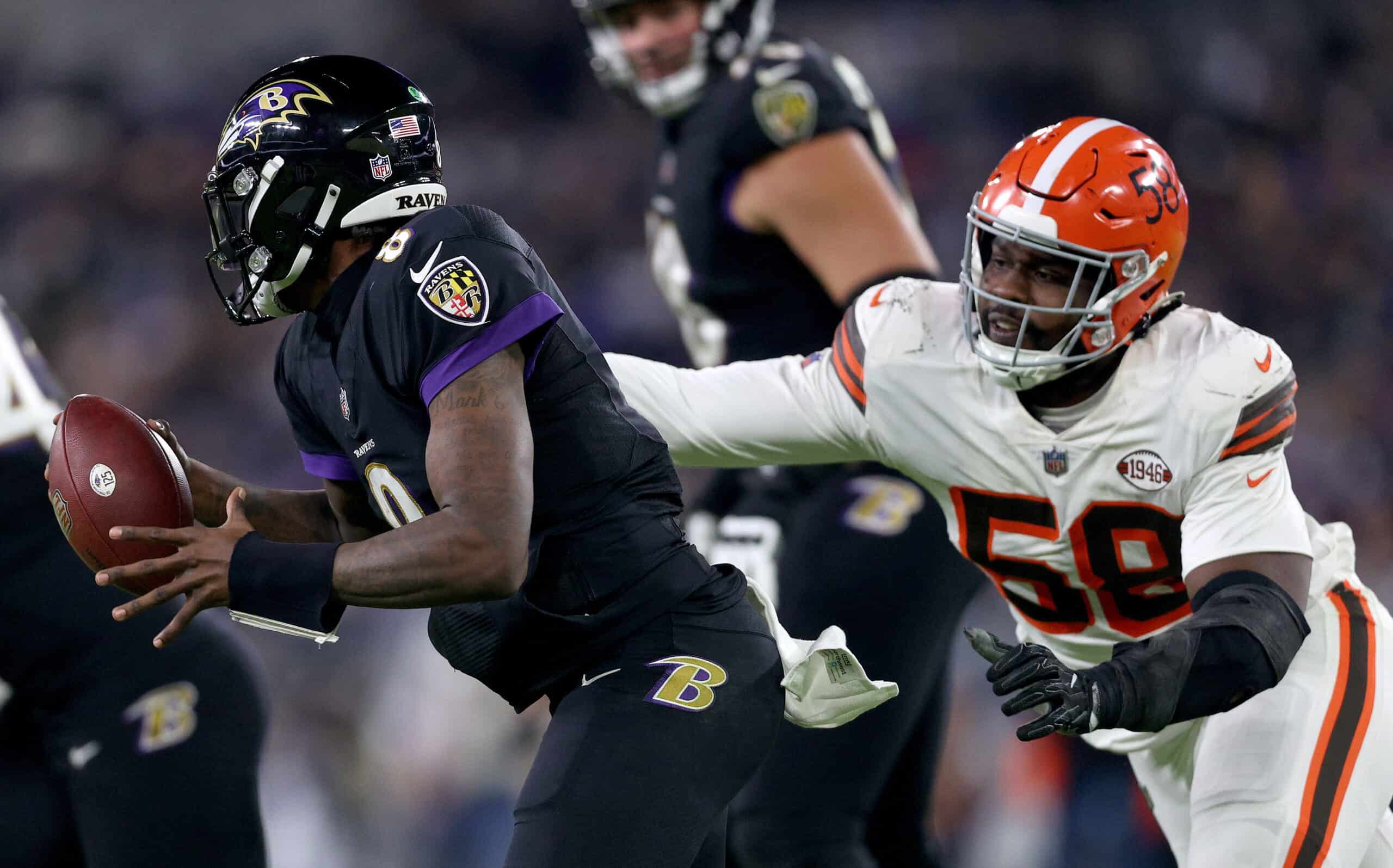 The Cleveland Browns dropped their Week 12 game against divisional rival, the Baltimore Ravens.
With a final score of 16-10, there were opportunities to secure a victory, but like most of the Browns' tight games this season, it was not meant to be.
Here is how the NFL world reacted to the Browns' loss on social media.
1. Missed Opportunities
The missed scoring opportunities, dropped passes, sloppy play, and the general lack of offense by the Browns frustrated many.
4 interceptions and we lose? I need a bye. #Browns

— Tony Rizzo (@TheRealTRizzo) November 29, 2021
Thoughts on the Ravens game:
– 12 men on the field
– Illegal formations
– Missed FG
– Drops
– 4/13 on 3rd down
– Another disaster razzle play
– Inability to cover Mark Andrews
– 4 Ints = 10 points
– Another failed chance to win on final drive

Winnable division game wasted

6-6

— Michael Killi (@MikeKilli) November 29, 2021
You can say whatever you want about Baker Mayfield and Kevin Stefanski but for me that receiving core is the reason the #Browns lost a game last night that they should've won.

— Tyler Johnson (@T_johnson_TJ) November 29, 2021
Games not on Baker.

Jarvis fumble

Felton drop

Dpj drop

Run game being inept

Receivers draped the entire game

Stefanski being out coached.

— Browns Country (@TheFanDomeShow) November 29, 2021
Since Week 5, #Browns offense ranks 24th in efficiency, 25th in expected points added, 19th in yards per play, 24th in third-down conversion rate and 26th in first downs per game.

— Jake Trotter (@Jake_Trotter) November 29, 2021
2. Browns' Chances For Postseason
At 6-6, the Browns already have more losses than they did during the entire 2020 regular season.
There is an extra game this year so it is anybody's guess what the Browns will do with the remaining five games of this season.
If they cannot get anything going offensively, it could be a long haul.
Because there are statistics for everything in the NFL, the Browns' odds at making the postseason have already been calculated.
According to ESPN FPI, #Browns now have a 19.5% chance to make the playoffs and a 5.4% chance to win the division

— Jake Trotter (@Jake_Trotter) November 29, 2021
Barring a colossal disaster with the rest of the AFC North teams (always possible in 2021), the Browns now have a 5.4% chance of winning the AFC North.
Making the playoffs is an uphill climb also with the Browns now possessing a 19.5% chance of getting in.
3. Bye Week Adjustments
Many have suggestions on how the team needs to adjust during the bye week before the final five-game stretch.
Sitting Baker Mayfield is one of the most popular suggestions.
It's about time #Browns HC Stefanski puts on the big boy pants, does his job & benches #bakermayfield . He's the HC, what he says goes,Baker doesn't call the shot's. You might want to put Case in as Qb.

— 👑DynastyDog01🏈 (@DynastyDog01) November 29, 2021
Change the offensive play-caller to Alex Van Pelt is another suggestion with a lot of support.
Letting Alex Van Pelt call plays wouldn't be the worst idea in the world. At least give it a twirl because it can't get much worse. #Browns

— Noah Weiskopf (@BrownsWithNoah) November 29, 2021
Staying committed to the run game is another idea from the social media world.
The Browns act like Nick Chubb not on they team smh

— AmareisTRASH (@Bigmarq54) November 29, 2021
Nick Chubb and Kareem Hunt are both still healthy and ready Kevin.

— Dustin Fox (@DustinFox37) November 29, 2021
#Browns Nick Chubb and Kareem Hunt tonight:

15 carries for 36 yards. 🥲

— MoreForYouCleveland (@MoreForYou_CLE) November 29, 2021
Conclusion
The Browns get another shot at the Ravens in Week 14.
This game is at home at FirstEnergy Stadium.
Given the fans' general ire with all things related to the Browns, the bye will hopefully cool the tempers so the fans can come out in full force to support this team which needs to beat the Ravens to save face and keep hope alive in 2021.