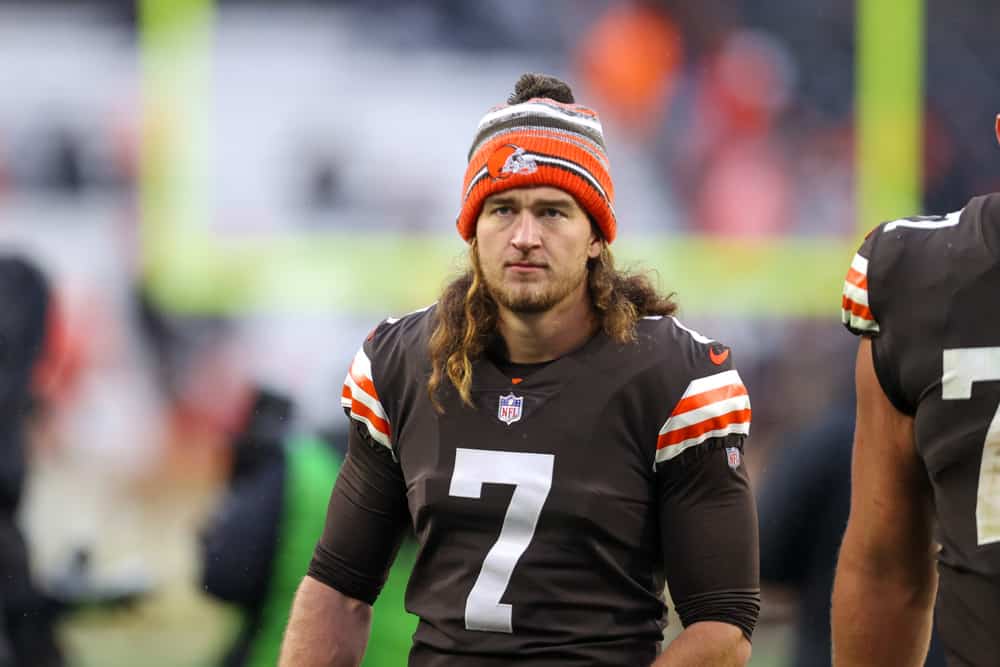 The Cleveland Browns made a roster move going into Week 16 that affects one of it's beloved players.
The team waived Jamie Gillan better known as the Scottish Hammer.
Gillan's persona outside of football is fun and easy-going.
He is known for trademark long locks and his own crafted beer.
What he has also been known for in 2021 is subpar performance on the field beginning in Week 1.
Remember this stellar move that ultimately cost the Browns a win over the Chiefs?
Browns punt blocking on this play was excellent. He could have got that punt off still. Jamie Gillan just panicked.pic.twitter.com/G87L5cUdjZ

— Tim x opTIMus 🎮 (@timschuerger) September 12, 2021
It is not hard to believe the Browns would release him; he has been on the COVID-19 list.
Dustin Colquitt has done well filling in for him so he essentially won the job.
Here is how the NFL world reacted.
The reactions fell under three main themes.
1. It's About Time
Some wondered what took so long.
Week 1's mistake was months ago, but watching the highlight still stings.
hearing that gillian was fired? i love that tbh, he has to go finally #Browns

— Abhinho (@Abhinho1) December 22, 2021
2. He Will Be Missed
His off-the-field persona is what is likely to be missed in Cleveland.
Man Scottish Hammer gone. Yes I know he has been underperforming, still gonna miss him. #Browns

— Jeremy (@moeblythe) December 22, 2021
Have to punt the ball to be a punter. Sucks, and hope he bounces back elsewhere.

Also, signing a 40 year old Colquitt is an interesting(?) move. #Browns https://t.co/BNs96SFz0H

— Evan Schenker (@e_schenker) December 22, 2021
3. Next Transaction Should Involve The Kicker
Some wondered why the Browns didn't cut Chase McLaughlin.
He has not been good lately evidenced by his Monday performance where he made the field goal as the Raiders called time out and then missed it when it counted.
.@Browns let's do kicker next. #Browns — 3 points matter.

— Eddie (@EddieSportas) December 22, 2021
Special Teams Problems
Special teams can win and lose games.
In the Browns case, it has lost them games in 2021.
It wasn't our Offense or Defense that lost us that game. Our Special Teams…. HAVE to address it. #Browns

— Kevin Beard (@TheKevinBeard) December 21, 2021
People probably expected McLaughlin to be gone before Gillan, but it is a short holiday week so acquiring a quality NFL kicker may not be something Santa can deliver.
Conclusion
Let's not forget that this 2021 Browns team was predicted to be in the AFC Championship during the preseason.
Anything short of that is going to require a player and coach roster reckoning at the end of the season.
Gillan was an easy and early decision because Colquitt is already on board.