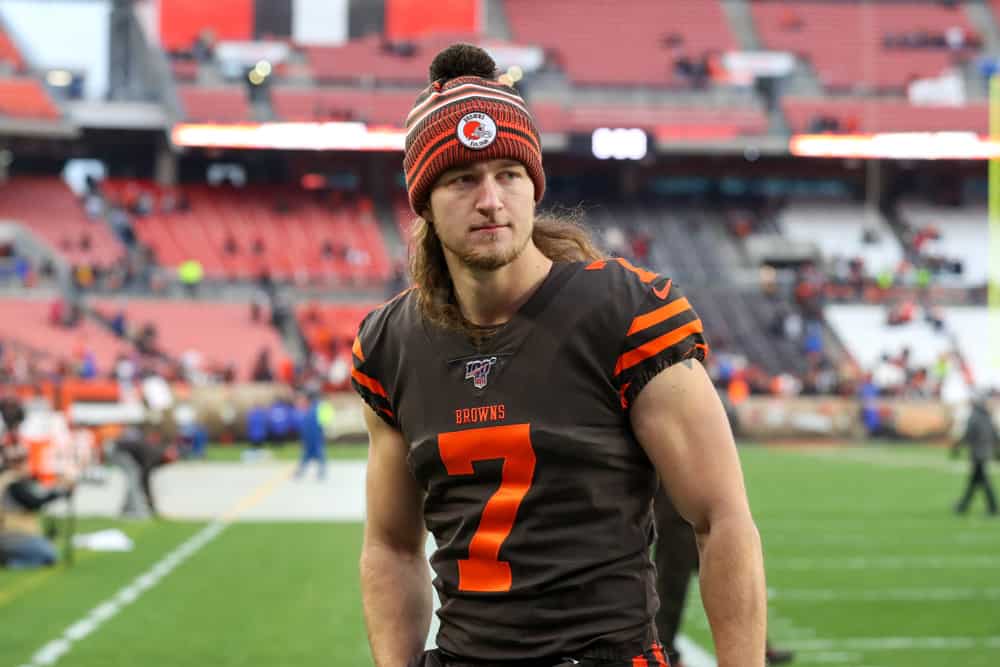 The Cleveland Browns are still in the playoff race despite a loss to the Las Vegas Raiders.
That being said, they want to continue to improve their team for the final three games of the season.
On Wednesday, the Browns organization decided to waive punter Jamie Gillan.
A surprise: The #Browns are waiving punter Jamie Gillan, per source.

"The Scottish Hammer" was an all-rookie team pick in 2019 and hadn't missed a game in three seasons before landing on the COVID list recently. Now, an intriguing name on waivers.

— Tom Pelissero (@TomPelissero) December 22, 2021
It is a little surprising to see the Browns give up on the third-year punter already.
To be fair, it hasn't been the same since 2019 and the organization felt it was time for a move.
Goodbye Scottish Hammer
The Browns have decided to change punters with only three games left in the season.
A bit of an odd decision, but one that needed to be made.
Gillan was an all-team rookie selection during the 2019 season.
However, his success has dropped off each of the last two years.
Through 12 games, Gillan had 1,842 punt yards on 42 punts, which is below his career average.
He also landed on the COVID list, which forced him to miss time in 2021
Before coming to Cleveland, Gillan was a top tier punter during his time in college.
2018 top returning #FCS punters in yards per punt:
1. Alex Pechin, Bucknell: 45.1
2. Fidel Romo Martinez, Delaware State: 44.8
3. Ian Berryman, Western Carolina: 44.4
4. Lane Reazin, Southern Illinois: 43.6
5. Jamie Gillan, UAPB: 43.4 pic.twitter.com/kcDtXHDdD4

— FCS Football (@FCS_STATS) May 1, 2018
The talent is there, but the Browns felt that it wasn't the right fit.
That being said, other organizations are likely going to have interest in Gillan.
He is a young punter who just needs a few adjustments to his game.
Gillan will almost certainly land elsewhere after his departure from Cleveland.
Dustin Colquitt
Luckily, it wasn't hard for them to find a replacement for the Scottish Hammer.
Veteran punter Dustin Colquitt will remain with the organization after punting each of the last two weeks.
He took over for Gillan when he was on the COVID list and will keep the punting job in Cleveland.
The 40-year-old punter has had plenty of success during his long NFL career.
He has earned two Pro Bowl selections during his 15 years with the Kansas City Chiefs.
The Browns are hopeful Colquitt has enough in the tank for the rest of the 2021 season.
Now, Gillan heads to the waiver wire and is a restricted free agent in March.
A possible cheap option for someone looking for an improvement at punter.
To be honest, Colquitt isn't a long-term solution, but is an upgrade over Gillan.