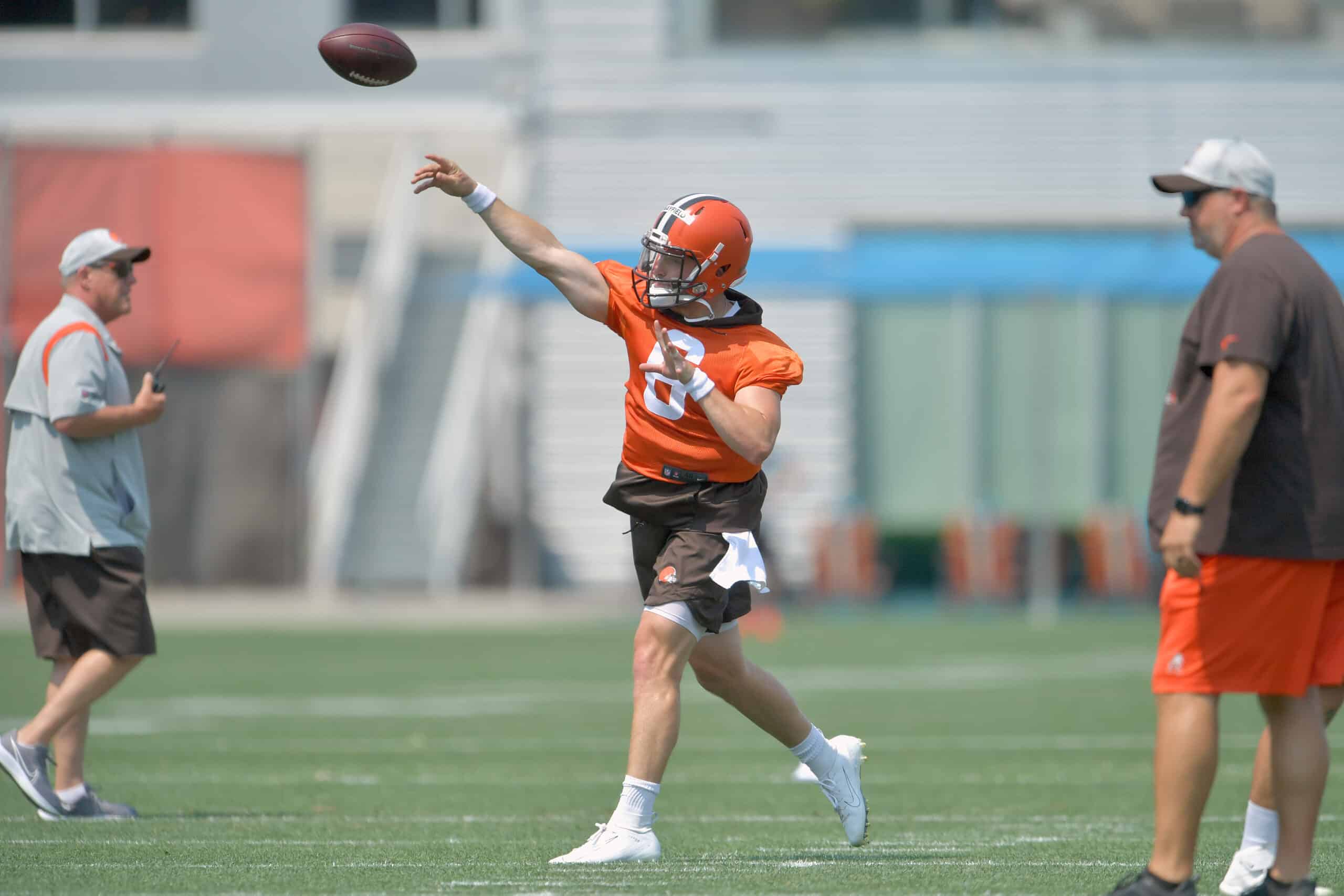 On Sunday morning, Cleveland Browns fans woke to Mary Kay Cabot's report that quarterback Baker Mayfield was potentially going to sit out the 2022 season if not traded.
Baker Mayfield had no intentions of playing for the #Browns in 2022, which may have revived the Deshaun Watson trade. He was prepared to sit out offseason program, minicamp, training camp & more if that's what it took: Browns Insider https://t.co/awZQPVKQmu

— Mary Kay Cabot (@MaryKayCabot) March 20, 2022
It is worth noting that Mayfield is still under contract with the Browns and has yet to be traded, but the way this situation is spiraling, a trade or other roster move could be imminent.
Here is how the NFL world reacted to the news that Mayfield planned a boycott.
A sampling of the reactions is included below.
Baker Burned The Bridge
One person pointed out that Mayfield must have created locker room and team issues for the Browns to reach this point.
This is an ugly situation, and we may not even know half of it.
More could come out after he is traded.
AB is no fool and I think BM has really pissed off the front office and ownership. They will trade him but on THEIR terms.
I bet more will come out about the #OBJ /#BakerMayfield situation & I see lots of jelly on Bakers face ✔️ https://t.co/mgwOVk3ljd pic.twitter.com/AeParm5YCR

— Venus of Willendorf (@VintagePasta) March 20, 2022
Many feel as though his trade value is plummeting the longer this goes on.
Baker Mayfield is not worth a seventh round pic! He's a locker room cancer, and coach killer! https://t.co/lDxg5whEkk

— Watsons Warriors (@BrownsStoics216) March 20, 2022
Baker Has A Fractured Fan Base Behind Him
Mayfield was a polarizing figure before all of this happened.
This just makes things worse on that front as fans have extremely different opinions on him.
Been a @browns fan my whole life thru the bad and the g.. well mostly just bad but I liked @bakermayfield and I've never been so disappointed In my city #Browns #BakerMayfield

— nftmaniack.eth (@Nftmaniack) March 20, 2022
Sooner Nation stands with him.
Baker, you have a portable fan base. Wherever you play, Sooner Nation will follow and cheer you on as you energize any team and any crowd. Can't wait to see what's next!

— Deb Handy (@Minette2Minerva) March 20, 2022
Will We Ever Know The True Story?
There are two sides to every story, and the media is attempting to decipher some of it using unnamed sources.
One person notes that we may never get to the bottom of how so much dysfunction came into play to erode the relationship between Mayfield and the Browns.
I don't believe anyone in the Browns organization has officially said one negative thing about Mayfield. All of this is media generated. If info was leaked and any of this is true I wish they'd name their sources. But they won't and we'll never know the complete truth.

— CRUdog15 (@CornPopper12) March 20, 2022
Conclusion
Both the Browns and Mayfield benefitted from their partnership over the past four seasons.
Things were far from perfect, but there were some big moments like the 2020 playoff run.
Hopefully, Mayfield gets to a new team and can flourish just as the Browns plan to do with Deshaun Watson as their QB1.
There is room for both parties to grow and succeed, but definitely on separate teams.