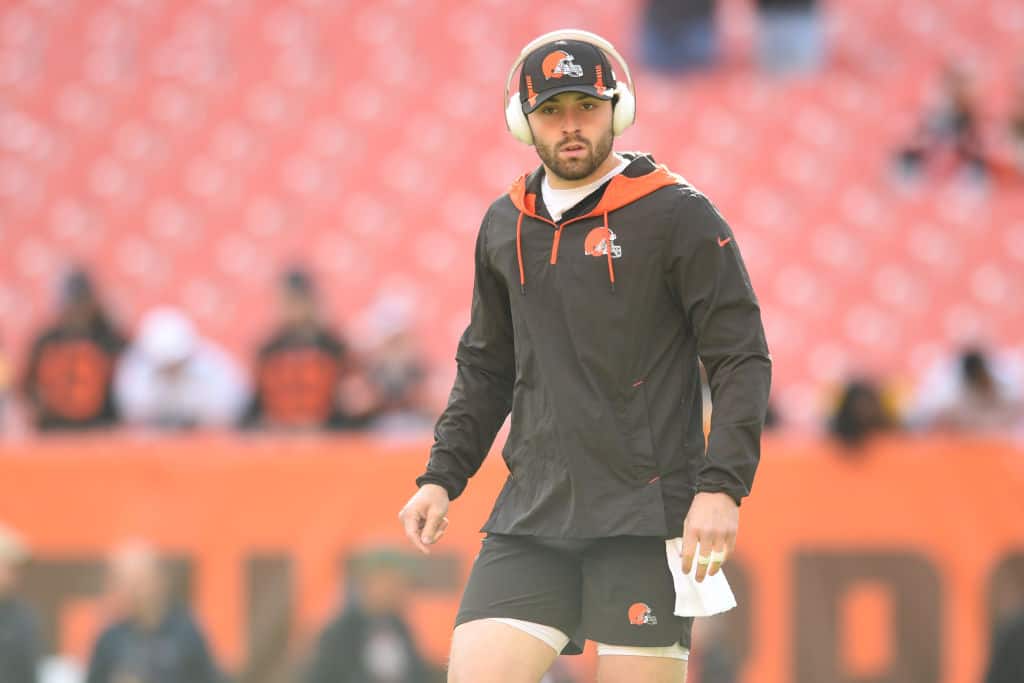 The Cleveland Browns wanted Deshaun Watson.
When that failed, they decided to run it back with Baker Mayfield.
Here is a recap of this afternoon, and it is not even 5:00 PM EDT.
They're never boring #Browns pic.twitter.com/PxR9bBBwoG

— Jeff-LJ-Lloyd (@Jeff_LJ_Lloyd) March 17, 2022
Now that Mayfield is done with the madness and requesting a trade (which the Browns have reportedly denied), let's check how Browns and NFL fans are taking all of this news on this St. Patrick's Day festive holiday.
An Ugly Breakup Coming
One person said that Kim and Kanye's breakup may be more amenable than Baker's with the Browns.
I think Baker and the #Browns break up may be a bit more contentious than Kanye and Kim…
😳

— ☛ Diva Dee ☚ (@only1divadee) March 17, 2022
More Of The Same
Someone took a painful look back at the Browns quarterbacks of this millennium and noted the pattern.
Baker Mayfield demanding a trade from the #Browns could not be more understandable. https://t.co/TYXMiEVixg

— N2B (@N2BSports) March 17, 2022
On the next 30 for 30: "The Quarterbacks"
We sit down with 39 former #Browns quarterbacks to discus their time in Cleveland.
This will be a weekly release for 2 years straight

— Mike Vielhaber (@MVielhaber) March 17, 2022
Someone else advises Browns fans to never buy the quarterback's jersey.
Message to Brown's fans… Never buy the quarterbacks jersey 🤷🏼‍♂️

— Enrique (@JoeInTippCity) March 15, 2022
As an aside, Browns fans know how to handle their quarterback jersey purchases.
A guy named Andy showed up at @TutysBar yesterday while watching the @Browns . With a jersey like that I couldn't let him get away without a photo.
Despite the loss, I feel pretty good about our quarterback and esteem. pic.twitter.com/1h6pNoKn83

— Eddy Hooper (@DynamoEd) October 1, 2018
Jabs At Both Mayfield And The Browns Front Office
There were the inevitable pokes at Mayfield and the members of the Browns front office since they cannot get along.
Browns front office handling quarterbacks pic.twitter.com/SzFVyWUejj

— brian (@unixsadm) March 17, 2022
The Browns wasted no time denying Mayfield's request.
Baker Mayfield trade request recap pic.twitter.com/OpX5AgQ3YF

— Adam Stites (@AdamStites_) March 17, 2022
Former Player Reacts
Robert Griffin III is ironically a former Cleveland Browns quarterback.
"Baker Mayfield said he ain't nobody's Plan B. Good for him."
Baker Mayfield said he ain't nobody's Plan B. Good for him.

— Robert Griffin III (@RGIII) March 17, 2022
How Is Everyone Doing?
No one can be feeling great about this turn of events.
The Browns, Mayfield, and fans are not in a happy place.
Someone posted what they suspected was the Browns' reaction to Mayfield's trade request.
@bakermayfield we jus playin bout the trade right?? 😅 pic.twitter.com/OBw13ZdGyh

— Troll Gawd (@2lysses) March 17, 2022
Buckle Up People
It is only the fourth day of the new NFL year.
Day 4 of NFL free agency as a Browns fan…. Just staring into the Twitter abyss hoping for an end to it all. pic.twitter.com/diby5cMTXP

— Jesse Beckner (@JesseBeckner1) March 17, 2022
Note the time of this Tweet was hours before the Mayfield mayhem picked up momentum.
No one knows what the final outcome will be.
The Browns are never boring, but this is even more drama than usual.
Buckle up and stay tuned Browns fans!