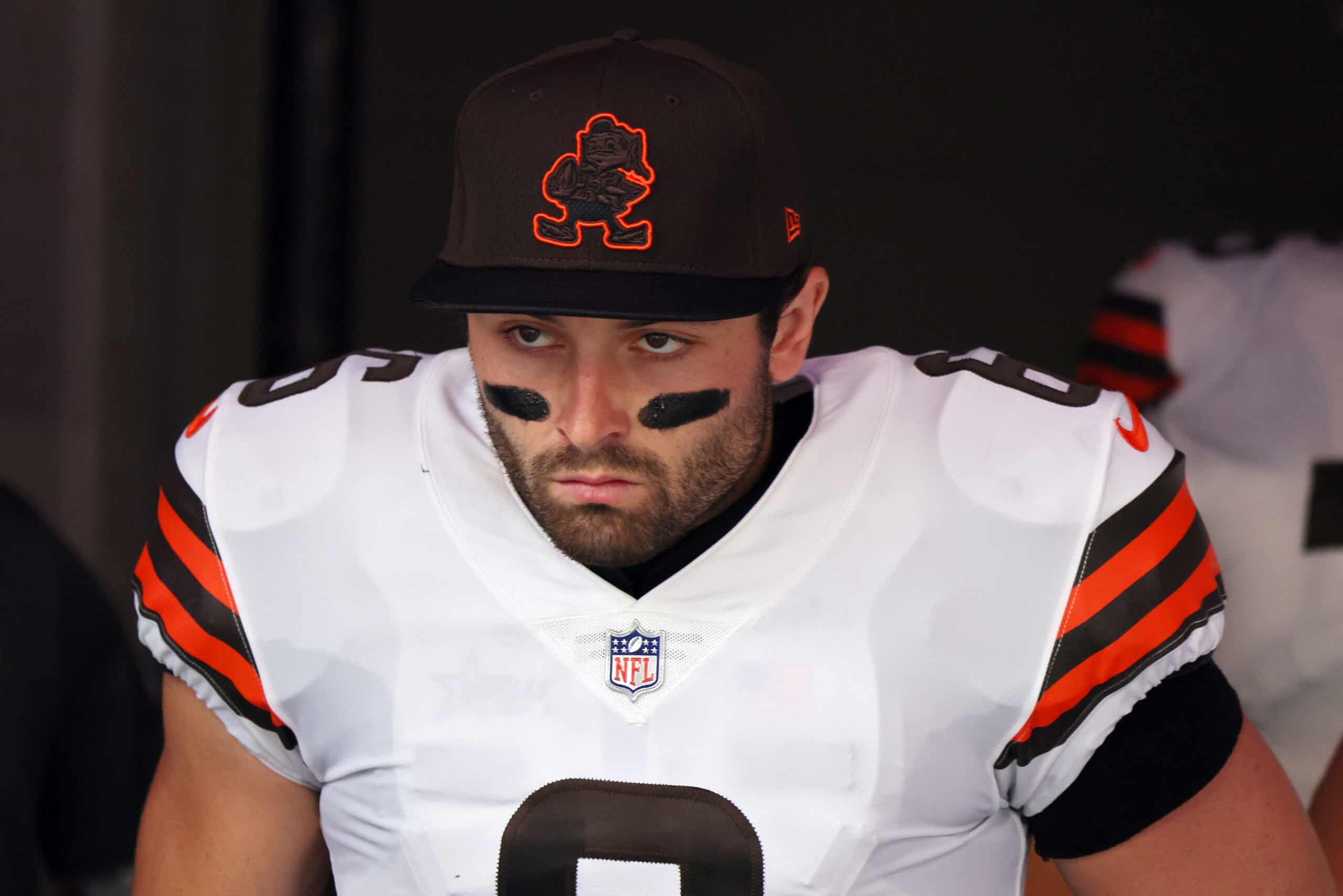 The Cleveland Browns have a quarterback situation, and it seems to be getting worse by the minute.
After failing to acquire Deshaun Watson from the Houston Texans, the team was planning to go with Baker Mayfield in 2022.
However, Mayfield added a new wrinkle to the plan by requesting a trade, as reported by Tom Pelissero of NFL Network.
#Browns QB Baker Mayfield has requested a trade, per sources.

Cleveland has been hoping to move forward after its Deshaun Watson pursuit and offered to fly to Texas to meet with Mayfield. But from the QB's perspective, the bridge is burned and it's time to move on now.

— Tom Pelissero (@TomPelissero) March 17, 2022
"It's in the mutual interest of both sides for us to move on. The relationship is too far [gone] to men. It's in the best interests of both sides to move on."
Baker Mayfield just told ESPN: "It's in the mutual interest of both sides for us to move on. The relationship is too far fine to mend. It's in the best interests of both sides to move on."

— Adam Schefter (@AdamSchefter) March 17, 2022
Report: Browns Decline Mayfield's Request
Mary Kay Cabot of cleveland.com is reporting that the Browns informed Mayfield's agent that they will not accommodate his trade request.
Baker Mayfield has requested a trade from the Cleveland Browns after the team met with Deshaun Watson, but the Browns will NOT accommodate a trade request, per Mary Kay Cabot. Photo: Joshua Gunter, https://t.co/FOiwRnz2fI #Browns pic.twitter.com/e45XypIoH0

— cdotcombrowns (@cdotcombrowns) March 17, 2022
Inevitable
The Browns had to expect this would happen after publicly courting Deshaun Watson all week long.
Adding insult to injury was yesterday's leaked report that ESPN's Chris Mortenson shared of the Browns wanting an "adult" as QB1.
The great @mortreport reporting on ESPN, the Browns are moving off Baker. "Want an adult at QB".

— Colin Cowherd (@ColinCowherd) March 16, 2022
The Deshaun Watson pursuit and trashing of baker Mayfield to Chris Mortenson has blown up spectacularly in the #Browns faces

— Daryl Ruiter (@RuiterWrongFAN) March 17, 2022
Worst Is Yet To Come
It is really unclear how both parties can work their way to a reconciliation.
The Browns must have a Plan B knowing that the Watson scenario may not come to fruition.
If the parties cannot work it out, we are in for another rocky season with more off-the-field issues.
The worst-case scenario could be ironically a mirror image of what Watson did, sit out the year.
That seems unlikely given Mayfield's contract situation.
If Cleveland's Plan B is to try and reconcile with Baker Mayfield, they'd better get a Plan C together here… (which I'm sure they have)

— Jake Trotter (@Jake_Trotter) March 17, 2022
Mayfield's Contract
Mayfield is in the fifth and final year of his rookie contract.
His salary will be approximately $18.5 million.
There is a market for Mayfield elsewhere as teams still need quarterbacks, i.e. the Indianapolis Colts, whom Mayfield is reportedly interested in, per Pro Football Network.
"Pauline reported that he was told Browns owner Jimmy Haslam has been the driving force in the Browns' attempt to bring Watson to Cleveland"

"If Mayfield had his choice, that place would be Indianapolis to play for the Colts"https://t.co/NBClftbTJS

— Brent Sobleski (@brentsobleski) March 16, 2022
Conclusion
The first week of the new NFL year is off to an exhausting start.
There are more questions than answers and plenty of gaps on the roster that the Browns need to address.
This situation adds to the chaos.