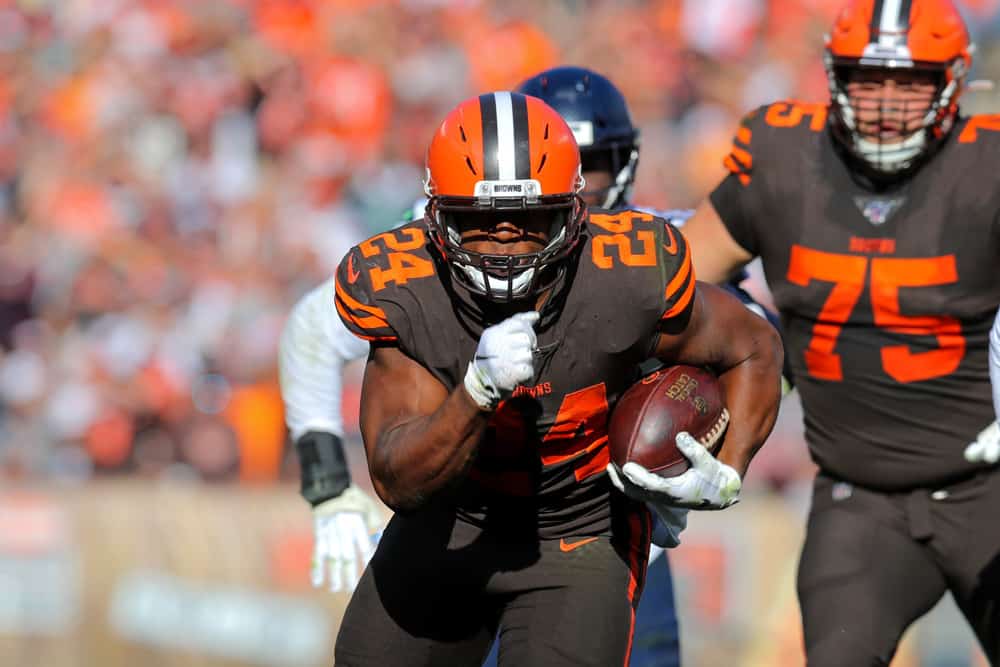 Seven weeks into the NFL season the Browns sit at 2-4.
The offensive and defensive units have performed like they're playing under a first-year head coach trying to figure it out.
That is to say that at times they have looked outstanding, and at other times they have looked helpless.
However, there is one member of the offense who has been consistently solid for the team.
That man is running back, Nick Chubb.
He's not just performing well in relation to the Browns offense, he's performing at a level that puts him in line with the best running backs in the National Football League.
Coming into Week 8, Nick Chubb ranks 4th in the league in rushing yards, with 607, despite playing one fewer game than the top two leaders.
Chubb also ranks fourth in yards per game and is one of only four backs to average over 100 yards per game, at 101.2.
These numbers are great and eye-catching, but possibly the most important stat here is that he has fumbled the ball zero times on 114 carries.
In an offense prone to errors and turnovers, Chubb is a lifeline.
It's possible to overlook Chubb's stellar play for several reasons.
The first reason is that the guy is a blue-collar, team-first, humble hard-worker.
He puts in his work in practice and plays hard on Sundays. He's easy to overlook because he isn't in the media, not on commercials, and doesn't make a fuss.
Do you know what Nick Chubb's voice sounds like?
Me neither.
We mic'd up our team's biggest trash talker against the Ravens: Nick Chubb 😅

Watch the extended mic'd up » https://t.co/Qo4LZ5YaTu pic.twitter.com/MWHyZ0vtS6

— Cleveland Browns (@Browns) October 2, 2019
Despite having the 9th most carries in the league it seems like he is being underutilized by Freddie Kitchens and the offensive staff.
He's in the top 10 in the league in rushing touchdowns, yet the Browns are terrible in the red zone.
That leads us into the second reason why he's overlooked. The Browns, for all the hype about how prolific Baker, OBJ, and Jarvis were going to be, have fallen flat in the passing game.
The creativity that won Freddie Kitchens the head-coaching job has vanished, and the Browns have looked like the same old Browns.
Except for Nick Chubb. He's putting in an All-Pro caliber season and will get his 1,000 yards this year. If you remember last season he eclipsed the mark in the final game of the season and then lost it after a carry for negative yards.
Nick Chubb is a workhorse. He is built like a back from 20 years ago when a running back would get 20-25 carries a game.
When looking at Chubb's game-by-game stats the proof is there.
His best statistical games have been when he's had 20 or more carries. In those 3 games, he averaged 127 yards for an average of 6.2 yards per carry.
In the 3 games he rushed for fewer than 20 carries, he averaged 74 yards for an average of 4.4 yards per carry.
🚂🚂🚂

All of @NickChubb21's TDs so far this season: pic.twitter.com/rhcipWFsNv

— Cleveland Browns (@Browns) October 19, 2019

These stellar numbers should only continue as Chubb will get an All-Pro caliber mate in the backfield in the form of Kareem Hunt, who returned to the practice field this week.
The bruising style of Chubb should pair perfectly with Hunt's ability to catch the ball out of the backfield. The dual-threat in the backfield will keep defenses on their heels and guessing.
Also, Chubb is and will continue to be the primary back. There's no question of that, but having a back the quality of Hunt backing him up will keep Chubb fresher and able to pull off the trademark long touchdown runs he is becoming known for.
If the Browns are to have success in the second half of the year and challenge for the AFC North title, it will come through the strong legs and secure arms of Nick Chubb.