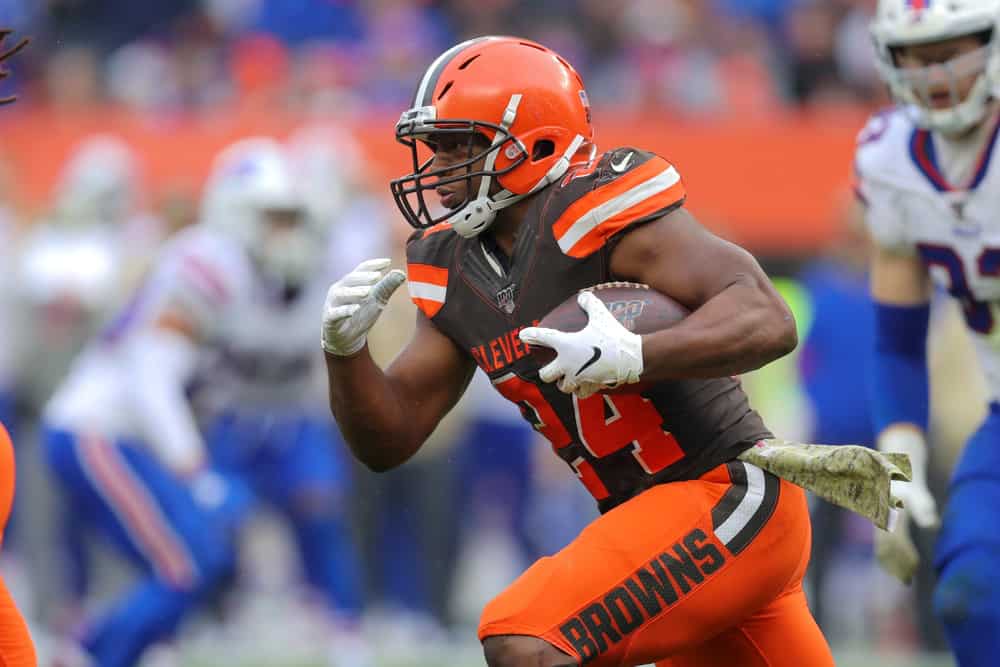 NFL fantasy football fans look at many things differently than NFL purists.
Few fans will argue the Cleveland Browns roster is loaded with talent heading into the 2021 season.
But fantasy football players can debate how that roster translates into their game.
In a brand new list by ESPN, they have #Browns RB Nick Chubb ranked as the 4th best in the league, behind only Henry, Kamara and Cook.

He moves up to 4 from 7th in last years rankings. 💪🏽 pic.twitter.com/obIIYJK2Vr

— MoreForYouCleveland (@MoreForYou_CLE) July 13, 2021
Nick Chubb is rightfully discussed among the top 3-4 rushers in the real-life NFL.
But he is being drafted in 2021 fantasy leagues as the 7th or 8th running back so far.
In fantasy, touches are the key to scoring more points, and Chubb only had the 14th-most carries last season.
Concern over Kareem Hunt's role tempers enthusiasm for Chubb.
2020 Leaders in Gash % (Percentage of runs to go for 10+ yards) — (Powered by @FTNData)

◾️Nick Chubb (17.9%)
◾️Jonathan Taylor (15.1%)
◾️Alvin Kamara (15.0%)
◾️J.K. Dobbins (14.9%)
◾️Dalvin Cook (14.4%)

*MIN 100 carries

📈➡️ https://t.co/jTCFCRWR0H pic.twitter.com/H1kMl6c1S8

— FTNNetwork (@FTNNetwork) July 18, 2021
But there is one statistic that keeps Chubb in the top-10 NFL fantasy discussion: Gash Runs.
Gash runs are rushes that net 10 or more yards, and Chubb has a higher percentage of them than anyone else.
That means the Browns star is more likely than most to salvage a mediocre day with a long run or score.
Why Should Regular Browns Fans Care? 
Fans look at trends and stats differently when evaluating real-life stardom versus fantasy football value.
But stats are stats, and numbers don't lie.
Browns fans don't need their fantasy football-playing coworker to explain how gash runs make Chubb great.
Any fan's eye test shows them Chubb can break a long run any time he touches the ball.
Derrick Henry (16) was the only running back with more 20+-yard runs than Chubb (12) last year.
Why do you run the ball down 19-3 in a playoff game? Because you have Nick Chubb, that's why. pic.twitter.com/jEEzqGxa6b

— Doug Farrar (@NFL_DougFarrar) July 7, 2021
But it took Henry about twice as many carries (378 versus 190) to come up with his total.
And it only takes 10 yards to assure a fresh set of downs and get credit for a gash-run.
Chubb's 17.9-percent gash run rate is almost 20% better than Jonathan Taylor's second-best rate.
Kevin Stefanski wants to open up the offense more in 2021, and Chubb's gash rate makes that easier.
Few running backs are as effective at creating opportunities in the passing game as Nick Chubb.
Why Fantasy Players Are Missing the Mark 
Injuries happen, but they are not as predictable as some fans make them out to be.
Nick Chubb doesn't deserve an "injury-prone" label, which makes concerns about touches puzzling.
There is a percentage of carries destined for Kareem Hunt, but not to the extent that Chubb is a risk.
Missing 4 games is what actually kept Chubb from 250 carries last year.
And if you extend his 2020 stats over 16 games, he was a top-3 rusher in most categories.
Nick Chubb the MONSTER 😈 pic.twitter.com/d9p1Bjf5Km

— PFF Fantasy Football (@PFF_Fantasy) July 12, 2021
At his 2020 pace, Chubb projects to have over 1500 yards, 17 touchdowns, and 48 gash runs over 17 games.
NFL fantasy players are mistaken to push Chubb down the board based on his 2020 touch count.
They should look at his per-game averages and draft accordingly.
There are no guarantees injuries won't affect Chubb, nor can we be sure about Christian McCaffrey or anyone else.
But as any Cleveland Browns fan already knows, it's a sure thing Chubb is a top 3 NFL running back.