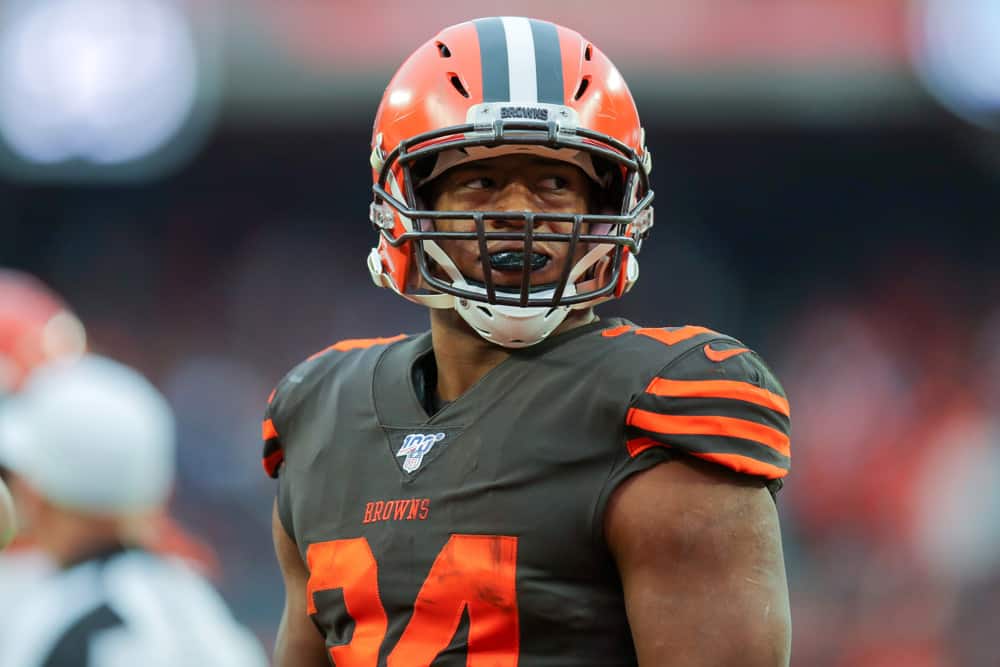 The Cleveland Browns patiently awaited the return of HB Nick Chubb.
Earlier in the season against the Dallas Cowboys, Chubb suffered a knee injury that kept him out for a couple weeks.
He was placed on the IR, but the Browns were hopeful he would return at some point later in the season.
Well, now is that time and Chubb has shown why fans have missed him.
Nick Chubb Earns Nomination for NFL Ground Player Of The Week
Nick Chubb made an immediate impact on the field against the Houston Texans.
This year, Coach Stefanski has implemented an offense that is focused on establishing the run.
It has worked thus far as the Browns are 6-3 and are on the outside looking in of the playoff picture.
A large portion as to why the offense has been successful is mainly due to Nick Chubb.
In Week 10 against Houston, Chubb rushed for 119 yards and 1 touchdown.
As a result, he was named a nominee for NFL Ground Player of the Week.
.@NickChubb21 is up for the FedEx Ground Player of the Week!

🗳 VOTE » https://t.co/bzJnJMy0L5 pic.twitter.com/ejpntlicHj

— Cleveland Browns (@Browns) November 16, 2020
This is his third nomination of the year and keep in mind that he got injured in Week 4.
Fans can vote for the ground player of the week at NFL.com/FedEx.
Chubb had a chance of scoring a second touchdown in this game, but decided to step out of bounds.
Nick Chubb ripped off a 59-yard run and stopped at the 1-yard line 😲

(via @thecheckdown)pic.twitter.com/IK5Pbpyyi1

— SportsCenter (@SportsCenter) November 15, 2020
Not too many fantasy owners were pleased with this.
Although, it does show that Chubb is an unselfish player and is committed to winning.
The Browns are certainly pleased to have Chubb back on the field.
Will Chubb Push This Team Into The Playoffs?
It's been a very long time since the Cleveland Browns have made the playoffs.
Their Week 8 defeat to the Raiders may come back to haunt them as the Raiders are also in the midst of a playoff push.
But, the Browns are certainly hopeful of their playoff aspirations since Nick Chubb is back.
The Browns do have the easiest schedule remaining of all the NFL teams.
They have a big game next week against the Philadelphia Eagles.
Good news for Browns fans is that Philadelphia struggles against the run.
They are ranked in the bottom half of the league, currently allowing 133.0 rushing yards per game.
The Browns will look to ride the coattails of Nick Chubb as the season nears an end.
Some of his teammates were happy to see #24 back on the field.
Myles Garrett on Nick Chubb:

"When I watch Nick, it's like poetry in motion."

— Andrew Gribble (@Andrew_Gribble) November 15, 2020
Myles Garrett has made a huge contribution to this Cleveland team as he is off to his best career start.
Nick Chubb.. I'm so grateful and honored to have a teammate like you bro. 😢 #1-0

— Mack Wilson (@5mackwilson1) November 15, 2020
LB Mack Wilson also commented on the return of his teammate.
In the win over the Texans, both Chubb and Hunt rushed for over 100 yards.
Indeed, that is a winning formula.
The successful run game takes a lot of pressure off of Baker Mayfield.
That is pivotally important moving forward, especially without star wideout Odell Beckham Jr.
Nick Chubb leads all NFL RBs with an average of 6.1 yards per carry.

— Andrew Gribble (@Andrew_Gribble) November 16, 2020
Nick Chubb is under contract through 2021, but he sure is earning himself a big pay day in the future.
Regardless of whether or not the Browns make the playoffs, it seems they have found a head coach that works with this organization.
For years, the Browns have dealt with dysfunction.
Now, they have solidified a strong foundation moving forward with Coach Stefanski, Nick Chubb, and Myles Garrett.