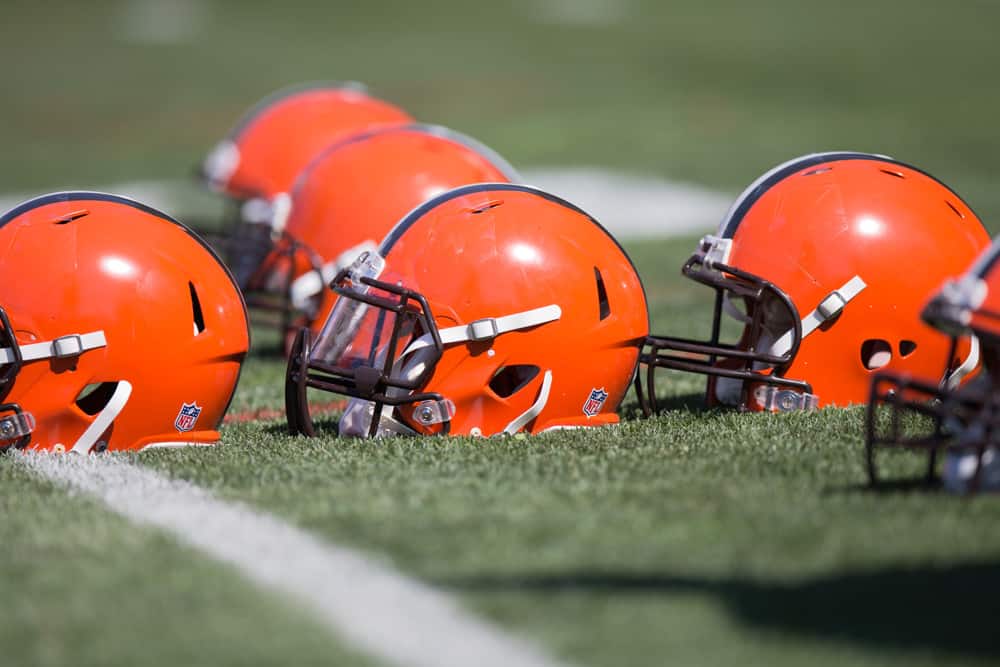 Many have questioned what version of Baker Mayfield we will see in 2020.
Count ESPN's Dan Orlovsky as one who believes we will see the best of Mayfield in the upcoming season.
The former NFL quarterback said that he has high expectations for Cleveland Browns third-year quarterback Baker Mayfield:
"I'll say this again. Baker Mayfield is going to have a big season," Orlovsky tweeted, before pointing out his reasons why. "Perfect scheme fit. Fixed the holes/flaws they had at OL. Will play with multiple TE's on field. The offensive line will play an accordion-expanding the passing lanes off PA to help see."
I'll say this again @bakermayfield is going to have a big season
-perfect scheme fit
-fixed the holes/flaws they had at OL
-will play with multiple TE's on field
-the offensive line will play like an accordion-expanding the passing lanes off PA to help see@GetUpESPN

— Dan Orlovsky (@danorlovsky7) May 6, 2020

Tony Gonzalez recently said that Mayfield has the most pressure on him of any player in the NFL in 2020.
Orlovsky and Gonzalez could be saying similar things, as the Browns learned that they will have a tough test to open the season.
Cleveland will be opening up against 2019 NFL MVP and Bert Bell Player of the Year award winner Lamar Jackson and the Baltimore Ravens in Week 1 of the 2020 season.
Mayfield then will be looking to showcase his improvement against No. 1 overall pick Joe Burrow and the Cincinnati Bengals just four days after the clash with the Ravens.
With his offense stacked full of weapons, Mayfield is set up for success in 2020.
First-year general manager Andrew Berry agrees that the polarizing quarterback should have a "fantastic year."
Mayfield's Rookie Season
Before we take a look forward, let us rewind back to how Mayfield burst onto the scene.
In 2018, the Browns selected him No. 1 overall in the draft, and he took over for Browns starter Tyrod Taylor in Week 3, as Cleveland beat the New York Jets, 21-17.
Mayfield proceeded to throw at least one touchdown in all of his 13 NFL starts that season.
With his 27 passing touchdowns in 2018, he broke the rookie record for most passing touchdowns, passing the previous record holders, Peyton Manning and Russell Wilson.
The sky seemed to be the limit for Mayfield, as he attempted to continue on a Manning- or Wilson-like pace in his second season.
Mayfield's Fall to Grace in his Second NFL Season
In 2019, the Browns added Odell Beckham Jr., and the Browns were ready to make the playoffs for the first time since 2002.
Nick Chubb, who also entered his sophomore NFL season, said that the Browns had all the talent in the world, but they did not put in the work.
Mayfield's short-yardage accuracy was his downfall:
Baker Mayfield was 66.8% accurate in the 1-20 yard range last season. That was the worst rate in the NFL. Jameis Winston was second last at 67.4%. pic.twitter.com/S9XerrX2ST

— QB Data Mine (@QBDataMine) May 1, 2020
In two more games played than in 2018, Mayfield threw five fewer touchdowns and seven more interceptions in 2019.
His 21 interceptions that season were the second-highest number for any quarterback in the NFL.
Even with the poor performance in 2019, Orlovsky has consistently thought Mayfield should be able to pick up the pieces in 2020:
"I still believe Baker is a worthy No. 1 pick."@danorlovsky7 wants everyone to pump the breaks on writing off Baker Mayfield just yet. pic.twitter.com/aTPuAPnPgB

— Get Up (@GetUpESPN) December 24, 2019
Mayfield never had the experience of Joe Thomas on his offensive line, but he will have a revamped offensive line in 2020.
When the Browns drafted Jedrick Wills Jr. with the No. 10 overall selection in the 2020 draft, Mayfield could not contain his excitement.
Former Tennessee Titans offensive tackle Jack Conklin signed a three-year, $42 million contract with the Browns in March.
Conklin is excited to block for Nick Chubb, and Conklin wants him to win the 2020 rushing title.
With Wills and Conklin, Mayfield's sack numbers project to decrease in the upcoming season.
The new and improved 2020 Browns have a strong chance to break the longest active playoff drought in the NFL.