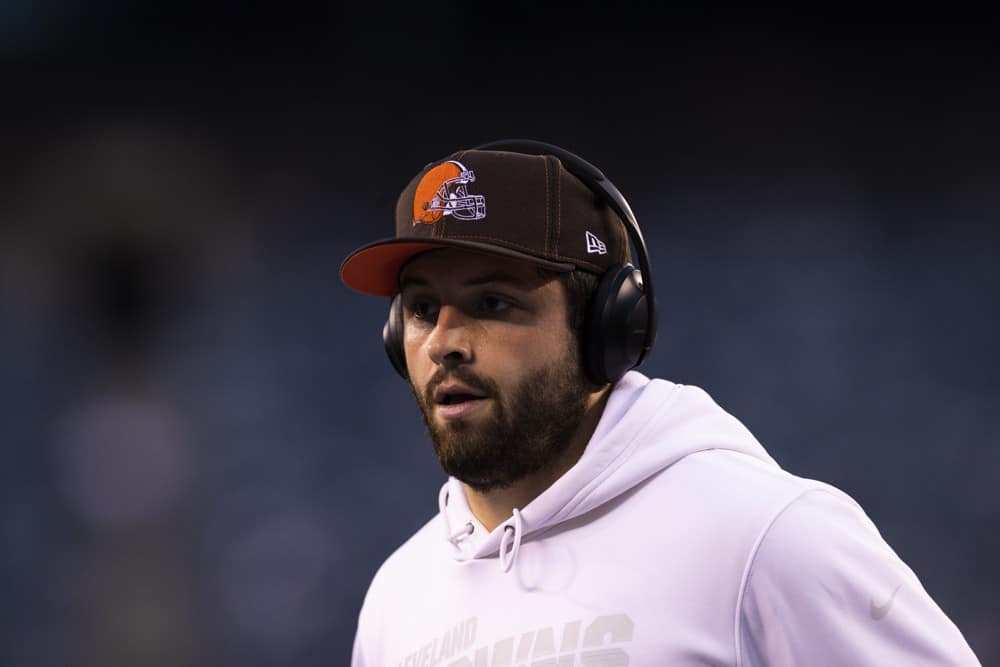 On Thursday, Cleveland Browns third-year quarterback Baker Mayfield started his own version of Organized Team Activities, as he has his teammates in his hometown of Austin, Texas:
#Browns quarterback Baker Mayfield invited Cleveland wide receivers and tight ends to his hometown of Austin, Texas, where they're doing some team building and working out together this week, a source said.

— Nate Ulrich (@ByNateUlrich) May 14, 2020

Even though the NFL said that its virtual offseason will continue through the end of May, Mayfield is getting the Browns a head start.
NFL informed teams today that its virtual offseason now will be extended through end of May, per source. Initially, the virtual offseason went through May 15th, now through end of May.

— Adam Schefter (@AdamSchefter) May 13, 2020
With Mayfield and his teammates getting ready for the 2020 season, they should be able to get their timing down early in the offseason.
Rashard Higgins is Excited to be Back in Austin
Wide receiver Rashard Higgins, who signed a one-year deal to return to the Browns in late April, is excited to return to Texas:
Austin Texas is beautiful, haven't been here since elementary

— Wood (@CALLME_WOOD) May 13, 2020
Higgins said, "I've Been Through Hell And Back," with the Browns after a frustrating 2019 season.
Last season, Higgins played in a career-low 10 games and had just four catches on 11 targets for 55 yards and one touchdown.
An early-season knee injury shortened his 2019, which was his worst career NFL season.
His down year came after showing impressive growth during his first three years in the league.
From his rookie 2016 season to 2017, he increased his statistics by 21 receptions, 235 receiving yards, and two touchdowns.
Then, his numbers kept climbing: he had 12 more receptions, 260 more receiving yards, and two more touchdowns from 2017 to 2018.
Heading into his fifth NFL season, Higgins, who was a Consensus All-American at Colorado State, looks to add some professional football accolades to his resume.
Mayfield is Getting an Extra Head Start on the 2020 Season
There are many areas in which Mayfield will need to improve to bring the Browns to the playoffs for the first time since 2002.
Mayfield thinks the Browns will need to start strong in the upcoming season.
Cleveland is expected to have an easy schedule this year.
The Browns have the second-easiest 2020 schedule according to 2019 team records.
Meanwhile, retired NFL personalities have some interesting opinions about Mayfield in 2020.
Hall of Fame tight end Tony Gonzalez thinks that the Browns quarterback has more pressure on him than any other NFL player this season.
Meanwhile, ESPN analyst Dan Orlovsky thinks that Mayfield will have a big season:
I'll say this again @bakermayfield is going to have a big season
-perfect scheme fit
-fixed the holes/flaws they had at OL
-will play with multiple TE's on field
-the offensive line will play like an accordion-expanding the passing lanes off PA to help see@GetUpESPN

— Dan Orlovsky (@danorlovsky7) May 6, 2020
By getting ahead of his preseason workouts, Mayfield is attempting to help himself and his teammates before other teams.
The early offseason workouts are very important in 2020 because Mayfield will have the most offensive weapons of his NFL career.
First-year Browns head coach Kevin Stefanski will be hoping to bring his Minnesota Vikings offensive success to Cleveland.
Andrew Berry, who is also in his first year as the team's general manager, has confidence in his organization's offense heading into the upcoming season.
He thinks that Mayfield will have a "fantastic year."