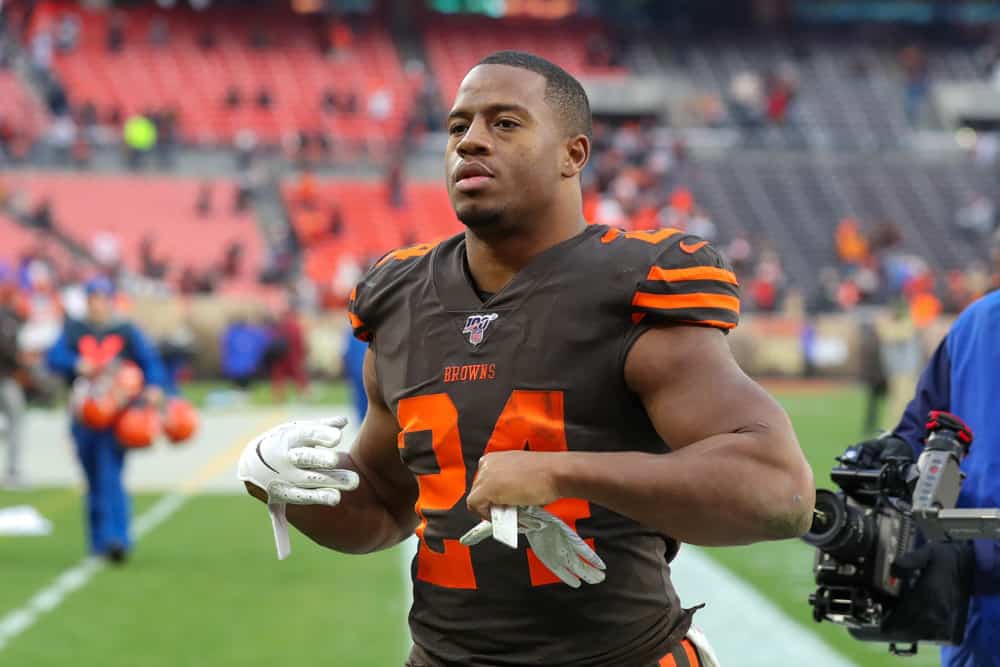 Cleveland Browns running back Nick Chubb is undergoing evaluation for a possible concussion, the team announced on its website.
Chubb walked off the field with a trainer midway through Monday's rainy practice.
It marked the Browns' first practice in pads.
RB Nick Chubb is being evaluated for a possible concussion.

— Andrew Gribble (@Andrew_Gribble) August 17, 2020
The Browns announce that RB Nick Chubb is being evaluated for a possible concussion. He left practice early with a trainer.

— Field Yates (@FieldYates) August 17, 2020
Cleveland.com's Mary Kay Cabot reported Chubb caught a short pass and linebacker Mack Wilson hit him in the shoulder area.
Cabot reported defensive coordinator Joe Woods yelled at Wilson before first-year head coach Kevin Stefanski came over and talked to Wilson one-on-one.
Tight end David Njoku and guard Joel Bitonio ran over toward the sideline to confront Wilson too, according to Associated Press Sports writer Tom Withers.
Before Monday's practice, Stefanski told the AP that he spoke to his players Sunday night about not being overly aggressive as they transition into shoulder pads.
"The pace of practice should look exactly the same as it did yesterday in shells," Stefanski said. "They have to understand how to practice hard and take care of each other regardless of the dress or the attire that they are wearing."
It's unclear how much — if any — time Chubb could miss.
If the tests show Chubb had a head injury, he would have to pass concussion protocol before returning to the field.
The Browns' season opener is scheduled for Sept. 13 on the road against the Baltimore Ravens.
Chubb, 24, has not missed an NFL game as he heads into his third professional season.
In 2019, Chubb rushed for 1,494 yards, which ranked second-most in the NFL and fourth-most in franchise history.
Last season, Chubb also had eight rushing touchdowns.
Tennessee Titans running back won the NFL's rushing title last year, running for 211 yards in the regular-season finale to finish the season with 1,539 rushing yards.
Chubb had 41 yards on 13 carries in the regular-season finale against the Cincinnati Bengals.
The Browns selected Chubb in the second round of the 2018 NFL Draft out of the University of Georgia.
Chubb ran for 996 yards as a rookie in 2018.