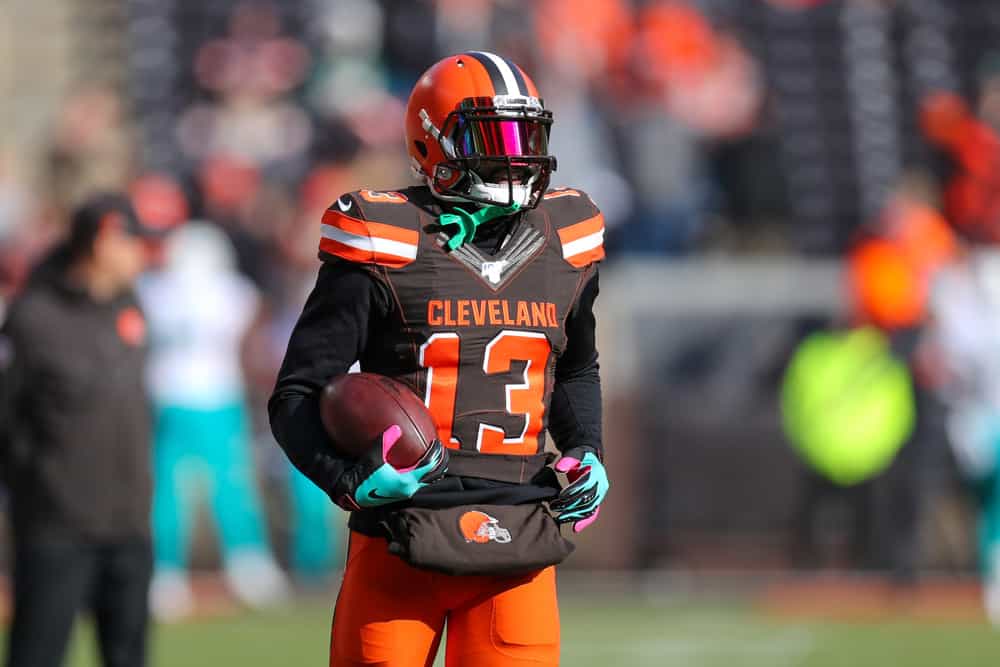 The Cleveland Browns 2021 offseason will be a period of intense rehab for WR Odell Beckham Jr.
After tearing his ACL in late October and undergoing surgery in mid November, OBJ is working his way back to competitive form.
It wasn't entirely surprising to hear that OBJ may have a rehab partner in these efforts.
That would be former teammate (and friend) Saquon Barkley.
Saquon Barkley Injury
Barkley tore his ACL in late September but had to wait until late October for surgery.
He had a lot of swelling so doctors needed to wait for the swelling to reduce before performing surgery.
This means, Barkley and OBJ are on similar timelines with their rehab programs so working out together could help the competitors.
Barkley told ESPN.com about the pair's rehab plans.
"Only thing I do know that I have planned for sure, I'm definitely going to link up with [Odell],"  Obviously Odell tore his knee a little too. I think we both need just being there. We're really good friends. Competing with each other and pushing each other will also be good too. That's the only thing I know for certain I will do. Everything else is up in the air. . . . Obviously we both wouldn't want to go through this, I guess you would say, but I think it's very important that since we are really close and we know each other so well and we are two competitors and we think we can really help each other, I do think it's important to really link up. But at the same time, we both have to come in with the mindset of getting 1 percent better each day. That's what we have to get from each other. Any way you can get it."
Saquon Barkley and OBJ are rehabbing from their ACL injuries together and workout out together this off season. Talk about playing with the emotions of Giants fans. lol.

— JRC (@JdaGr8) January 20, 2021
Could Invite Others To Join
Barkley is currently rehabbing in New Jersey, and OBJ is on the West Coast.
But those logistics can be easily worked out.
Barkley also added that the rehab group could be expanded.
"Obviously I would love to, any of those guys that are going through this injury, whether it's Joe [Burrow], [Devin] Bush, Bud [Dupree], there're a couple guys, any guy, I think it would be really dope if we could all link up."
Joe Burrow, Devin Bush, and Bud Dupree all tore their ACLs during the 2020 season.
OBJ's Status
From the time he went out with injury, many have speculated on OBJ's future with the Browns.
The Browns did very well without him, advancing to the AFC divisional playoff round, but the organization appears committed to OBJ.
GM Andrew Berry tut-tuts arguments that #Browns offense was more efficient WITHOUT WR Odell Beckham, Jr, saying that was a natural result of the evolution of and "time on task" for the offense. Says he always wants as many good players as he can have.

— Aditi Kinkhabwala (@AKinkhabwala) January 20, 2021
Shortly after the Browns loss to the Chiefs, Coach Kevin Stefanski reached out to OBJ.
"I texted with him this morning. I know he's working really hard to get better in his rehab. I'm excited to get him back here. "I know it was not easy for him being away from his teammates, especially as these games got bigger and into the playoffs. I know he definitely wanted to be a part of it."
This communication between Stefanski and OBJ will quell the trade rumors, at least for this week.