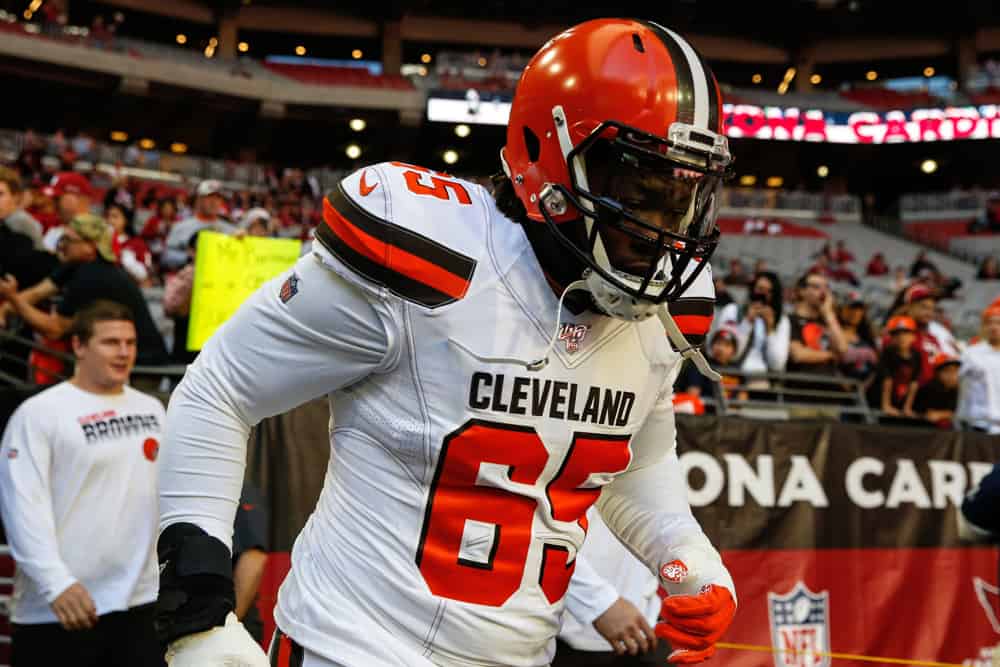 The Cleveland Browns have some important decisions to make this offseason.
They do have plenty of cap space, but the organization needs to make sure they spend it wisely.
One of the bigger choices for the front office is whether or not to keep defensive tackle Larry Ogunjobi.
The former third-round pick of the Browns is expected to hit free agency this March.
#Browns DT Larry Ogunjobi is set to become free agent in March. Said leaving it up to agent, confident it will work out for best.

— Scott Petrak ct (@ScottPetrak) January 20, 2021
Obviously, the Browns cannot keep every player they want, so they need to make smart decisions with their money.
The 26-year-old tackle has proven to be a reliable asset for this organization, but could be playing elsewhere next season.
Ogunjobi In Cleveland
As already mentioned, the Browns selected Ogunjobi in the third round of the 2017 draft.
Since then, Ogunjobi has exceeded expectations and has been a reliable and valuable piece to this defense.
He didn't exactly have a great year on paper in 2020, but Ogunjobi deserves the benefit of the doubt.
Ogunjobi does quite a few things on the field that might go unnoticed by the viewer.
Watching the #Browns defense vs. TEN…

LB Mack Wilson on this rep. Running a clean line to the ball here — with speed. 1-on-1 tackle vs. Derrick Henry.

DTs Larry Ogunjobi & Sheldon Richardson were disruptive up front. Safeties filling the alleys, too. @NFLMatchup pic.twitter.com/VViBcZW8Yr

— Matt Bowen (@MattBowen41) December 9, 2020
In four seasons with Cleveland, Ogunjobi has 180 tackles, 14.5 sacks, and two fumbles forced.
The 2020 campaign was below average for Ogunjobi, but he was putting up borderline Pro Bowl numbers before that.
Losing Ogunjobi
The Browns do have depth at defensive tackle, which is why the organization may decide to let Ogunjobi walk this offseason.
Veteran tackle Sheldon Richardson still has one year left on his current contract.
Cleveland also has their young stud 2020 third round selection in Jordan Elliott.
On paper, Elliott didn't have a fantastic rookie campaign, but played well in a limited role.
The organization is hopeful that his game will develop as time goes on.
Lastly, the Browns have veteran Andrew Billings who decided to opt out of the 2020 season.
He is expected to return next season, which would give the Browns extra depth at the tackle spot.
Yes, losing Ogunjobi would hurt, but Cleveland does have depth in case he decides to move on.
Should Cleveland Keep Ogunjobi?
Ogunjobi is a young and versatile player who knows his value.
It sounds like he'd welcome a return to Cleveland, but isn't going to give out a hometown discount.
"When I go into training this offseason, just kind of figure out what fits bests for me and then obviously when you get into March, you figure out where the team wants you as, what they see you as and what role they want you to play here or somewhere else," said Ogunjobi.
The fact that Cleveland has plenty of depth at this position could mean that they lean towards letting Ogunjobi walk.
Everyone is aware that the player salaries in the NFL continue to rise rapidly.
Ogunjobi isn't a star player, but would likely get somewhere around $10 million per year.
That would put him around the top 12-15 in terms of yearly salary for a defensive tackle right now.
Sadly, it might be time to move on despite Ogunjobi being a positive asset to this defense.
His production did decrease last season and the Browns need to think about the future.
They likely have to extend Nick Chubb, Baker Mayfield, and Denzel Ward within the next few seasons.
Losing Ogunjobi would hurt, but the Browns have depth and can sign a cheaper option.
This defense will be able to survive, assuming Ogunjobi does not return to Cleveland in 2021.