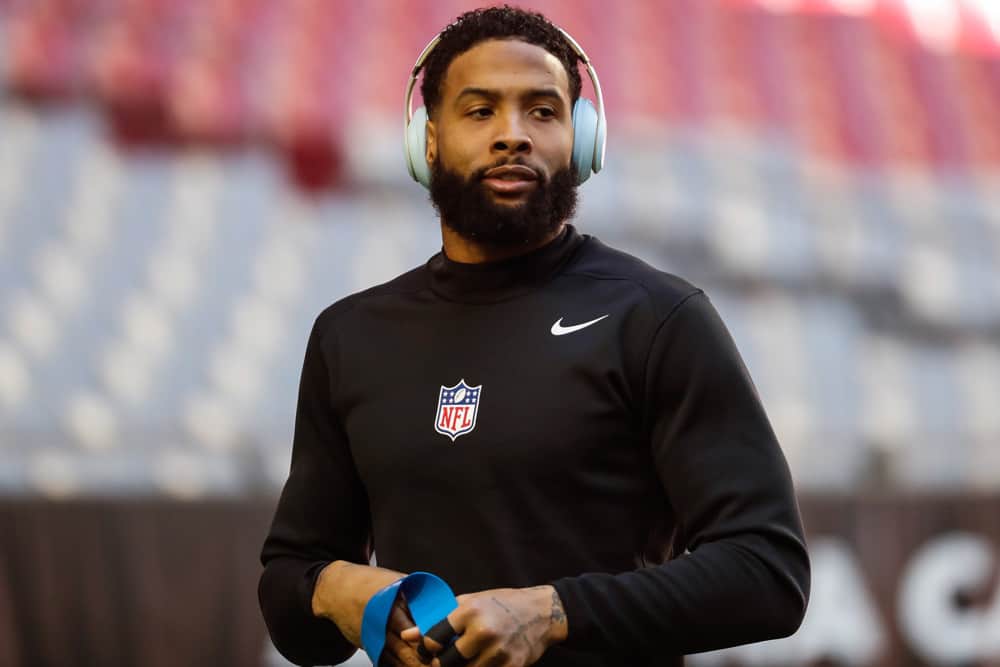 Very few people believe the Cleveland Browns will defeat the Kansas City Chiefs on Sunday in the divisional playoff game.
Oddsmakers clearly do not since they have established the Browns as a 10 point underdog.
However, the Browns have a cheerleader in WR Odell Beckham Jr. currently on IR for a torn ACL.
OBJ tweeted his support for the team with a prediction.
Don't be suprised this weekend when they win….just throwin it out there now

— Odell Beckham Jr (@obj) January 14, 2021
OBJ's huge Twitter following was listening.
69,900 people liked this tweet, and over 5,000 retweeted it.
WRs Without OBJ
The offseason will be the time to debate this issue, but with the exception of the Jets game where the Browns had no starting WRs, the wide receiving corps has done well in OBJ's absence.
OBJ has been out since late October.
Since that time, Jarvis Landry's game has picked up.
Rashard "Hollywood" Higgins and Donovan Peoples-Jones have also played well.
The persistent argument remains that OBJ is a legitimate deep threat who demands double coverage; that type of respect has yet to be earned by Higgins or DPJ.
Before going down with the injury, OBJ played in 7 games.
He had 23 catches for 319 yards and 3 TDs.
OBJ also recorded his first NFL rushing TD in 2020 on 3 rushes with 72 yards.
Will OBJ Be A Brown In 2021?
This is another offseason question that will have to be answered by the front office.
He is under contract with the Browns through the 2023 season.
At the time of his injury, NFL Network's Ian Rappaport reported:
"If they did wanna move on, he's got $12 million dollars that is going to be fully guaranteed right around the start of the league year when he is not yet healthy enough to be moved….if they did wanna trade him, it'll probably be around the spring or the summer."

https://youtu.be/YV82RwNlqgo
GM Andrew Berry said this shortly after his injury.
"Honestly, our focus with Odell – Odell is one of the best receivers in the NFL. He played really good football for us before he was injured. He's done a fantastic job with his teammates at practice, he's embraced the organization, he's under contract for multiple years. So our focus with Odell is making sure he recovers from the ACL tear. We want him to be healthy and ready to go next year. But we're pleased with him."
Browns Vs. Chiefs
In the meantime, it is comforting to know that OBJ will be just like the rest of us on Sunday afternoon.
He will be on his couch, yelling at the TV and cheering for the Cleveland Browns to pull off what is perceived by many outsiders as another improbable upset.
Watch the Browns take on the Chiefs at 3:05 pm EST on Sunday, January 17, 2021 on CBS.