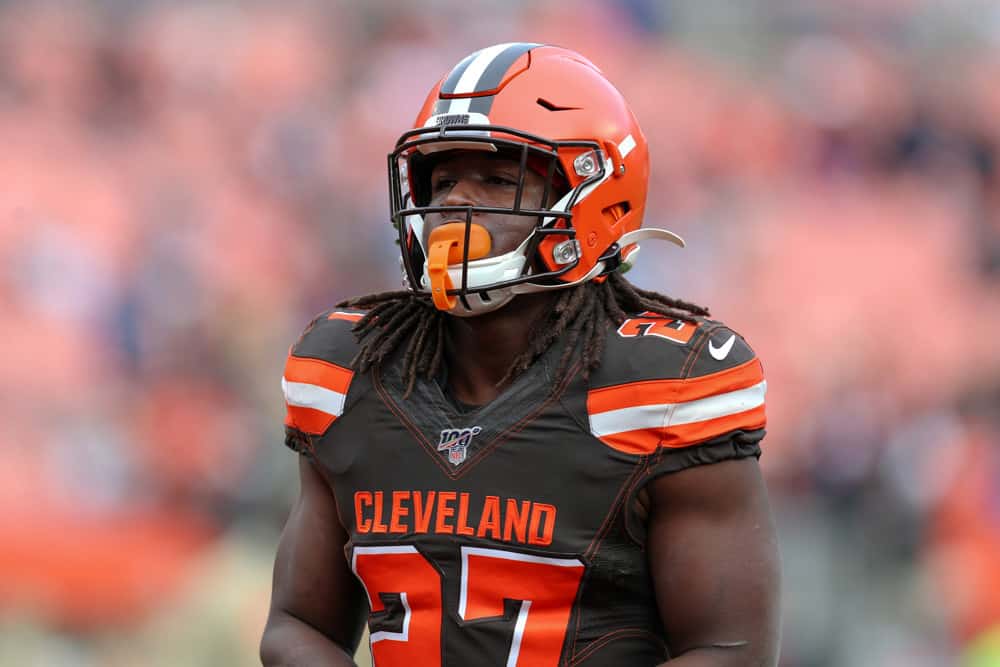 Earlier this week, Kansas City Chiefs wide receiver Sammy Watkins questioned whether or not the Cleveland Browns would be legitimate competition on Sunday.
This weeks contestant on "free bulletin board material" is Chiefs WR Sammy Watkins! Please feel free to tag a #Browns player below. Let's get this spread all over Cleveland. pic.twitter.com/Kp8gQ4ZsmW

— MoreForYouCleveland (@MoreForYou_CLE) January 11, 2021
Browns running back Kareem Hunt, former member of the Chiefs, took some exception to that sentiment from Watkins.
#Browns RB Kareem Hunt on Sammy Watkins' comments questioning Browns as competition: "We'll just see on Sunday. We'll let the play do the talking and there isn't much to be said. If he believes that, we'll see what he thinks after the game."

— Keith Britton (@KeithBritton86) January 14, 2021
The NFL has had its fair share of drama over the past couple of weeks with the Browns involved in a good chunk of that.
They haven't started any of it, as that honor belongs to a couple of Pittsburgh Steelers wide receivers and now Watkins.
The Browns certainly ended things with their divisional foe on Sunday night.
They're hoping to see a similar ending this Sunday afternoon at Arrowhead Stadium.

Chatty Receivers
It sure seems like receivers like to talk a lot these days.
That's always been the case to some degree, with receivers like Terrell Owens, Randy Moss, and Chad Johnson leading that charge throughout the 2000's.
It clearly continues today though as the Browns find themselves dealing with a new trash-talking receiver each week of this postseason.
From Juju Smith-Schuster's "the Browns is the Browns", to Chase Claypool's array of comments, to Watkins overlooking them, Cleveland has had their fair share of flack sent their way.
Chase Claypool called the Browns "classless" in their win over the Steelers 👀 pic.twitter.com/RD64s6MepJ

— ESPN (@espn) January 14, 2021
It doesn't seem to bother them too much, however, as evident by the comments from Hunt.
Kareem isn't alone with trying to keep the focus on the field.
#Browns WR Jarvis Landry on Sammy Watkins' tweet suggesting Cleveland won't be competition for #Chiefs: I haven't seen it, but listen, I can't get into these Twitter wars and these media wars with these guys, we've just got an opportunity to play Sunday

— Nate Ulrich (@ByNateUlrich) January 14, 2021
New Culture
This change of leadership is refreshing to see out of the Browns.
A year ago, I'm not so sure the Browns, especially Baker Mayfield, would be able to handle some of these comments so graciously.
Baker wasn't the only guilty party, as even Jarvis Landry was known for making the occasional "stir-the-pot" type of remark.
Now, though, things are different.
This team is as confident as any other in the NFL right now and have their eyes set on the ultimate prize.
Head coach Kevin Stefanski recently said that since his team is just one of eight left, he'll take those odds of getting to the final stage.
I mentioned in that write-up that the Browns are essentially playing with nothing to lose at this point.
Kansas City is the favorite this weekend and are the defending Super Bowl champions playing at home.
The sixth seeded Browns are not expected to win this game.
That makes them all the more dangerous with the ability to play loose and free.

Earning Respect
There will come a day when the Browns are no longer on the receiving end of these "non-competition" jokes.
The Steelers had to, in a sense, learn that respect the hard way.
The Browns handled comments before that game well, and Hunt is following suit with fresh remarks this week.
What Landry said in an aforementioned tweet is spot on as well.
There's no need (or time) to get into a social media joust with anyone else in the league.
The best organizations around the league tend to do a good job of putting business first and letting extracurricular activities take a back seat.
With Hunt's no-nonsense reply to Watkins' jab, Cleveland is well on their way to being one of those organizations.