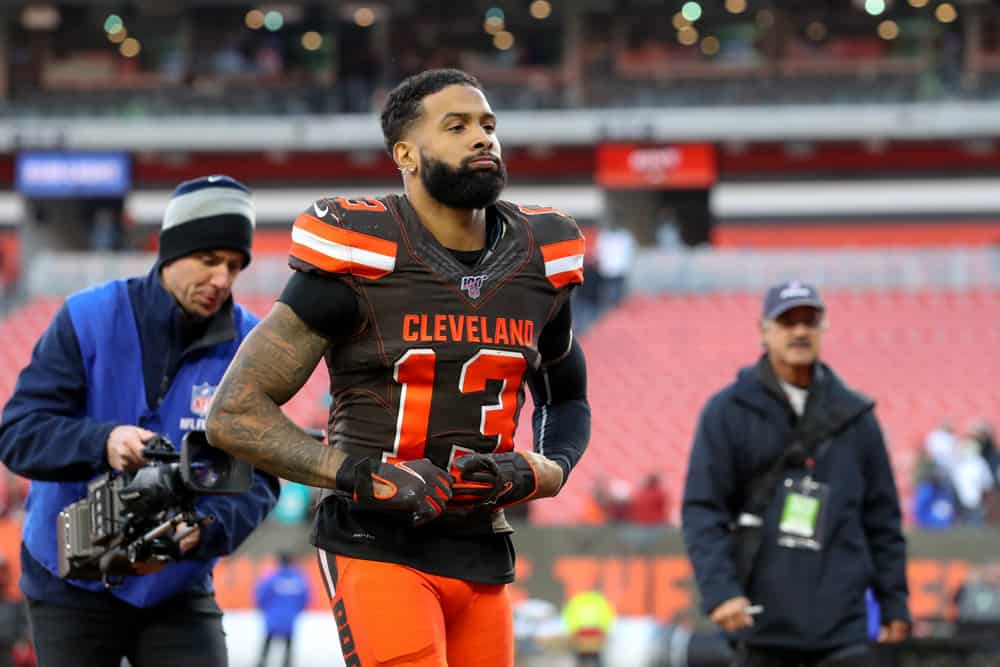 It's been a frustrating season for Odell Beckham Jr.
The Browns are just 6-8 and have under a one percent chance to make the postseason.
Sure, he'll probably eclipse 1000 receiving yards once again, the fifth time it would happen in his young career.
Beckham has just one receiving touchdown, however.
Taysom Hill, third-string quarterback for the New Orleans Saints, has five for comparison.
The anticipated production simply has not been there for Odell since coming to Cleveland this past offseason.
The most frustrating aspect for fans has been in the red zone.
Beckham has just ten red-zone targets this year. 
What's worse is that he has only caught three of those ten passes.
The Browns 38-24 loss in Arizona Sunday essentially eliminated the Browns from playoff contention.
It's still mathematically possible, but Cleveland needs a lot of help.
Odell set two personal season highs with 13 total targets and eight receptions.
However, as has been the theme all season, it simply was not enough.
Not only has this frustration come to a boil with fans, but with the players as well.
Reports surfaced of the star receiver wanting out of Cleveland after this season came to a close. 
The phrase "come get me" also became synonymous with his friend and teammate Jarvis Landry. 
More fallout from the Jarvis Landry tirade during the Browns-Cardinals game: I'm told by two sources that before the game ended, 'multiple' Browns players yelled at the Arizona sideline to 'come get me'–asking to come play for the Cardinals. Landry, I'm told, was one of them.

— Michael Silver (@MikeSilver) December 16, 2019
Yesterday after practice, Beckham took to the podium to help clarify his status going into next season.
Odell sets the record straight: he's not going anywhere.

(via @Jake_Trotter) pic.twitter.com/BFb5NxAMWc

— NFL on ESPN (@ESPNNFL) December 18, 2019
His opening statement should bring optimism back to Browns fans.
"I'm not going anywhere, I'll be here. We'll figure this thing out. It's just too special to leave".
This is a sigh of relief when you consider he stated he was unsure of his future with the Browns earlier this month.
The report from Jay Glazer about Odell telling other teams to "come get me" also spread like wildfire just a few days ago.
.@JayGlazer with the latest on if OBJ wants out of Cleveland, teams interested in Terrell Suggs and more: pic.twitter.com/OJtU6oisXy

— FOX Sports: NFL (@NFLonFOX) December 15, 2019
Apparently, a divisional rival in the Pittsburgh Steelers was reportedly one of the teams Odell said this to.
OBJ quickly refuted that theory as well yesterday.
Odell Beckham Jr. on the most recent report of asking the Steelers to 'come get me.': "I definitely, for sure, ain't goin' to the Steelers."

— Tony Grossi (@TonyGrossi) December 18, 2019
While it's unlikely Glazer just made his report up out of nowhere, keep in mind these players are humans too.
Many of the jobs the average human works lead to anger-infused days that can have anyone screaming "come get me" to a rival company. 
Does that still make it right for OBJ to tell opposing teams that during the season? 
Not necessarily. 
However, Odell has every right to be upset with how this season has gone.
The way Drew Brees and the Saints optimize Michael Thomas is exactly how the Browns offense needs to utilize Odell.
Unfortunately, that has not been the case. 
Luckily for the Browns, it sounds like they will have at least one more season to figure out how to properly use OBJ with quarterback Baker Mayfield.