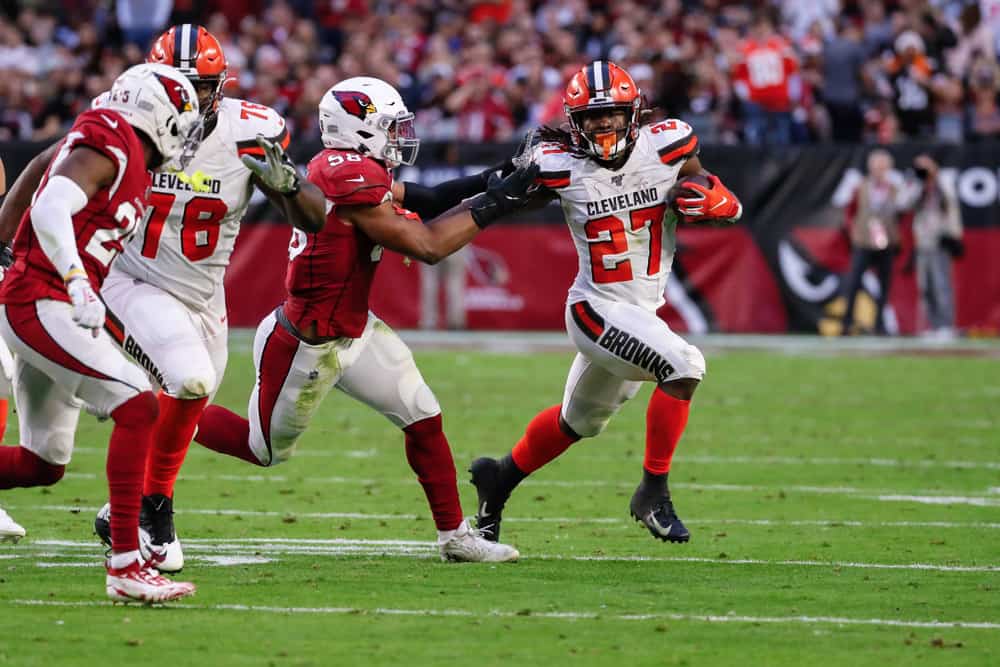 The Cleveland Browns' postseason hopes are pretty much over with after a 38-24 loss to the Arizona Cardinals.
Here are 10 thoughts on the game.
1. The Browns have less than a 1-percent chance to make the playoffs.
The New York Times estimated the Browns had a 4-percent chance to make the playoffs headed into Sunday's game.
A win would have improved those odds to about 6 percent.
The Browns needed this game to stay in playoff contention.
If the Pittsburgh Steelers beat the Buffalo Bills on Sunday Night Football, the Browns are officially eliminated from the playoffs.
Cleveland (6-8) still has a chance to avoid its 12th consecutive losing season.
2. The Browns defense played poorly in a must-win game.
The Cardinals racked up 445 total yards on Sunday, including 299 in the first half.
Fantasy owners who had Cardinals running back Kenyan Drake were delighted.
Drake finished with 22 carries for 137 yards and four rushing touchdowns.
In the last five seasons, Drake is one of three players with four or more rushing touchdowns in a game.
Poor tackling was on full display during Cardinals receiver Damiere Byrd's reception on a slant pass that turned into a 51-yard gain in the second quarter.
It led to a touchdown for Arizona, who led 21-10 at halftime.
The Cardinals averaged 7.4 yards per play.
Won't
Go
Down. pic.twitter.com/2wfss9fC1C

— Arizona Cardinals ⋈ (@AZCardinals) December 15, 2019
3. Jarvis Landry and Odell Beckham Jr. looked dejected on the sidelines.
Jarvis Landry expressed his frustration to Freddie Kitchens when the coach decided the team would attempt a 45-yard field goal trailing 28-17 with 12:05 left in the fourth quarter.
Kicker Austin Seibert missed the field goal, which would have made it a one-score game.
It's unclear if Landry was mad about not going for it on 4th and 3 on the Arizona 27 or something else.
Landry went to sit on the bench next to Odell Beckham Jr.
Kitchens then went to talk further with Landry.
In the postgame news conference, Kitchens tried to downplay the sideline altercation with Landry.
NFL insider Ian Rapoport reported the Browns plan to retain Kitchens "barring a horrific collapse or circumstance to end the season."
#Browns Jarvis Landry voicing some…umm…frustration with Freddie Kitchens. pic.twitter.com/tFtEkHDFyC

— Jon Doss (@JonDoss) December 15, 2019
Odell and Landry have combined for 42 receiving yards today. They look defeated. pic.twitter.com/K6pTNj5JuW

— NFL Update (@MySportsUpdate) December 15, 2019
4. Baker Mayfield and the Browns receivers were unable to exploit the NFL's worst passing defense.
The Cardinals entered Sunday's game ranked last in the NFL in passing yards allowed (294.2 per game), completion percentage (71.8 percent) and quarterback rating (113.9).
Baker Mayfield finished 30-of-43 passing (69.77 percent) for 247 yards and two touchdowns.
Mayfield threw only one interception, but it was very nearly two.
5. Patrick Peterson won the battle of LSU against Odell Beckham Jr. and Jarvis Landry.
Peterson intercepted Mayfield, who overthrew Beckham on the Browns' first drive of the game.
The LSU cornerback very nearly intercepted Mayfield again late in the fourth quarter, but he was unable to stay inbounds.
Peterson finished with seven tackles and three pass deflections.
Beckham had eight receptions on 13 targets for 66 yards.
Landry had five receptions on 10 targets for 23 yards.
Patrick Peterson got WAY up 🔥🔥 @P2 pic.twitter.com/lIBuGgud5N

— The Checkdown (@thecheckdown) December 15, 2019
6. Nick Chubb surpassed 100 yards rushing for the seventh game this season.
Nick Chubb provided one of the few bright spots for the Browns on Sunday.
He finished with 17 carries for 127 yards and a touchdown.
Cleveland is 4-3 this season when Chubb surpasses 100 yards rushing.
The running threat of Chubb helped set up a play-action touchdown pass to tight end Ricky Seals-Jones in the third quarter.
Nick Chubb breaking tackles on his 33-yard TD run! #Browns @NickChubb21

📺: #CLEvsAZ on CBS
📱: NFL app // Yahoo Sports app
Watch free on mobile: https://t.co/ALWDCpltog pic.twitter.com/83ZWr1AK5t

— NFL (@NFL) December 15, 2019
Chubb unstoppable on the ground, sets up this play-action TD. (via @NextGenStats) pic.twitter.com/bK60T46EV2

— Jake Trotter (@Jake_Trotter) December 15, 2019
7. The Cardinals maximized their opportunities in the red zone.
The Cardinals scored touchdowns on four of their five appearances in the red zone.
Arizona entered the game with the third-worst red zone efficiency in the NFL.
8. Kyler Murray looked like he was playing in a Big 12 game.
Other than a first-half interception, Kyler Murray looked terrific.
Murray went 19-of-25 passing for 219 yards and one touchdown. He also had 56 yards rushing on eight carries.
.@K1 SPEED 🔥

📺: #CLEvsAZ on CBS
📱: NFL app // Yahoo Sports app
Watch free on mobile: https://t.co/ALWDCpltog pic.twitter.com/2EFhUhQnvj

— NFL (@NFL) December 15, 2019
9. Rookie linebacker Mack Wilson had his first career interception.
Mack Wilson's interception in the second quarter led to a 44-yard field goal for the Browns.
PICKED!@5mackwilson1 with his first NFL INT! pic.twitter.com/Nbh2vIupr5

— Cleveland Browns (@Browns) December 15, 2019
10. Next up: The Browns host the Baltimore Ravens.
Since losing to the Browns on Sept. 29, the Ravens have won 10 consecutive games.
The Ravens have since clinched the AFC North title for the second consecutive season.