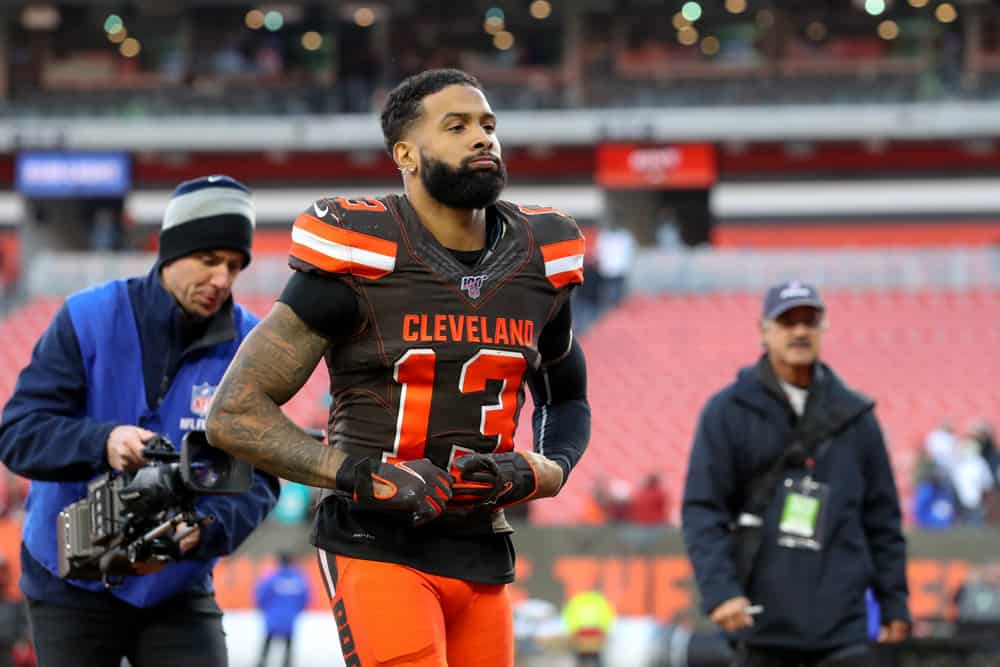 Sunday's loss to the Pittsburgh Steelers marked the sixth consecutive game wide receiver Odell Beckham Jr. failed to reach 100 receiving yards.
It's the longest streak of Beckham's six-year career.
Beckham finished with three receptions on six targets for 29 receiving yards in the rematch against the Steelers.
After the game, Beckham and fellow receiver Jarvis Landry did not speak with media members.
"They're just like any other receivers. We're not too much worried about it," Steelers cornerback Steven Nelson told DK Pittsburgh Sports. "It's just hype. I don't know where their hype comes from."
Beckham has had two 100-yard receiving games this season:
A six-catch, 161-yard performance during a Sept. 16 win over the New York Jets
A six-catch, 101-yard performance during an Oct. 13 loss to the Seattle Seahawks.
A season ago, Beckham had five 100-yard receiving games.
He had none in four games played in 2017.
However, Beckham had four 100-yard receiving games in 2016, eight in 2015 and seven in 2014 as a rookie.
In Beckham's professional career, his teams have a 9-17 record when he has at least 100 yards receiving in a game.
Entering Week 14, Beckham is ranked 13th in the NFL in targets (103), 23rd in receiving yards (805) and 28th in receptions (57).
Through 12 games this season, Beckham's receiving yards per game (67.1), catch percentage (55.3 percent) and receptions per game (4.8) all stand to become career lows.
Pro Football Reference's advanced stats show Beckham has more drops this season (six) than he had last year (four).
Note: Pro Football Reference's advances stats only date back to the 2018 season.
While Beckham is not due to become an unrestricted free agent until 2024, the Browns could easily decide to part ways with the receiver after the season.
Beckham's 2020 deal is worth $2.75 million in guaranteed salary. The remaining $11.25 million on the deal becomes fully guaranteed on March 20, 2020.
Whichever of the NFL's 32 teams decides to employ Beckham in September will owe him the money.
However, the Browns carry $14 million cap charges until a potential trade happens.
If the Browns traded Beckham, they are no longer responsible for the cash and cap obligations.
The Browns have an out with Beckham after the 2020 season.
Beckham's average annual salary of $18 million per year make him the third-highest paid receiver in the NFL behind Julio Jones ($22 million per year) and Michael Thomas (19.25 million per year).
Highest-Paid WRs by Average Annual Value
2019 Season, Current Contracts

ATL Julio Jones $22.0M
NO Michael Thomas $19.3M
CLE Odell Beckham Jr. $18.0M
KC Tyreek Hill $18.0M
TB Mike Evans $16.5M

— James Palmer (@JamesPalmerTV) September 7, 2019
Last month, Beckham told Mary Kay Cabot of Cleveland.com that, "2020 will be the best year of my life."
SportsLine.com published odds in November on which team Beckham will play for during the first week of the 2020 season.
The Browns were the heavy favorite at -500 (bet $500 to win $100).
The New England Patriots were next at +400 (bet $100 to win $400) then the Green Bay Packers at +600, the San Francisco 49ers at +750, the Minnesota Vikings at +800, the Buffalo Bills at +900, the soon-to-be Las Vegas Raiders at +1,000 and the New York Jets at +1,200.
Which NFL team will Odell Beckham be playing for Week 1 of the 2020 season?

Browns -500
Patriots +400
Packers +600
49ers +750
Vikings +800
Bills +900
Raiders +1000
Jets +1200

Via @SportsLine Oddsmakers pic.twitter.com/3VhYa3Gcgo

— SportsLine (@SportsLine) November 8, 2019
The three-time Pro Bowl receiver has played in one playoff game in his career. He had four catches on 11 targets during the Jan. 8, 2017, road loss to the Green Bay Packers.
The Browns still have a slim chance of making the playoffs this season. ESPN Stats and Info estimates Cleveland has about a 6 percent chance to make the postseason.
At age 27, you'd imagine Beckham would want another chance to play in the playoffs, especially considering the five-year contract extension he signed in August 2018 that's worth up to $95 million.
We'll see soon enough if Beckham plays out his contract with the Browns or another team.