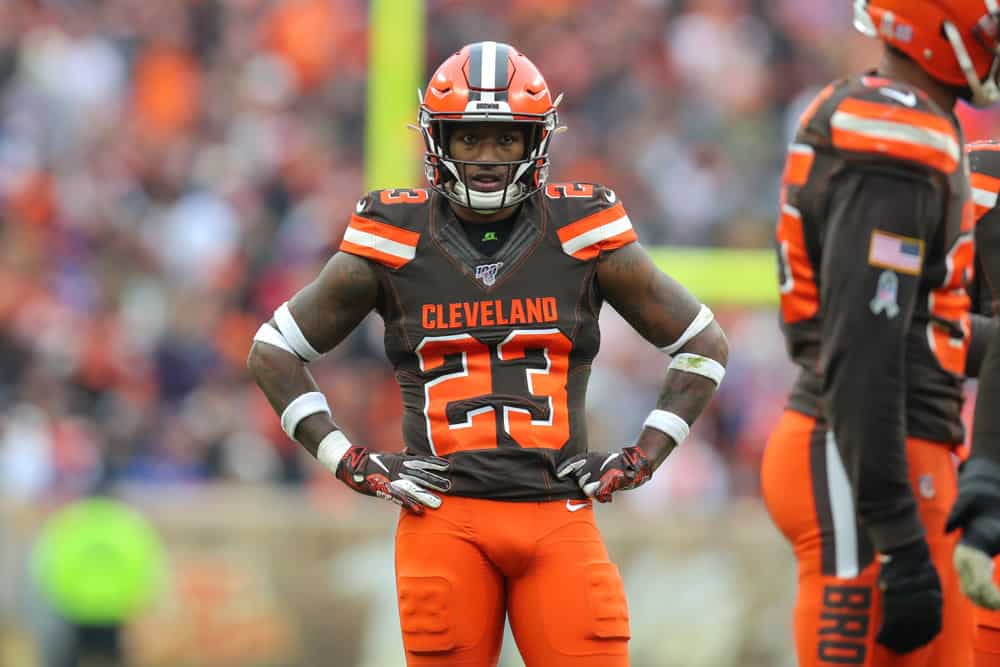 Going into this past Sunday's game against the Pittsburgh Steelers, the Cleveland Browns had won three straight games.
An underwhelming season full of drama was starting to turn, and the Browns were looking for their first four-game win streak since the end of the 2009-2010 season under Eric Mangini.
However, the bigger story was Damarious Randall and a mysterious box score "DNP- Coach's Decision". 
Randall was acquired from the Green Bay Packers in a late-March trade back in 2018.
This led to the dealing of Jabril Peppers to the New York Giants, allowing Randall to step into a starting role.
Damarious had his fifth-year option exercised by the Browns this past offseason.
This past summer, Damarious came out and stated that he loved the city of Cleveland.
In fact, he went as far as to say he wanted to finish his career in Cleveland.
2019 started slow for Randall, as he missed two straight weeks in mid-September with a concussion.
However, Randall disputed the fact that he even had a concussion.
"The symptoms were concussion protocol, I guess," the Browns safety said. "I was placed in the protocol, and that's really all I have to say about it".
That does not exactly sound like someone who is sure they were concussed.
Now, more questions swirl around Randall as he missed this past game against the Steelers for, well, no official reason that we know of.  
#Browns S Damarious Randall out tomorrow, not injury related but a coaching decision. He did not travel to Pittsburgh per team.

— Daryl Ruiter (@RuiterWrongFAN) November 30, 2019
Despite head coach Freddie Kitchens going with the "that's between Damarious and I" approach in his press conference, Jake Trotter of ESPN received reports that Randall missed practice earlier last week. 
Per @Jake_Trotter pic.twitter.com/URho3oASuf

— Jake Burns (@jake_burns18) December 1, 2019

Missing a meaningful December football game, against a divisional rival nonetheless, is never a good look.
In fact, it's a terrible look.
With as much that went into the Browns and Steelers first matchup, one would think the focus of this football team would be at an all-time high across the locker room.
Not the case for Damarious Randall, apparently. 
Randall played well against Pittsburgh back in Cleveland before being ejected for a vicious hit on Steelers receiver Diontae Johnson.
With a chance to make an impact and help the Browns surge into the thick of the playoff hunt, Freddie Kitchens benched Randall without an explanation. 
The move is even more head-scratching when you consider this is a contract year for Randall.
He becomes an unrestricted free agent after the season and was having a good but not great 2019 campaign.
He logged the first two sacks of his career and had 35 tackles across seven starts despite no interceptions. 
It's hard to pinpoint what exactly is going on with Damarious Randall, but Kitchens still remains faithful in his starting safety. "Damarious has my trust. It has nothing to do with trust," Kitchens said to the media on Monday. "I do not have a problem with Damarious".
Kitchens did say that he expects Randall to return to the field this Sunday against the Bengals.
However, if Damarious proves unable to be on the practice field consistently again, expect more defensive snaps for safeties Sheldrick Redwine and Justin Burris.