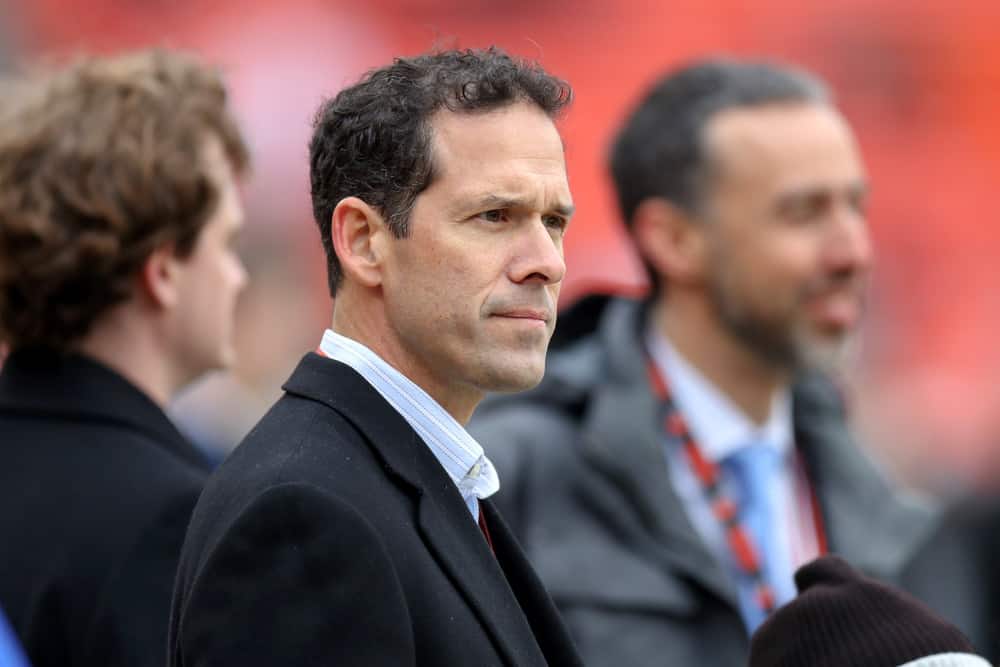 The other day, rumors emerged about a potential trade involving Odell Beckham Jr. and the Minnesota Vikings.
There's no way the Browns would trade their star receiver the same day as their new uniforms were being revealed, right?
Plus, what reason would there be to pull off such a move right now in a world of doubt and unknowingness?
Still, concern was there, because you can't put too much past the Browns.
This time, however, Chief Strategy Officer Paul DePodesta reassured us this is one item you CAN put past the team.
Paul DePodesta, on a report the Browns were talking to the Vikings about an OBJ trade: "It was completely false."

— Jake Trotter (@Jake_Trotter) April 16, 2020
How It Started
The initial trade rumors sprung up Wednesday when Marc Malusis, a host on WFAN in New York, told listeners he was informed by a source of a potential trade between the Minnesota Vikings and Cleveland centered around Odell Beckham Jr.
Supposedly the deal involved draft picks, but that's as far as it went.
Malusis later appeared on 92.3 The Fan and doubled down on the information he had received.
So, as I reported this morning on @MandMWFAN, Source has told me that the Browns and Vikings are in discussions on a trade that would send @obj to the Vikings for a 2nd and 5th round pick next year. Trade is not done, but the deal is being discussed.

— Moose™ (@MarcMalusis) April 15, 2020
Today, DePodesta held a conference call with Cleveland media personnel and addressed the rumors directly.
"In short, I'll just say it was completely false," DePodesta said. "It's frustrating a little bit. I think it's pretty clear that we're trying to build at this point. We've done an awful lot in free agency, we're excited about what we have a chance to do in the draft and we're really building around a core of players that we think have a chance to be a championship-caliber core and the idea that we would take away from that core at this moment just doesn't make a whole lot of sense and really not something that we're exploring at all, so yeah, it's completely false.''
DePodesta later went on and explained that he believed OBJ was genuinely excited about the possibilities in Cleveland and that he is locked in with Kevin Stefanski.
Not The First Time
This is not the first rumor of Odell leaving that Browns fans have seen, and there's not much reason to believe it will be the last.
The whole "come get me" fiasco after the loss to Arizona last season certainly comes to mind.
The hope is that a better relationship with Stefanski, one that should shame the previous one with Freddie Kitchens, eliminates some of those "unhappiness" rumors.
Still, I doubt that's enough to stop trade rumors.
Superstars are referred to as such for good reason.
They are hard to come by and are highly coveted by general managers.
So, when an opportunity presents itself to acquire one, GM's pounce.
OBJ, though his production didn't match the term, is still regarded as a superstar wide receiver.
That being said, a good portion of GM's probably keep close eyes on Cleveland to monitor the situation.
If things go south as they did in 2019, GM's could be sprinting towards the phones to try and finesse a deal with Andrew Berry.
Superstars are always wanted, so expect to see a constant effort from other teams to try and acquire one.
The smallest "Odell wants out" rumor will be enough to have Berry's phone buzzing.