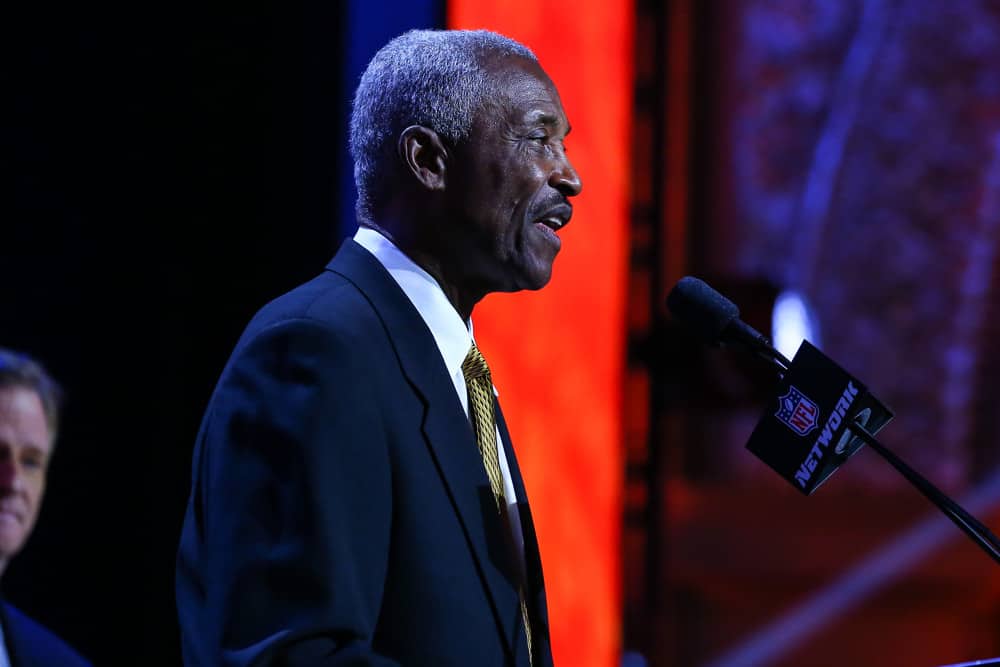 The NFL named Cleveland Browns wide receivers Paul Warfield and Dante Lavelli as finalists for the league's All-Time Team.
The two Pro Football Hall of Famers are among 24 receivers vying for 10 spots on the 100-man team.
The other receivers up for consideration are Lance Alworth, Raymond Berry, Fred Bilentnikoff, Cris Carter, Tom Fears, Larry Fitzgerald, Marvin Harrison, Bob Hayes, Elroy Hirsch, Don Hutson, Michael Irvin, Calvin Johnson, Charlie Joiner, Steve Largent, James Lofton, Don Maynard, Randy Moss, Terrell Owens, Pete Pihos, Jerry Rice, John Stallworth and Charley Taylor.
The league announced Sunday that Moss is one of the 10 receivers already selected to the NFL All-Time Team, which leaves nine more receiver openings.
The NFL Network will unveil which receivers make it at 8 p.m. ET Friday.
The 24 wide receiver finalists for the #NFL100 All-Time Team!

Which 10 players will make the final team?

📺: NFL 100 All-Time Team | Friday 8pm ET on @nflnetwork pic.twitter.com/hIS8V1qa15

— NFL (@NFL) December 17, 2019
.@RandyMoss has been selected to the #NFL100 All-Time Team!

Nine more receivers will join him on Friday night.

📺: NFL 100 All-Time Team | Friday 8pm ET on @nflnetwork pic.twitter.com/r3Q56w0fNH

— NFL (@NFL) December 17, 2019
Warfield was inducted into the Hall of Fame in 1983.
At the time of his retirement, Warfield was the NFL's all-time leader with 85 touchdown receptions.
During his NFL career from 1964-1977, Warfield had 427 receptions for 8,565 yards.
Warfield played for the Browns from 1964-1969, for the Miami Dolphins from 1970-1974, for the Memphis Southmen in the World Football League in 1975 before returning to Cleveland for the 1975 and 1976 seasons.
Warfield's eight Pro Bowl selections are tied for fourth-most ever by a wide receiver.
The Warren native is one of five NFL players to retire with an average of more than 20 yards per catch (minimum requirements: 75 games, 200 receptions).
Lavelli, who was nicknamed "Mr. Clutch," was inducted into the Hall of Fame in 1975.
From 1946-1956, Lavelli caught 386 passes for 6,488 yards and 62 touchdowns.
The Hudson native made the game-winning touchdown in the 1946 AAFC Championship as a rookie, caught two touchdowns in the 1950 NFL Championship, made three Pro Bowls, was named to the NFL All-Decade Team for the 1940s and won a combined seven titles (four AAFC championships and three NFL titles).
Before his professional career with the Browns, Lavelli only played three games at Ohio State because of a thigh injury, a knee injury and then the U.S. Army drafted him in 1942 to fight in World War II.
So far, Browns running backs Jim Brown and Marion Motley have made the All-Time Team.
Legendary coach Paul Brown and former coach Bill Belichick were two of the 10 coaches named to the team.
Several other Browns players have been finalists, including Future Hall of Fame offensive tackle Joe Thomas, Hall of Fame offensive guard Joe DeLamielleure, Hall of Fame tight end Ozzie Newsom and Hall of Fame kicker Lou Groza.
The NFL is announcing the 100 All-Time Team to commemorate its 100th season.