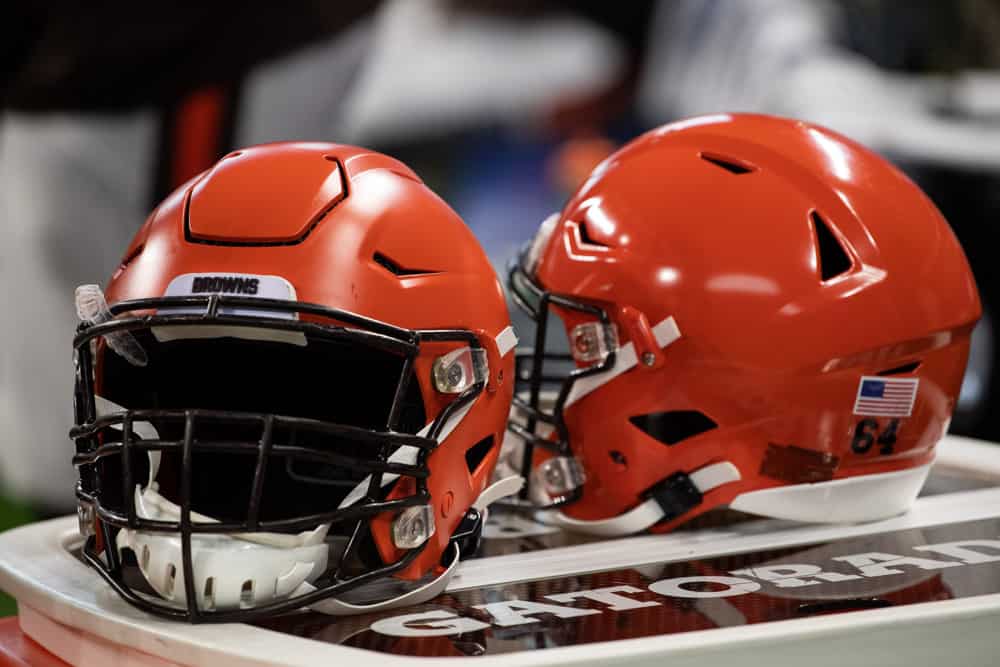 Pro Football Focus released its NFL rankings of "The top 25 players under the age of 25."
The list features some of the most exciting and youngest players in the NFL today.
These names include Patrick Mahomes, Deshaun Watson, and Lamar Jackson.
However, two Cleveland Browns also made the list.
Let's take a look at what Pro Football Focus had to say about both Browns players and where they ranked.
1. Myles Garrett
Myles Garrett came in as the No.9 ranked player on the list.
Pro Football Focus explains his impressive impact on the Browns defense:
"Garrett was on his way to a career year as a pass-rusher before his suspension last season. Through Week 11, his 91.6 pass-rushing grade ranked first among qualifying edge defenders, and his 25% pass-rush win rate trailed only Joey Bosa and J.J. Watt. Winning in the trenches at a young age is not easy to do. It's hard to understate how impressive three consecutive seasons of 80.0 overall grades out of the gate is for a player like Garrett. His return to the field will give the Browns a boost as they look to realize the lofty expectations that they had heading into the 2019 season."
Garrett, who was born on December 29, 1995, will be fewer than four months away from his 25th birthday when the upcoming season is expected to begin.
In just 37 games, Garrett has a whopping 30.5 sacks thus far in his NFL career:
2017 1st round edge defenders and sacks through three seasons:

1:1 – Myles Garrett – 30.5
1:14 – Derek Barnett – 14.0
1:22 – Charles Harris – 3.5
1:26 – Takkarist McKinnley – 16.5
1:28 – Taco Charlton – 9.0
1:30 – T.J. Watt – 34.5 #Steelers

— Tommy Jaggi (@TommyJaggi) May 1, 2020

Garrett has played 10 fewer games than Watt and has just four fewer sacks.
Through 10 games in 2019, Garrett was on pace for a career-high 16 sacks.
The 2018 Pro Bowler should return to the Pro Bowl in the upcoming season.
In 2018, he ranked sixth in the NFL with 13.5 sacks and 10th with three forced fumbles.
On September 16, 2019, Garrett was a huge part of the Browns' 23-3 victory against the New York Jets at MetLife Stadium.
Garrett had a career day, as the Jets played quarterbacks Luke Falk and Trevor Siemian in the contest.
Odell Beckham Jr. amassed 161 receiving yards and a touchdown on six receptions in the win, but Garrett may have been the best player in the game.
He had game-highs in sacks (three) and quarterback hits (five).
Garrett will be excited for the Browns' return to MetLife Stadium to face the Jets in 2020.
2. Nick Chubb
Nick came in as the No. 14 ranked player on the list.
Pro Football Focus describes Chubb, who is two days older than Garrett, as:
"Since he was drafted in the second round of the 2018 NFL Draft, no running back has graded out higher than Chubb as a rusher. In fact, his 92.1 rushing grade over the last two years is the only mark above 90.0. That mainly comes down to the fact that getting Chubb to the ground has been much easier said than done. His 110 missed tackles forced are more than any other player, and his 1,980 rushing yards after contact are fewer than only Derrick Henry. If you're looking for a pure runner, there are few players in the league right now that I would take over Chubb."
Pro Football Focus's fantasy football Twitter handle released the running back's projections for 2020:
Nick Chubb projections

277 touches
1,472 total yards
10 total TDs

Ranks No. 11 among RBshttps://t.co/UHGaRr6OjD ($) pic.twitter.com/BLquYQ1YBi

— PFF Fantasy Football (@PFF_Fantasy) May 3, 2020
The 10 total touchdowns would match his career-high from his rookie year, but the touches and yards are downgrades from last year.
Chubb gained 1,494 rushing yards in 2019, but Pro Football Focus sees him having fewer total yards in 2020 than his number of rushing yards in 2019.
He also would be decreasing his touches by 57 if Pro Football Focus's modest projections come to fruition.
Chubb, who has been one of the most efficient runners during his first two seasons in the NFL, looks to continue in 2020.
In his rookie year, his 5.2 yards per rush attempt ranked fifth in the NFL.
Then in 2019, he rushed 5.0 yards per attempt (ranked eighth) and registered 93.4 rushing yards per game (ranked second).
Chubb's ability to miss tackles makes him special.
With Chubb's propensity to miss tackles better than any player in the league, he should be able to surpass the Pro Football Focus projections.