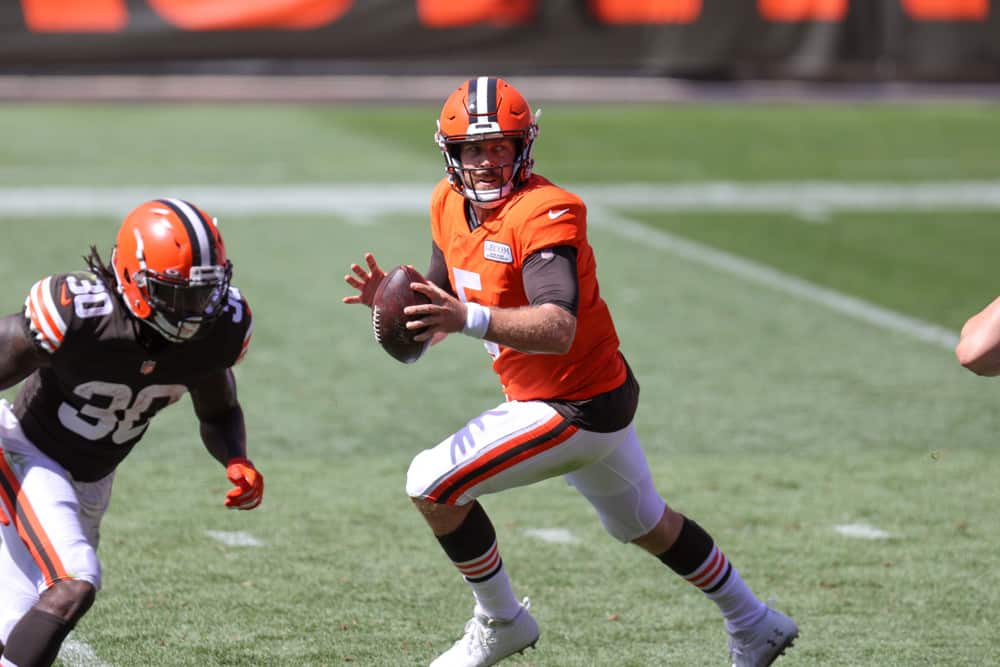 Signing Case Keenum was among Andrew Berry's top priorities this offseason.
Keenum's history and experience with Kevin Stefanski made him a good fit for the Cleveland Browns.
The veteran passer can mentor Baker Mayfield with insights and advice about Stefanski's system.
Case Keenum signs with Browns #NFL #Browns https://t.co/uS7da7YGhi

— This is Believeland Browns (@ThisIsBrowns) March 19, 2020
Keenum is also just enough of a threat to keep the starting quarterback from becoming complacent.
Cleveland's choice of backup passer might have received good reviews from fans and NFL reporters.
But he isn't the perfect number 2, according to Pro Football Focus.
PFF ranks eight other second-stringers ahead of Mayfield's mentor.
While that is not an awful ranking, it was enough to make me wonder why Keenum isn't the top QB stand-in.
What Does PFF Know? 
Pro Football Focus is a product of the Age of Analytics.
Paul DePodesta, Berry, and Stefanski are among the few who can read PFF's prediction model algorithms without their brains exploding.
The quarterback rating author makes it a point to mention the influence of the Bayesian Inference.
But we can't find any record of an NFL player or coach named Bayes.
What a player had done for me lately, or "trends" as our younger staffers call it, is the most important thing for us.
Case Keenum connects with Donovan Peoples-Jones (via Cleveland #Browns) pic.twitter.com/dbit6VFjTc

— BrownsWave \: (@BrownsByBrad) August 27, 2020
Throw in some health info, a little film, and a look at the quarterback's supporting cast, and we have a rating.
But PFF considers down-weighting, performance variances, WAR, EPA, GAM, UFOs, and the lunar phases.
Okay… we made up the UFO and moon stuff, but you get the point.
CBS Sports and the NFL Network mentioned no such things when they ranked Keenum as 6th overall.
Maybe that is why my opinion is closer to where the more traditional NFL information providers rank him.
Who Are The Top Backup Quarterbacks? 
Regardless of methodology, there is near-total consensus about the top backup quarterback.
There might be more of a debate if Jameis Winston didn't fix his vision in the offseason.
But seeing better should lead to fewer interceptions and just as many touchdowns if Drew Brees goes down.
Another quarterback who could be better with his new team is Andy Dalton, now in Dallas.
If Dalton put up the numbers he did behind the Bengals' offensive line, he can be great behind the Dallas front five.
But PFF threw out the first analytics versus tradition controversy with their choice at number 2.
#Browns Baker Mayfield, Case Keenum throwing the receivers Thursday pic.twitter.com/35st0GJ0V9

— Fred Greetham (@FredGreetham) September 3, 2020
Marcus Mariota somehow edged out Dalton in PFF's fancy computer modeling system.
CBS has Mariota at number 4, still ahead of Keenum, while the NFL pegged him at number 8.
Then some real controversy kicked in as different theories about what makes a good backup came into play.
CBS seems to value potential as much as track record while the NFL leans more toward a track record and fit.
Who Else Ranked Higher Than Keenum?
PFF rounded out their top five with Mitch Trubisky and Matt Schaub.
They also ranked Nick Mullens, Joe Flacco, and rookie Tua Tagovailoa ahead of Keenum.
It is enough to make us wonder if their computer needs a tune-up.
The NFL Network put Tagovailoa at number three, followed by Jacoby Brissett and Nick Foles.
On this day in 2018, Case Keenum and Stefon Diggs pulled off the Minneapolis Miracle

(🎥 @NFL)pic.twitter.com/teaBczR1H5

— Sunday Night Football (@SNFonNBC) January 14, 2020
CBS agreed with Tagovailoa at number 3, and slipped Brissett between Mariota and Keenum.
The influx of former starters into the ranks of backup quarterbacks improved the level of expectations.
Just not in the minds of the PFF folks.
Schaub (22,16) and Mullens (9, 12) ranked much lower on the NFL and CBS sites.
We put more emphasis on situation and coaching when we made our rankings.
That is why we put Chad Henne closer to CBS and NFL's top 12 ranking than PFF's 17th slot.
With no offense to Matt Moore (or Patrick Mahomes), Andy Reid could put a kangaroo behind center and win football games.
And the Kangaroo would have a 60-percent completion rate.
So Where Should Keenum Rank Among 2020 Backup QBs?
I am in agreement with our peers on Jameis Winston.
Track record, coach, system, skill player support, and the intangible hope for a starting job, make him an easy choice.
We would also like to see Dalton throw some passes in Dallas.
He has never had a supporting cast like he now, and that is enough to make him the "number 2."
#Browns Case Keenum to D'Ernest Johnson…close battle going on for the 3rd RB spot (via Cleveland Browns) pic.twitter.com/23P6EZ2Fde

— BrownsWave \: (@BrownsByBrad) August 27, 2020
Marcus Mariota never looked like he had a handle on the Titans' offense.
Granted, he was vexed by coaching changes, but he has another new system in 2020.
Likewise, we don't like an oft-injured rookie who has never seen an NFL-level pass rush.
So, Mariota and Tagovailoa fall out of our top 5.
Chicago has not announced their starter yet, but Foles or Trubisky would land behind Keenum.
Mullens and Shaub are behind the Chicago backup.
So, it comes down to a pair of former starters in Jacoby Brissett versus Case Keenum for the third spot.
It was a Close Call, but Keenum is Number…
Both Case Keenum and Jacoby Brissett have good offensive coaches.
Each quarterback is familiar with their current system.
But Brissett's familiarity with his teammates gives him a slight edge.
Keenum gets the nod in experience simply because of his playoff run.
Case Keenum to David Njoku (via #Browns) pic.twitter.com/Qu0te9T6pR

— BrownsWave \: (@BrownsByBrad) August 30, 2020
Brissett's short and safe game doesn't get it done, especially behind the best offensive line in the NFL.
Each passer is supported by a solid running game, but the receiving corps puts Cleveland and Keenum ahead.
Brissett is not satisfied with his backup position, telling ESPN he will start "for somebody" next season.
Keenum plays the backup role better, and is a positive infuence on Mayfield and the rest of the offense.
The quarterbacks match up well across the board,
But all things considered, Case Keenum is the third-best backup quarterback in the NFL right now.
And PFF's computer can't tell me otherwise.