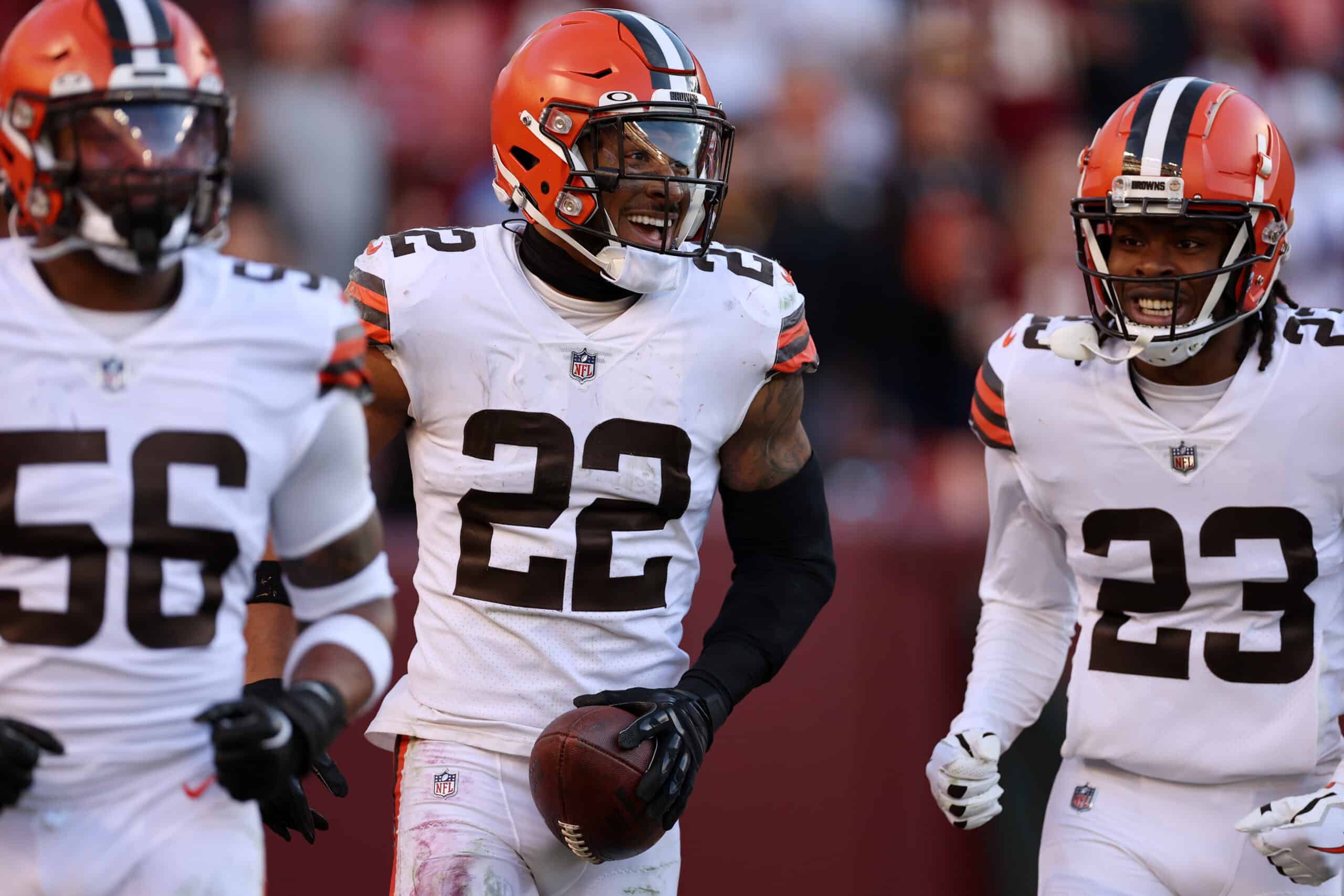 There were several Cleveland Browns that came up big in Sunday's 24-10 win in Washington over the Commanders.
Pro Football Focus released their top five Cleveland performers.
Highest graded Browns in Week 17 win vs Commanders:

🥇 Grant Delpit – 92.3
🥈 Taven Bryan – 90.0
🥉 Amari Cooper – 85.6
4️⃣ Nick Chubb – 83.0
5️⃣ Martin Emerson – 82.2 pic.twitter.com/sdWfpW0hwX

— PFF CLE Browns (@PFF_Browns) January 2, 2023
While there are some usual suspects on this list, there were some surprise standouts in Week 17 too.
Let's take a look at PFF's top five Browns from last weekend.
1. Grant Delpit (92.3 Rating)
Sunday may have been the best professional game of Grant Delpit's career.
His two interceptions fueled a nightmarish afternoon for Commanders quarterback Carson Wentz.
The Grant Delpit INT #Browns pic.twitter.com/1q1vGvtymP

— Browns fan UK (@brownsfanuk) January 1, 2023
This Man CALLED THE COPS On CARSON WENTZ, SCOTT TURNER & RON RIVERS 😂😂😂😂😂😂 #httc #HTTC
naaa yo wtf 😂😂 pic.twitter.com/iLyGvClyDM

— CommanderFTB (@Commander_FTB) January 2, 2023
Delpit also stuck his nose in the thick of the run defense and came up with some really nice plays in that department too.
Grant Delpit was straight-up balling today. #Browns https://t.co/38Ux8q6E8f pic.twitter.com/Zs3HXFPvQy

— Roberto Shenanigans (@Rob_Shenanigans) January 1, 2023
With his interception last week against the Saints, this marks the first time in Delpit's pro career he's had back-to-back weeks with interceptions.
Dalton picked and a large return by Grant Delpit pic.twitter.com/AQPAhNAHqw

— Main Team (@MainTeamSports) December 24, 2022
Delpit continues to have a stellar 2022 season on a defense that has received plenty of justified criticism throughout the year.
2. Taven Bryan (90.0 Rating)
Taven Bryan hasn't seen the most consistent amount of snaps throughout the year.
However, he's come up big a couple of times when called on.
He had a solid outing against the Commanders, tallying four tackles, one quarterback hit, and half a sack.
John Johnson III : 7 tackles & 1 for loss
Chase Winovich : 5 tackles & a sack
Jadeveon Clowney : 5 tackles, 1 for loss & a QB hit
Taven Bryan : 4 tackles & 0.5 sack

— Lee Harvey (@MusikFan4Life) January 1, 2023
Cleveland's defensive front wasn't spectacular against Washington, allowing 136 rushing yards.
What's fascinating about Bryan is that his three total sacks this season is the second-most for Cleveland.
The leader, of course, is Myles Garrett with 15.
When someone other than number 95 can get to the other quarterback, the Browns will take it.
That's what Bryan was able to do a bit on Sunday.
3. Amari Cooper (85.6)
After finishing the first half with no catches, Amari Cooper exploded in the second half of Sunday's game to give a much needed jump-start to the Browns offense.
His two touchdown catches proved to be all the difference, with the second serving as the dagger.
Amari Cooper goes all way for 46 yards!

📺: #CLEvsWAS on FOX
📱: Stream on NFL+ https://t.co/1eZ30lyEdF pic.twitter.com/zTM4RUpKd8

— NFL (@NFL) January 1, 2023
Touchdown 3️⃣ today… 🔥

Amari Cooper with his 2nd touchdown of the game! 😤#CLEvsWAS x #Browns pic.twitter.com/OLkfY7dEzt

— BROWNS OR DIE 💀 (@BrownsorDie) January 1, 2023
Cooper finished with a game-high 105 receiving yards on three catches with two touchdowns.
It's the best the Deshaun Watson-Amari Cooper combination has looked so far this season.
If Browns fans are trying to find positives for this year, those two continuing to develop chemistry is certainly one of them.
4. Nick Chubb (83.0 Rating)
Another Sunday, another 100-plus yard rushing performance from Nick Chubb.
Seriously, what else is new?
The league's most consistent running back helped pace the Browns offense on an afternoon where they struggled to find a groove.
Browns Nick Chubb 35 yard run against the Commanders 230101pic.twitter.com/WENQIplF57

— Gabriel dela Cruz (@GDC1021) January 1, 2023
A shoutout always has to go to the offensive line as well when Chubb has these types of games.
Still, Browns fans shouldn't take Chubb for granted.
He's an extremely special running back as he proved once again on Sunday.
5. MJ Emerson (82.2 Rating)
One of the young bright spots on a struggling Browns defense this season has been MJ Emerson.
The rookie has been fantastic in pass coverage.
At one point this season, PFF had Emerson on their top-25 list for NFL cornerbacks.
1. Patrick Surtain II
…
10. Tyson Campbell
…
25. Martin Emerson@Marcus_Mosher ranks the Top-25 CBs this seasonhttps://t.co/MpGPHjW62F

— PFF (@PFF) November 19, 2022
Not too shabby for a rookie. Emerson stood out in pass coverage yet again on Sunday as the Browns' secondary really shined against Wentz.
Again, in terms of looking for positives, Emerson has been a tremendous development piece for Cleveland this year.