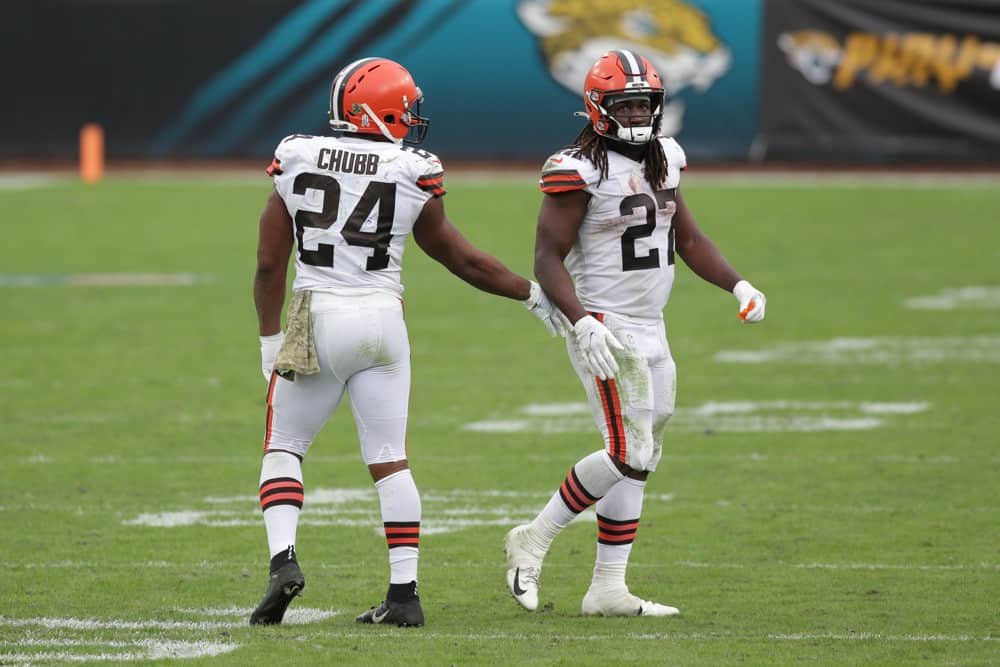 Nobody has to tell Cleveland Browns fans their team has a pair of top-notch running backs.
But it's always nice when someone like Pro Football Focus takes the time to extol their virtues.
PFF offers weekly and cumulative rankings at every position across the league.
The highest-graded RBs through three weeks:

🥈Kareem Hunt- 82.6
🥉Nick Chubb- 80.9 pic.twitter.com/bFLfJaB31F

— PFF CLE Browns (@PFF_Browns) September 28, 2021
And this week, Kareem Hunt and Nick Chubb sit in the 2nd and 3rd overall best running backs position.
Hunt was PFF's top-ranked rusher for the week, thanks to a balanced rushing and receiving effort.
His 8.1 yards-per-carry and 74 receiving yards pushed him up the PFF charts.
And he might have made Nick Chubb even more motivated heading into Week 4.
#Browns RB Nick Chubb on Kareem Hunt: "He runs like a wild man. Like he doesn't care about his body at all. He's a special player."

— Keith Britton (@KeithBritton86) September 29, 2021
Because Chubb might be happy for his teammate, but he'd be happier if Hunt was #3 to Chubb's #2.
For that matter, Chubb and Hunt undoubtedly have their sights set on Derrick Henry, the top-ranked rusher.
And that does not bode well for the Minnesota Vikings defense this week.
Do The Stats Support PFF's Ranking? 
PFF takes averages and results into account for their position rankings.
But they also use more abstract and situational parameters that lead to some surprising results.
Kareem Hunt currently has the 20th most rushing yards and ranks 10th in receiving yards among running backs.
Hunt (5.7) and Chubb (5.5) hold the 3rd and 4th-best yards-per-carry rate among rushers.
#Browns RB Nick Chubb: 0.54 missed tackles forced per attempt in 2021

No other RB has more than 0.41 💪 pic.twitter.com/PGHnF98FxB

— PFF CLE Browns (@PFF_Browns) September 22, 2021
And PFF takes into account yards after catch and first downs made, which both runners excel in.
For Nick Chubb, the stats reflect his status more closely than Hunt.
Chubb is third in the NFL in rushing behind Henry and Joe Mixon.
But his per-carry average is more than a yard better than each of those two.
Does Cleveland Have The Best Running Attack? 
By PFF standards, Cleveland has the best running back tandem in the NFL.
But like almost every statistical and ranking argument, Baltimore presents a challenge.
Quarterback Lamar Jackson sits just behind Chubb for the 4th-most rushing yards.
And his 7.2 yards-per-carry leads the league.
ON THE HUNT!

📺: #CHIvsCLE on FOX
📲: Browns mobile app pic.twitter.com/s4JLp2ftc9

— Cleveland Browns (@Browns) September 26, 2021
Despite a committee approach behind Jackson, rookie TySon Williams sits just behind Hunt in total rushing yards.
And his 6.1 yards per carry beats both of Cleveland's runners.
It all adds up to the top 2 rushing attacks in the NFL, with the Ravens on top by 10 yards per game.
Cleveland is ahead of Derrick Henry's #3 Tennessee attack by 15 yards per game.
Can Chubb, Hunt Keep This Up? 
The scary part of this for the rest of the NFL is Nick Chubb just had one of his worst rushing weeks ever.
Cleveland's lead rusher averaged just 3.8 yards-per-carry against the Chicago Bears.
This is well below his career 5.1-yard average and what he managed in his first 2 weeks.
There is no reason to think Chubb will not bounce back to his more impactful form.
#Browns Baker Mayfield says Nick Chubb is going is going be the same guy no matter what, "whether it's a meteor shower outside or sunshine and rainbows."

— Camryn Justice (@camijustice) September 29, 2021
Kareem Hunt's only concern is getting enough carries to be considered in the rankings.
At this pace, he will stay within the qualifying parameters, but he can not afford to miss any games.
As far as team rankings, Baker Mayfield might not be a Lamar Jackson when it comes to rushing.
But Baker and the wide receivers do their part, with a collective 107 yards and a 4.3 YPC clip through 3 games.