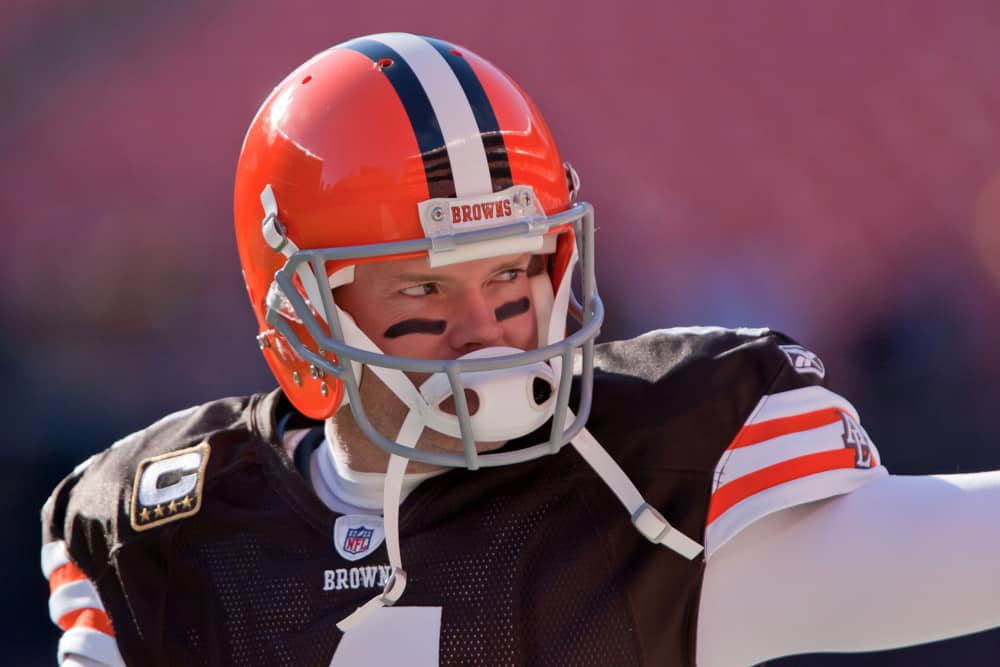 Phil Dawson spent 2 decades in the NFL and became of the one most consistent kickers in NFL history.
He also became a well-known face of the Cleveland Browns.
After being cast aside by the Oakland Raiders and New England Patriots, Dawson won the Browns kicking job in 1999.
He logged 14 seasons in Cleveland before spending 4 in San Francisco and 2 with Arizona.
He then signed a one-day contract to retire with the Browns.
"There's no greater sports town in America than Cleveland," Dawson said.
We take a look at how it all started for Dawson how he became one of the best Browns players off all-time.
Dawson Secures his Fate in High School
Phillip "Phil" Drury Dawson was born on January 23, 1975 in West Palm Beach, Florida.
As a youth, Dawson's family moved to Texas where he was able to showcase his athletic skills, particularly on the football field.
While attending Lake Highlands High School in Dallas, Dawson earned his letter in football.
(Incidentally, this is the same high school that former Browns and Ravens kicker Matt Stover had attended).
Using his slight frame to the best of his ability, Dawson made his mark as a kicker and offensive tackle.
Unfortunately, before his senior year began, Dawson injured his knee in a preseason scrimmage.
After considering season-ending surgery, he decided that he could still serve his team as a kicker and elected against the surgery.
His teammates would be glad he stuck around.
Playing at his soon-to-be-future college, the Wildcats faced a tough Nacogdoches High School team in a 1992 playoff game at Texas Stadium.
With only seconds remaining in the game, Dawson was called on to attempt a 52-yard field goal try.
His strong leg was on display even then as the kick was true and Lake Highlands advanced with a 31-28 victory.
For his efforts that season, Dawson was recognized as a high school All-American as well as the Southwest Region Offensive Player of the Year by SuperPrep.
After graduating high school, Dawson matriculated to the University of Texas.
Dawson is a Longhorn
Dawson redshirted his first year at Texas and then took over the kicking duties for the Longhorns for the next few years.
He quickly made a name for himself during his first season as the 'Horns kicker,' netting 80 points.
Dawson also set a program record when he converted 54 point after attempts without a miss.
The following year, he led Texas in scoring and was named an honorary All-American.
That 1995 season was notable when the Longhorns faced number 14th ranked University of Virginia in October.
Once again, Dawson came through in the clutch with a 50-yard field goal into 30 mile an hour winds as time expired.
Texas players then stormed the field, and Dawson, with a 17-16 victory in hand.
Congratulations @phil_dawson_4 on an incredible career full of amazing moments. Enjoy retirement! 🤘#ThisIsTexas #HookEm pic.twitter.com/ttP1lIhyt6

— Texas Football (@TexasFootball) August 2, 2019

During his junior and senior years, Dawson's prowess as a kicker was proven every week and he was named First-team All-American both years.
He was also selected All-Big 12 First-team in 1996 and Second-team in 1997.
Despite the accolades and the skillfulness he showed in Austin, Dawson was not selected in the 1998 NFL Draft.
He would have to find his way to the NFL some other way.
The NFL (Eventually) Gives Dawson an Opportunity
Because of his consistency and dependability in college, the pros were aware of Dawson.
Shortly after the '98 draft, the Raiders reached out and signed him as an undrafted free agent.
He wasn't in Oakland very long, however, and the team released him soon after.
Then, despite having the stalwart Adam Vinatieri already on their roster, the Patriots signed Dawson to a contract shortly after departing Oakland.
He was then relegated to the Patriots practice squad and did not appear in a game for them in the '98 season.
In 1999, Dawson was a free agent again.
This time fate and opportunity came calling in the form of the Cleveland Browns.
Cleveland was returning to the NFL as an expansion team after a three-year hiatus.
Dawson was signed to provide a leg for their newly assembled team.
As it turned out, the signing would produce immediate, as well as long-lasting, dividends.
During Week 5 of the '99 season, Dawson scored what would be his only NFL touchdown on a fake field goal against the Bengals.
Phil Dawson describing the greatest fake field goal rushing touchdown celebration in NFL history. [1999, colorized] pic.twitter.com/O9X7sCgseK

— Dawgs of War Podcast (@DoWPodcast) April 17, 2020

Five weeks later, he kicked a memorable 39-yard field goal as time expired to beat the Steelers in Pittsburgh.
As a member of the Browns for 14 seasons, Dawson had a number of memorable moments and individual seasons.
In particular, the 2005 season stands out as he missed only two kicks the entire year (27 of 29).
He repeated the feat again in 2009 (17 of 19) and 2012 (his last season in Cleveland, 29 of 31).
At one point, Dawson set a Browns record for most consecutive field goals made (29).
He also holds the team record for most field goals made in a game (6) and most field goals made in a season (30 in 2008).
In 2007 and 2012, Dawson was named a Second-team All-Pro and he also made the Pro Bowl roster in 2012.
Phil Dawson with the most amazing onside kick ever. #ProBowl @phil_dawson_4
#Browns pic.twitter.com/zjPGQCPqvo

— Vintage Browns (@VintageBrowns) January 27, 2019

During his time as a Brown, Dawson made 234 field goals, tying him with Lou "The Toe" Groza.
However, Dawson's name will forever be etched in NFL lore for something that happened in 2007 and led the league to adopt a new rule.
The "Phil Dawson Rule"
On November 18, 2007, Cleveland and Baltimore were in a dog fight.
The Browns had dominated much of the game until a 16 point Baltimore rally in the 4th quarter.
Down by three, the Browns needed Dawson to make a 51-yard field goal to send the game into overtime.
After the kicked ball hit the left upright and the rear, curved stanchion, it bounded back onto the field in front of the goal posts.
Who remembers when Phil Dawson tied the game on a kick that bounced-back? Via Browns…
Watch this classic HERE: pic.twitter.com/eFrsZD5JsW

— Cleveland Sports Talk (@CLEsportsTalk) March 30, 2020

The referees ruled the kick was missed and the game was over.
The Ravens made their way to their locker room to celebrate.
Meanwhile, the referees huddled together to discuss the sequence of bounces and the location of the ball during the kick.
Eventually, head referee Pete Morelli ruled that the ball went over the crossbar and whatever happened after passing over the crossbar did not matter.
Then, the officials had to make sure they covered their tracks.
Since NFL rules did not permit the play to be reviewed, Morelli announced that the play had been reversed "after discussion" (instead of "after further review").
The Ravens were told to return to the field to play the extra session.
During overtime, Dawson was called on again and this time he made a rather uncomplicated 33 yard field goal to win the Browns sixth game of the season 33-30.
A month later, the Browns faced the Bills in Cleveland where Dawson kicked two field goals in blizzard conditions.
Those two field goals (plus a safety) were the only points scored in an 8-0 Cleveland victory.
However, during one of the field goals, the ball again hit the rear stanchion.
Soon after, the Cleveland press began calling that part of the goal posts "The Dawson Bar."
Both instances were so rare that the NFL adopted the "Phil Dawson Rule" before the 2008 season.
In part, the rule says that field goals and extra points that hit the uprights or the crossbar will be permitted for review.
San Francisco, here I come…
After spending parts of three decades with the Browns, the team let Dawson walk after the 2012 season.
He was quickly snatched up by San Francisco in March of 2013.
During his first season as a 49er, Dawson made 27 consecutive field goals and also scored 140 points, the second-most points ever in a single season in team history.
That season Dawson also made 32 field goals, a personal best, and even experienced his first playoff appearance.
In a Wild Card matchup against Green Bay, Dawson kicked the game-winning field goal to give the 49ers a 23-20 victory.
No idea how Phil Dawson's kick got through this Packers' players arms. pic.twitter.com/RYqzpYxIL3

— ryan wilson (@ryanwilsonCBS) January 6, 2014

He remained a consistent presence in San Fran for four seasons and his time as a 49er included his 400th career field goal against Jacksonville on November 20, 2016.
Dawson is a Cardinal
Once the 2016 season concluded, Dawson was released by the Niners.
He was not unemployed for long.
Shortly after leaving San Francisco, he signed with Arizona in early 2017.
In a Week 12 contest against the Jaguars that year, Dawson kicked a 57-yard field goal (his longest ever in a regular-season game) en route to a 27-24 win.
Phil Dawson from 57 yards!

It's GOOOOOOD! #BeRedSeeRed pic.twitter.com/UmBh9wcaFZ

— NFL (@NFL) November 27, 2017

He ended up making four field goals that day and was named the NFC Special teams Player of the Week.
As a member of the Cardinals, Dawson became just the 11th player in league history to appear in 300 games.
In late November of the 2018 season, he was placed on Injured Reserve after sustaining a hip injury.
Then, after two decades in pro football, Dawson decided to call it a career.
Retiring as a Brown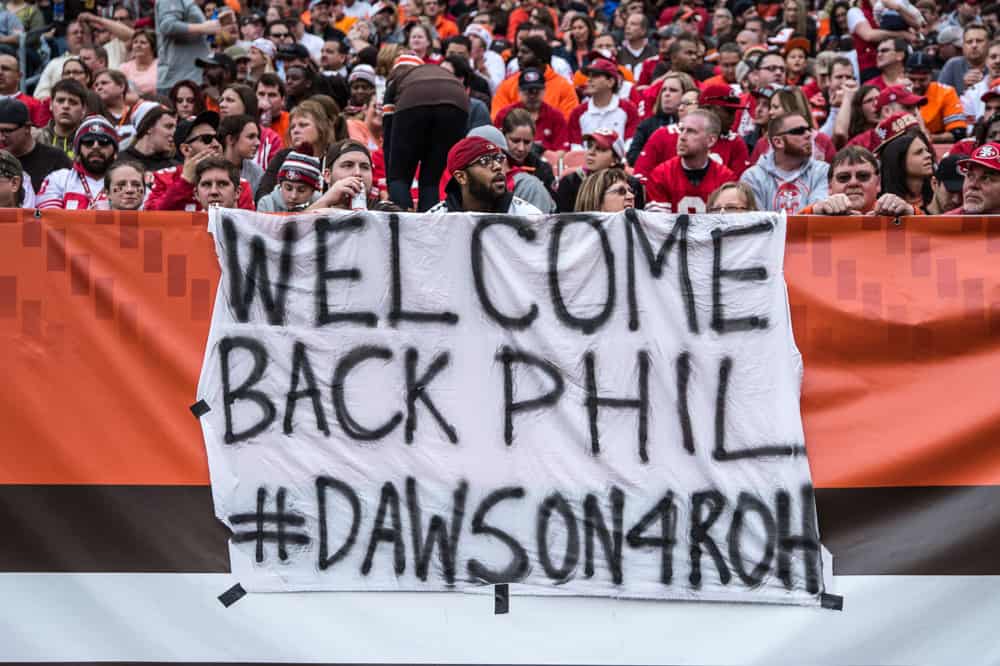 Once he made the decision, Dawson thought it would be fitting if he retired with the city he called home for 14 years.
On August 21, 2019, he signed a one day contract with Cleveland and officially announced his retirement from the NFL.
"To have the opportunity to come back home and retire with the organization and the city that I love is incredibly meaningful to me," Dawson said in a release from the team at the time. "It only seems right to have the opportunity to do this with the fans that have been so good to me and my family."
During his retirement ceremony, Dawson shared a memory of a conversation he had with Groza during his first training camp with the Browns.
"…my first training camp here I was summoned over to the tent, and Mr. Groza wanted to speak with me. I could not believe I was getting a chance to speak with Mr. Groza. He said some very nice things, and I finally had the nerve to ask a question and I said, 'What do I do in the stadium?'

He goes, 'You know those flags on the uprights?' I said, 'Yes sir.' He goes, 'They tell you which way the wind is blowing.' This is going to make headlines: Mr. Groza was wrong because I can't tell you how many times I looked at those uprights and one flag was pointing that way and one flag was pointing that way. Not every day you get to correct a Hall of Famer."
During his NFL career, Dawson appeared in 305 games and finished ranked eighth in league history with 441 field goals made and 11th with 1,847 points scored.
Since retiring, he has primarily been living with his wife and three kids in Texas where he finally gets to see his family on a semi-regular basis.
#10 & climbing fast! Proud of u @Dru_Dawson4 !!! https://t.co/N9LTOTW8zF

— Phil Dawson (@phil_dawson_4) February 8, 2019

Although, he can't quite stay away from the game he loves.
On March 6, 2020, Dawson was hired as Special teams Coordinator at Lipscomb Academy in Nashville where he will serve on the staff of head coach (and former NFL quarterback) Trent Dilfer.
We are excited to announce 21 year NFL Veteran @phil_dawson_4 as our new Special Teams Coordinator!! 🔥😤 #BeSetApart pic.twitter.com/cPoKB1osBA

— Lipscomb Academy Football (@LAmustangFB) March 6, 2020

Perhaps former Brown Joe Thomas summed up Dawson's career the best after Dawson retired:
"Phil Dawson is synonymous with some of my favorite moments as a Cleveland Brown. From him hitting the stanchion on the goalpost in Baltimore to the Snow Bowl game in Cleveland where he made two field goals in 40 mile winds and blizzard conditions. He was the definition of a professional. I always admired the way he went about his business. He is a true class act and a great teammate, friend and family man."